Many Interpretations: exhibitions by MA students celebrated at the University of Leeds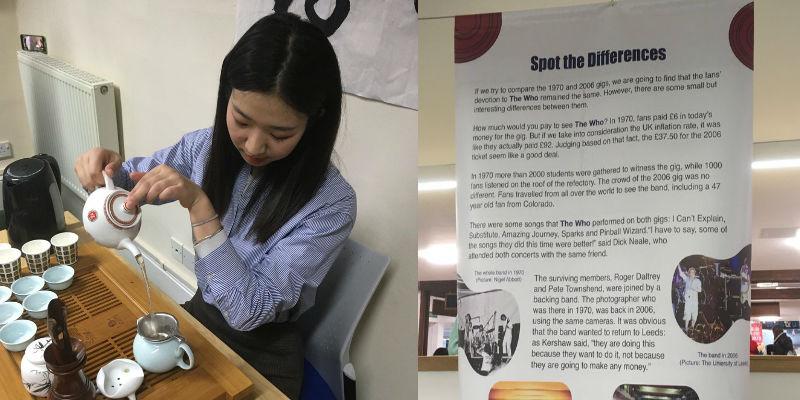 This year's MA interpretive projects formally launch this evening at a celebration event in the School of Fine Art, History of Art and Cultural Studies.
The students undertaking the projects are all studying on our Art Gallery and Museum Studies, Arts Management & Heritage Studies and Curating Science MA courses.
Our MA students take an Interpretations module in the first term of their course where they work collaboratively in small groups to respond to a professional brief.
Each group develops, designs, markets and installs an interpretative intervention, such as standalone exhibitions and contributions to existing projects on campus.
Many of the projects are in collaboration with on-campus galleries and archives based at the University of Leeds, such as Feminist Archive North and The Stanley & Audrey Burton Gallery.
This year the range of topics include the feminist peace camps of Greenham Common and Menwith Hill, women's health in Victorian Leeds and remembering The Who Live at Leeds, 50 years on.
Dr Gill Park, Lecturer in Art Gallery, Museum & Heritage Studies and module leader for Interpretations, said of this year's MA projects:
"We are really excited to launch eleven exciting new interpretations projects.
"In addition to our ongoing partnerships with the Leeds University Library Galleries, the Museum of the History of Science, Technology and Medicine and Leeds University Union, we are excited to be working with two new partners this year: the Business Confucius Institute and the Language Centre. This allows us to think about the rich contributions international students have made, and continue to make, to the university.
"This year also sees a particular focus on the School's 70th year celebration of Fine Art at Leeds, through which our students have been thinking about art education past, present and future.
"We are very proud of the creativity and hard work our students have put into their Interpretations exhibitions and are grateful for the collaborative efforts of our fantastic on-campus partners."
Prior to the evening's celebration event, all the exhibitions have been open to the public across the afternoon. Visitors were invited to make their own way round each one at different campus locations, or to join a free guided tour led by one of the MA students.
A celebration reception will be held in the School of Fine Art, History of Art and Cultural Studies from 5 to 7pm, and will offer refreshments and opportunity for visitors to hear lightening talks from some of our students, past and present. The event is open to all and booking is not required: see here for more information.
Whilst many of the exhibitions end later today, some will continue into 2020. Full details of each one, including locations and opening hours, can be found on our events pages.
Image
Images of a live tea ceremony and an interpretation board from the Step Into China exhibition at the Business Confucius Institute.