Thought in the act: BA Fine Art students share their skills to make activities for family participation in Leeds Art Gallery
Erin Shields, a BA Fine Art student at the University of Leeds, has worked alongside fellow students to generate an audience interactive to coincide with Leonardo da Vinci: A Life in Drawing.
To mark the 500th anniversary of the death of Leonardo da Vinci, Leeds Art Gallery is displaying a selection of the Renaissance artist's greatest drawings on loan from The Royal Collection until 6 May.
A Life in Drawing is taking place in twelve cities across the UK and provides a once-in-a-generation opportunity to see da Vinci's drawings up close. Although none of Leonardo's sculptures survive to this day, the exhibition provides an unparalleled insight into his investigations.
Erin Shields is the School of Fine Art, History of Art and Cultural Studies Student Ambassador for Leeds Art Gallery for this academic year. As part of her role, she was invited by Amanda Phillips, Learning and Access Officer at the Gallery, to curate the Artspace in response to the Leonardo da Vinci exhibition.
Erin roped in some other second year undergraduate students from her course ― Eve Jonas, Sofia Moore and Anna Higgins. They all worked together with Amanda and Ella Griffiths (a trainee teacher from Leeds Trinity University) to devise a range of activities for different ages.
The students took different quotes by da Vinci and designed a response with the audience in mind for each one. Working together on the project gave them a unique insight into the inner workings of a gallery and the thought processes behind it.
Erin Shields said:
"This project was a completely different challenge to any I have encountered throughout my degree so far.
"Working closely in a team of fine art students allowed us to engage with each person's creativity, whilst allowing us to problem solve and adapt to reach the final outcome. The project has also proved valuable in the development of our individual practices through each activity we created.
"The sculptural thinking aspect was a large aspect of how we approached our brief. Taking inspiration from Leonardo Da Vinci and his way of thinking, we were able to produce multi-sensory activities for a range of ages through contemporary art practices. This not only shaped our own ways of thinking but hopefully that of the public who take part in the activities.
"The project has not only allowed us to have our work shown in the gallery to a large audience ― it has provided an invaluable experience in understanding how the gallery works behind the scenes in terms of budgeting, working to a brief and to a strict time limit."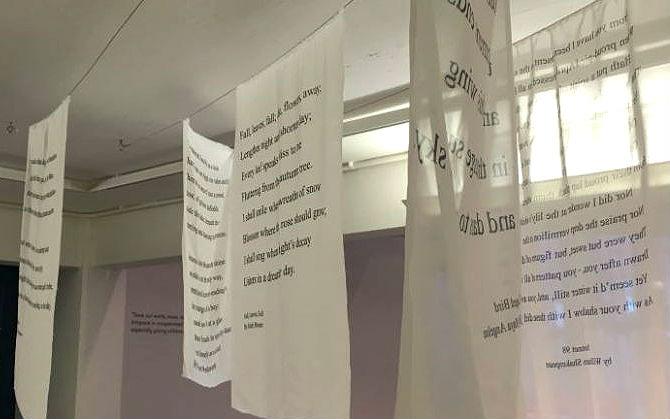 Amanda Phillips said:
"It was exciting to witness how the project developed.
"Initially it was hard to make an interpretative connection with the exhibition without being too didactic, but over time the creativity and hard work of the students resolved the problem and generated interesting ways to play with thinking about and making art.
"This iteration of Artspace has been particularly well received by both gallery professionals and those who have chosen to use its resources which is a testament to the quality of the work produced."
The Artspace activities are available throughout the duration of the Leonardo Da Vinci exhibition.
See the Leeds Art Gallery website for more information.
Images: Artspace at Leeds Art Gallery, curated in response to the Leonardo da Vinci exhibition.