Contemporary art in the heritage experience — call for papers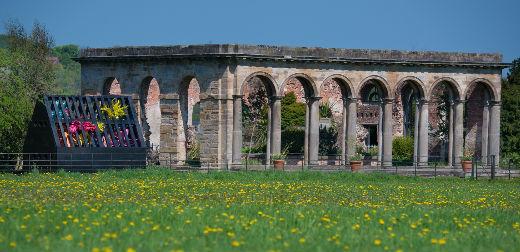 Contemporary Art in the Heritage Experience is a two day conference taking place 29-30 July 2019, delivered as a critical part of the Mapping Contemporary Art in the Heritage Experience project.
In recent decades, contemporary art commissioning has become a key aspect of heritage site programming with national organisations and individual sites investing in artists as a way of developing new opportunities for public engagement with heritage.
For many artists, temporary commissions for heritage properties is an increasingly important strand of their practice. Yet despite significant developments, and organisational support from the arts and heritage sectors, there is little understanding of the contemporary arts in heritage field.
This two-day conference provides a platform to discuss the broader character of contemporary art in heritage and the impact of such projects on their producers and audiences, sharing knowledge of this practice across the sector for those engaged in or wishing to develop this area of practice.
The conference is focused on the key themes of Creation and Encounters, and we invite papers, presentations and 'visual or audio formats' (such as posters and short films) from artists, curators, heritage professionals, academics, researchers and research students. All presentation formats will need to be a maximum of 20 minutes in length.
We particularly invite submissions which explore the following themes and topics:
Creation theme: The challenges, motivations and experiences of creating contemporary art works for a heritage context. Reflections on the impact of such projects on artistic and curatorial practice.
Encounters theme: Encountering contemporary art in heritage: impact on visitors, host organisation, staff and volunteers.
Abstract submission
Abstracts of up to 300 words in length should be sent to mcahe@ncl.ac.uk. Abstract submission closes 31 January 2019.
Please include the following details:
Your title, full name and affiliation (if applicable)
Your email address
Working title of abstract
Presentation type (oral presentation, poster, film or audio formats)
Abstract (up to 300 words total)
The conference programme will be confirmed in March 2019 and registration opens on 1 April 2019.
For more information please follow updates on the project website and follow us on Twitter: @mcahe_NU
Mapping Contemporary Art in the Heritage Experience (MCAHE) is a collaborative research project between Newcastle University and the School of Fine Art, History of Art and Cultural Studies at the University of Leeds.
This three-year research project is funded by the Arts and Humanities Research Council (AHRC) and delivered in collaboration with UK heritage partners The National Trust, English Heritage, Arts & Heritage, The Churches Conservation Trust, the Contemporary Visual Art Network and Arts Council England.
The project includes four commissions by award-winning UK artists, Fiona Curran, Mark Fairnington, Matt Stokes and Andrew Burton and two works commissioned in collaboration with partners by Susan Philipsz and Marcus Coates.
Image shows Fiona Currans work at Gibside, Your Sweetest Empire is to Please. Courtesy Colin Davison Photography.