BA Fine Art graduates shortlisted for FUAM Graduate Art Prize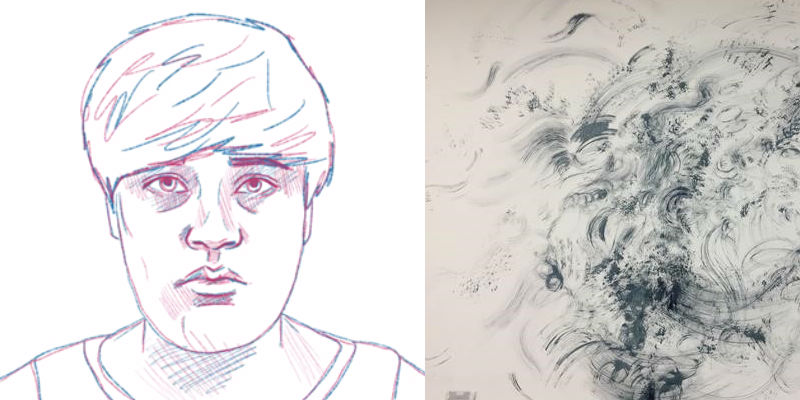 Recent BA Fine Art graduates, Hannah Marsh and Katie Clark, have been shortlisted for this year's FUAM Graduate Art Prize which showcases the work of four recent art students from the University.
The FUAM Graduate Art Prize rewards the artistic excellence of the top students completing studies in Fine Art and Design at the University of Leeds in 2018. Now in its sixth year, this highly competitive prize is supported by the Friends of University Art & Music (FUAM) — a registered charity founded in 1989 to promote and support art and music at the University of Leeds.
The Stanley & Audrey Burton Gallery will host an exhibition showcasing the work of this year's four finalists, which will preview on Tuesday 14 August 2018.
Degree shows at the Schools of Fine Art, History of Art and Cultural Studies and the School of Design took place around the University of Leeds campus in June 2018. A panel of three judges from around the Yorkshire region visited the degree shows and selected four graduating students as finalists for this year's prestigious FUAM Graduate Art Prize Exhibition.
The judging panel was made up of Nigel Walsh (Contemporary Art Curator at Leeds Art Gallery), Amy Charlesworth (Lecturer in Art History with the Open University) and Luke Windsor (Deputy Dean in the Faculty of Arts, Humanities and Cultures).
The four finalists for 2018 are: Hannah Marsh and Katie Clark (BA Fine Art); and Beth Windmill and Tayisiya Shovgelia (BA Art and Design).
Hannah Marsh and Katie Clark both graduated this summer with degrees from the School of Fine Art, History of Art and Cultural Studies. Their work was exhibited alongside that of 56 other artists across the School's studio, project and shared spaces in June as part of the 2018 BA Fine Art Degree Show, SQUEEZE.
Chris Taylor, Deputy Head of the School of Fine Art, History of Art and Cultural Studies, and Senior Lecturer in Fine Art, said:
"I would like to congratulate Hannah and Katie for being selected as finalists for this year's FUAM Graduate Art Prize.
"Hannah Marsh's drawing, sound and photographic installations examine the topical issue of migrant workers through the life and history of her grandmother who came to the UK from the Caribbean, working as a cleaner. Her work also relates to service staff employed in the university itself, the marks they make and the traces they leave through their everyday, 'invisible' roles.
"Katie Clark's shortlisted hand-drawn animation reflects the situations that many young people, particularly female, find themselves coerced into and the resulting personal psychological stresses and the social stigma which this can lead to.
"Through their individual approaches, both artists take important social issues and make them accessible, relevant and alive."
The judges will return to select the overall winner of this year's FUAM Graduate Art Prize in September. The 'Best in Show' graduating student artist of the year will receive £250. Each of the runners-up will receive £100 each to aid them in their developing career as artists. The prizes will be awarded by FUAM in an award ceremony in on 26 September.
The winner of last year's FUAM Graduate Art Prize was BA Fine Art graduate, Zoë Carlon, who subsequently went on to take up a residency with The Royal Drawing School at Dumfries House in Scotland. Zoë said:
"Winning the FUAM prize in 2017 was a brilliant experience. The opportunity to exhibit my work in a gallery space and work with the curator and the installation team gave me valuable insight into professional practice.
"I also really enjoyed showing my work to a new audience and receiving responses and feedback.
"Going on to win the prize gave me a real confidence boost and a spring board into continuing my practice post-university. I was very grateful for the prize money which enabled me to buy new materials to create a new series of works."
This year's exhibition opens to the public on 15 August and continues to 3 November.
More information about the FUAM Graduate Art Prize, including the exhibition launch event, can be found here.
Images:
Hannah Marsh, For Eya, Susie and I (7), ink drawing using cleaning tools, 2018. © The Artist
Katie Clark, The Grey Area, installation: digital animated video, 2018. © The Artist