Art teachers gather on campus for another three days of Plan Prepare Provide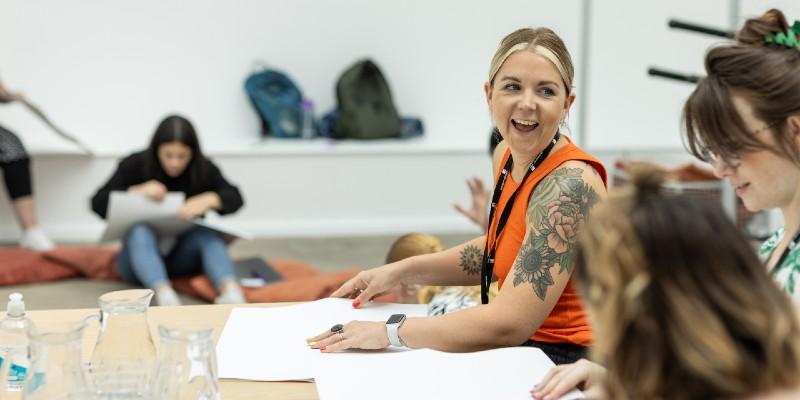 Twenty-eight secondary school art teachers from across the UK came to the University of Leeds campus in July for this year's three-day residential event as part of Plan Prepare Provide.
Described by one teacher as "the best subject-specific continuing professional development in 22 years of teaching art", this year's residential provided an innovative space for art teachers to collaborate, network and develop new skills—leaving with many new resources and plans, feeling revived, refreshed and reinvigorated.
The annual Art Teachers Residential offers a unique opportunity for teachers and their schools to improve their delivery of both academic and practical art lessons and to build upon their art historical knowledge. Now in its seventh year, the free residential course provides critical advice, insight and experience from current art and art history teachers, academics and arts professionals.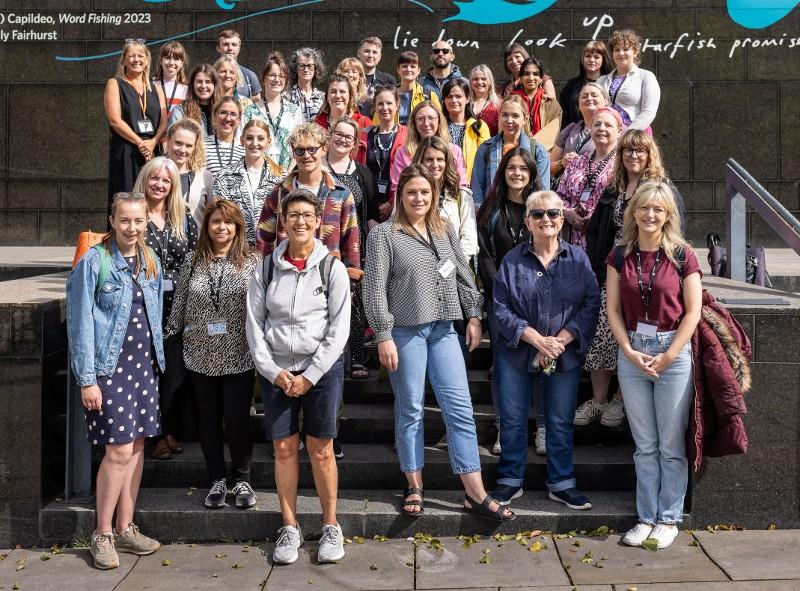 This year's cohort for Plan Prepare Provide. Photo by Andy Lord.
The residential is part of Plan Prepare Provide, an initiative run by the School of Fine Art, History of Art and Cultural Studies and Arts and Humanities Outreach Team at the University of Leeds, developed in partnership with the Association for Art History.
The Art Teachers Residential has been generously funded by The Paul Mellon Centre for Studies in British Art History over the past three years, with a commitment to continue this support until at least 2026.
Facilitator, Paul Raymond, delivering a practical session on using AI in the classroom to make art. Photo by Andy Lord.
Plan Prepare Provide
Plan Prepare Provide was established in response to the call for bespoke continuing professional development (CPD) for art teachers and the decreasing amount of time made available for art in English state schools.
In addition to the annual three-day residential, the wider Plan Prepare Provide programme encompasses stand-alone Continuing Professional Development sessions and a targeted follow-on Postgraduate Certificate in Developing Teacher's Research and Practice.
Since its inception in 2017, this unique programme has supported 178 teachers from over 174 different schools and colleges across the UK. This equates to a wider reach of around 33,800 students taught by the teachers who have engaged with Plan Prepare Provide.
Creative sessions form the basis of this CPD programme for art teachers. Photo by Andy Lord.
Positive feedback
Feedback from the art teachers who took part in this year's residential was overwhelmingly positive, describing the three days of activity as 'inspiring', 'amazing' and 'incredible'. There was an overwhelming view that the residential made the teachers feel valued and encouraged them to continue their work to inspire their students to consider a creative future.
Some of the feedback from participating art teachers included:
"This CPD was 'a tonic'. It highlighted the importance of what we do and supplied ideas and inspiration, supporting art teachers to provide meaningful and inspiring teaching!"
"This has been an incredible experience. I have felt valued in my profession, which is something that hasn't happened for a long time. I feel enthusiastic and ready to expand the art in school and my own personal art journey."
Making models as part of a session on using digital tools alongside more traditional materials in the art room. Photo by Andy Lord.
"I feel completely rejuvenated and excited to go back to school. I do feel valued in my school however being here has made me feel much more valued in society and in a wider community."
"The best subject-specific CPD in 22 years of teaching art. High quality, engaging, reassuring, thought-provoking, inspiring in all aspects."
"I feel really inspired by the professors, lecturers and speakers and the knowledge they have shared in the workshops throughout the days. Before coming, feeling undervalued and uninspired but now feel rejuvenated. The workshops have been so informative and given me so much food for thought!"
Teachers working with Alison Smith, Engagement Curator at The Henry Moore Institute, Leeds. Photo by Andy Lord.
"How wonderful to be surrounded by 30 or so other oddball artist teacher creatures. The overall energy and creativity oozing from the building and its inhabitants gave me an overall sense of belonging and meaning to my role, myself and my position in the present. All teachers do amazing jobs, but wow to be immersed in three days of art making and thinking with like-minded (and abstract-minded) art teaching individuals was moving, invigorating and so purposeful."
"I have an amazing team in my college and meeting 30 more art teachers reminds me I'm not alone on this journey. The tutors' passion and enthusiasm for the CPD has lifted sparked my own enthusiasm and most definitely inspired me to continue on this path with purpose and positivity."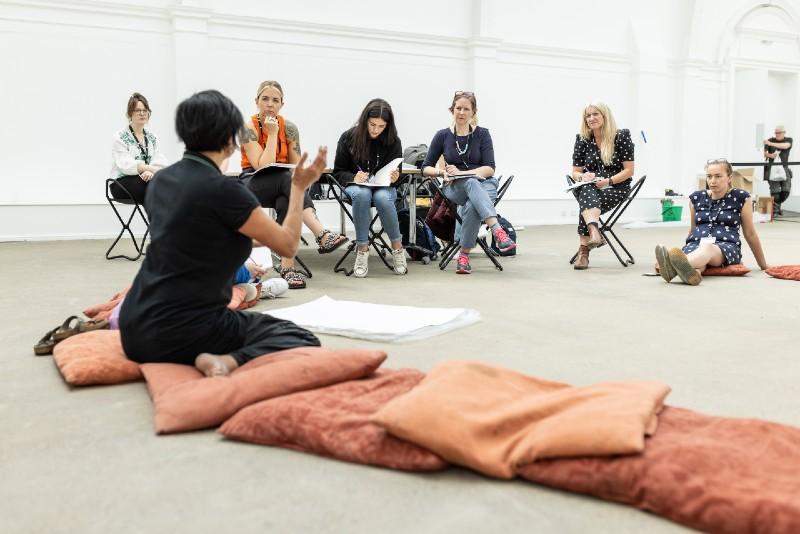 Workshop with Amanda Philips, Learning and Access Officer, Leeds Art Gallery. Photo by Andy Lord.
"All of the sessions have been incredible. Each and every facilitator has given something different and I genuinely feel like they have shared so much with all of us. The energy and positivity have been amazing. I have felt challenged and comfortable at the same time! The connections that I have made have been amazing."
"I loved being inspired by other art teachers. The fact that we understood where we were each coming from. Sharing practice. Gaining new skills. It was just a fabulous course and the most valuable course I've had access to in my 16 years of teaching. I can't thank you enough."
Teachers participating in a workshop with Hannah Vallance, Art Teacher at Notre Dame Catholic Sixth Form College and Plan Prepare Provide Facilitator, at Leeds Art Gallery. Photo by Andy Lord.
Messages from the organisers
Abigail Harrison Moore, Professor of Art History and Museum Studies in the School of Fine Art, History of Art and Cultural Studies, was one of the people who developed the programme. Abigail said of this year's art teachers' residential:
"We all look forward every year to Plan Prepare Provide, and this year was amazing! The teachers arrive exhausted after another year of battling in the classroom and for the soul of their profession, and leave empowered and ready to face another year. Our incredible team of facilitators breathe new life into these incredible teachers.
"Our ambition, in partnership with the Paul Mellon Centre for Studies in British Art, is to engage the teachers using artists and art that they may or may not be familiar with. We provide them with the tools, lesson plans and energy to go back to their schools across the UK and continue their vital work to enable the next generation of artists, creatives, curators, designers and critical thinkers to emerge into the world.
"The Plan Prepare Provide art teachers inspire us and we aim to inspire them."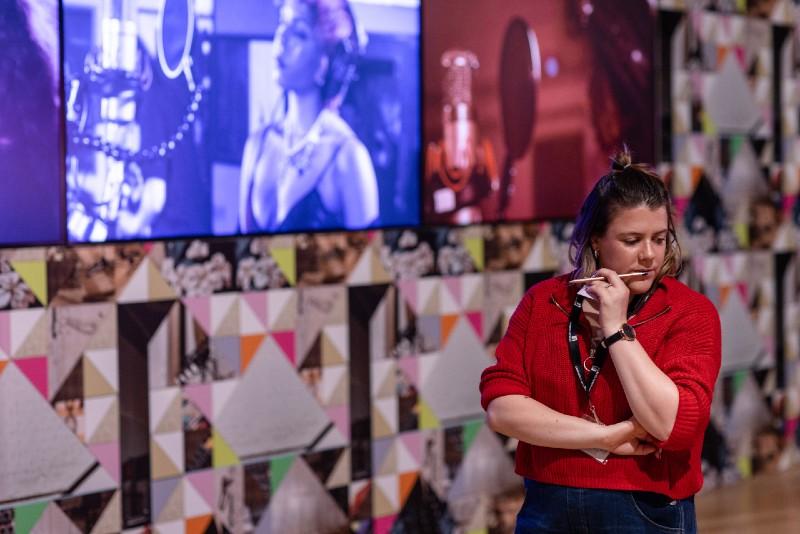 Contemplating the Sonia Boyce Venice Biennale exhibition at Leeds Art Gallery. Photo by Andy Lord.
Anne-Louise Quinton has been part of the Plan Prepare Provide delivery team since its inception, having also been a secondary-level art teacher for twenty-four years. She now focuses on delivering online Continuing Professional Development for the ever-growing alumni of Plan Prepare Provide. She is also the tutor on the PGCert Continuing Developing Research and Practice for art teachers.
Anne-Louise said:
"The art teachers' residential has been designed with the specific needs of the art teacher in mind.
"Full of subject-specific resources to work within and outside the art room, the course is immersive and practical. Keeping up to date with all issues regarding the subject at the secondary level has been vital in providing art teachers with relevance and vitality for their teaching.
"The power of bringing art teachers together in a supportive and caring environment on campus has a huge positive impact on their motivation and positivity."
Discussing artworks at Leeds Art Gallery. Photo by Andy Lord.
Find out more about Plan Prepare Provide.
Visit @UoLArtsOutreach and #ArtResLeeds on Twitter for further insight into the Art Teachers Residential and wider Plan Prepare Provide initiatives.
Feature image
Art teacher taking part in a Leeds Art Gallery workshop with Amanda Philips as part of Plan Prepare Provide. Photo by Andy Lord.