Sculptures by Molly Newham selected for Open Artspace 2023 exhibition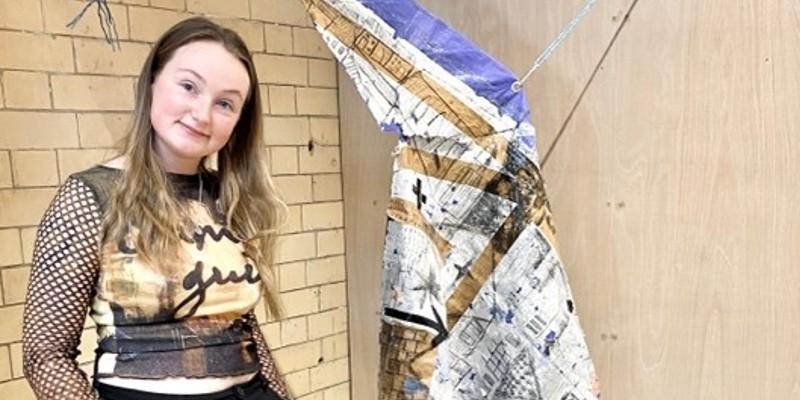 Work by final year BA Fine Art student Molly Newham is currently on display in a new exhibition at The Old Parcel Office gallery in Scarborough.
The Old Parcel Office is a new arts venue for North Yorkshire, housed in a grade II listed building located on Scarborough Station. The venue's aim is to support the cultural regeneration of Scarborough by making art more accessible; bringing high quality art to Scarborough and by giving artists a platform to share their practice, teach, perform, and show their work in the region.
An open call earlier this year attracted over 450 entries from over 250 artists spread across the UK. Works by 80 of the artists were chosen by an independent selection panel and are now on show in an Open Artspace 2023 exhibition. In keeping with the aims of the Old Parcels Office, the selected works showcase an exciting, eclectic cross section of contemporary art.
Molly Newham, Erosion Term II; Tension (2022). Open Artspace 2023, The Old Parcel Office, Scarborough.
Molly Newham is currently in the final year of a BA Fine Art degree in the School of Fine Art, History of Art and Cultural Studies at the University of Leeds. Two of Molly's sculptures — Erosion Term III; Slump (2022) and Erosion Term II; Tension (2022) — were selected for inclusion in the exhibition, which opened with a private view on 11 February.
Molly said:
"I was thrilled to be selected for the exhibition, especially to have two works in the show. It felt even more exciting to be able to bring my contemporary practice back to my hometown and sharing it with friends and family. The quality of the other artists involved was exceptionally high, so it's a real privilege to be selected. I believe Scarborough is undergoing a turning point in its creative scene, and I'm excited to see what other opportunities arise.
"My art practice explores landscape, specifically coastal environments, and examines issues that affect these areas such as the climate crisis and high levels of deprivation. I love combining drawing and sculpture to display buildings and architecture, and the folklore of small regional communities.
Molly Newham, Erosion Term III; Slump (2022).
My two sculptures on display in Open Artspace 2023 are made from materials such as tarp, canvas, charcoal, graphite, bail twine and electrical tape. The titles of each piece reference a specific type of coastal erosion and I use the vernacular of geology as starting points to create reactive sculptures.
"Studying at Leeds has really pushed me to create the best work I can, and to continually make connections and apply for opportunities. I'm very grateful for the support and expertise of my level 3 tutors who have helped me to develop this new body of sculptural work.
"Coming up next, I'll be continuing to work towards my degree show and I'm excited to share that my sculpture Erosion term III; Slump (2022) will be exhibited in the Sunny Bank Mills Ones to Watch exhibition in March."
Open Artspace 2023 runs from 11 February to 12 March. Full details about the show can be found on The Old Post Office's website.
Image
Molly Newham next to Erosion Term II; Tension (2022) at the Open Artspace 2023 exhibition, The Old Parcel Office, Scarborough.