Fine Art student Suilven Hunter longlisted for the Freelands Painting Prize 2022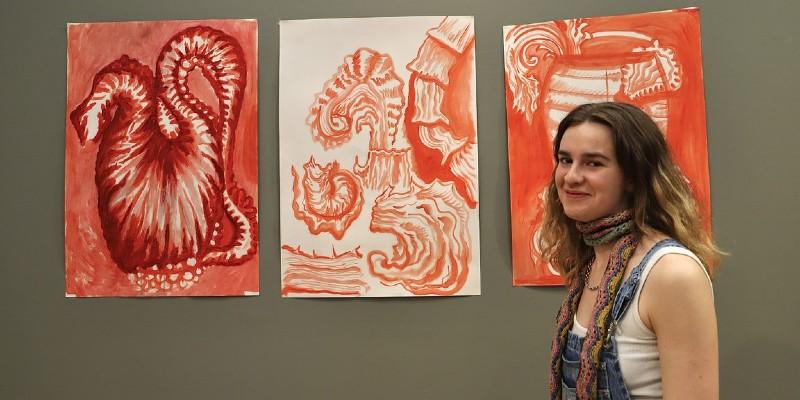 Undergraduate student Suilven Hunter has been selected to represent the University of Leeds for this year's Freelands Painting Prize.
The Freelands Painting Prize celebrates outstanding painting practice at undergraduate level, culminating in an exhibition at the Freelands Foundation gallery space in London.
Launched in 2020, the prize extends the Foundation's ongoing support for artists at all stages in their career and art education.
For the third edition of this annual competition, every higher education institution in the UK offering either a BA Fine Art or Painting course was contacted and asked to nominate one of their final year students (2021–22). The key criteria was that their work must include paintings.
Suilven Hunter was selected from 62 final year undergraduate Fine Art students from the School of Fine Art, History of Art and Cultural Studies, with her oil paintings on paper: Hybridity, 2021; Ammonoidea, 2021; and A Pot Devoured, 2022.
All submissions will be reviewed anonymously by a jury including Simeon Barclay (artist and Freelands Advisory Committee representative), Louise Giovanelli (artist), Matt Price (writer, curator and founder of Anomie Publishing) and Habda Rashid (Curator of Modern and Contemporary British Art, Fitzwilliam Museum and Kettle's Yard).
The jury will select a group of at least eight winning artists to participate in an exhibition at the Freelands Foundation gallery in London, in autumn 2022. The winning artists will be announced on 16 May.
The exhibition will be accompanied by a publication, which, in addition to sections dedicated to the winning artists, will also feature the longlist of participating institutions and nominated students.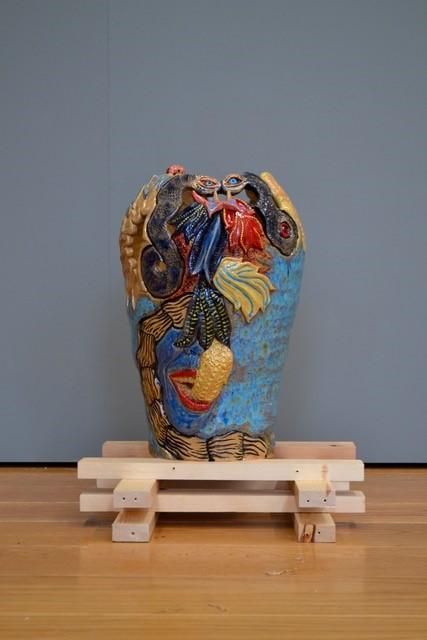 Suilven Hunter, Adorned & Devoured, 2022. Glazed stoneware, 25x40cm [installation view]. Artist's image.
Suilven Hunter, a final year BA Fine Art with History of Art student, said:
"I'm really delighted that three of my paintings have been long listed for the Freelands Painting Prize 2022.
"Painting has been a vital part of my art practice this year, allowing me to create a visual conversation around deliberate decorativeness versus functional designs, particularly within the realms of ceramics. These paintings are in themselves both decorative and functional in their own right; demonstrating the power of excessive adornment, but also serving as working drawings of sorts.
"Whilst the paintings you can see in the image above are two dimensional and monochromatic, the motifs that are depicted have been central to my ceramic work – where they have undergone a metamorphosis from painting into vibrant three-dimensional forms.
"After initiating a proposal for the School to purchase a kiln, I have spent the final year of my degree developing my technical understanding of ceramics making, in order to make full use of this new facility.
"I've found that combining my previous painting experience developed during my first and second year at Leeds with new ceramic building and glazing processes particularly formative for my art practice.
"I'm really excited about the work I've been making so far and that it has been nominated for this fantastic prize."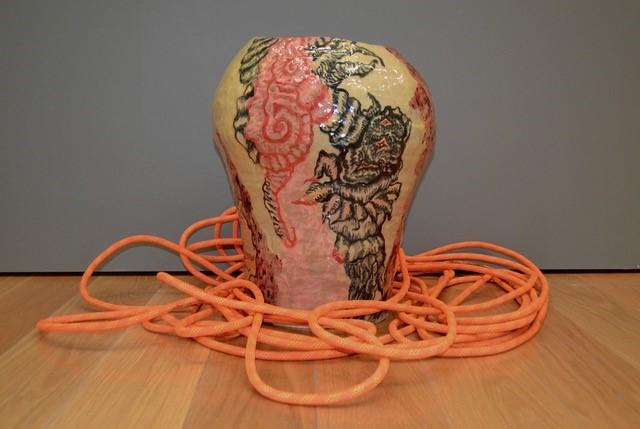 Suilven Hunter, Floridian, 2022. Glazed stoneware, 34x46cm [installation view]. Artist's image.
Dr Julia McKinlay, Lecturer in Fine Art at the University of Leeds, said:
"Suilven has developed a highly individual and exciting body of paintings and ceramic work throughout the final year of her degree. Her work elegantly explores the tension between the decorative and functional in ceramic objects.
"Painting is central to this, both as a way to imagine future ceramics and to question the seemingly innocent ornamental organic imagery found on ceramic objects, particularly from the Baroque period. There is an uncanniness and edge to Suilven's work that draws the viewer in.
"Suilven's work is beautifully crafted and highly individual and deserves to be recognised in this brilliant cohort of early-career graduate painters."
Find out more about the Freelands Painting Prize.
Discover Suilven Hunter's art on Instagram.
Feature image
Suilven Hunter [Project Space, 2022]. Image courtesy of the artist.