Ones to Watch 2020 features work by our BA Fine Art students and alumni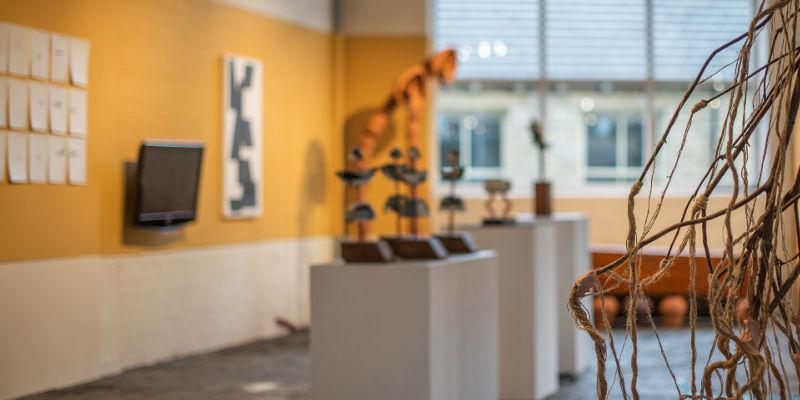 Five of our final year BA Fine Art students and one alumna were recently selected to take part in this year's Ones to Watch exhibition, which was due to open in March at Sunny Bank Mills in Leeds.
Sunny Bank Mills is an art, design and culture space housed in a light and tranquil old cloth warehouse in Farsley, Leeds.
Their annual Ones to Watch exhibition showcases work by Yorkshire based creative students and recent graduates, using a variety of art practices including painting, sculpture, textiles, graphics, film, photography, ceramics, jewellery, performance, installation, drawing and printmaking.
Selected artists for 2020 include Poppy Jones-Little, Sarah Larby, Catherine Morgan, Olivia Tess Russell and Erin Shields: all in their final year of the BA Fine Art course at the University of Leeds.
D'Arcy Darilmaz, who graduated in 2019, was also one of the 32 artists chosen for this year's Ones to Watch. For D'Arcy, this is the second time to have been selected for Ones to Watch, her work having been featured in the exhibition in 2019.
This year's exhibition was due to run from March to May, opening with a celebration event on the evening of Friday 20 March. However, the global pandemic led to the launch event being cancelled and the gallery was subsequently closed.
Sunny Bank Mills has continued to ensure that public audiences can still see the work that was to be exhibited for this year's Ones to Watch, using their social media channels to showcase the work of individual artists.
Sarah Larby, a final year student on the BA Fine Art with Contemporary Cultural Theory (International) course, said:
"I am delighted to have been chosen for Ones to Watch 2020 but ultimately disappointed that people did not get to see all the amazing work of the other talented artists I am exhibiting with.
"However, the team at Sunny Bank Mills have been amazing and got in touch to say that they would be featuring artists' profiles and our work on social media and their website throughout the exhibition so people can experience it virtually.
"My piece chosen for the exhibition — Family of Five — is a body of work made up of five individual sculptures, each a 'fleshed out' facial form. They are individually titled with the names of the subjects: 'Daniel', 'Matthew', 'Dave', 'Cath' and 'Self-Portrait'.
"Using various silicones and prosthetic techniques to mimic the properties of human skin, these filled out casts are distorted under their own weight. With their eyes closed, stripped bare of the human gaze and other identifiers such as hair, they have a familiar yet uncanny feel to them."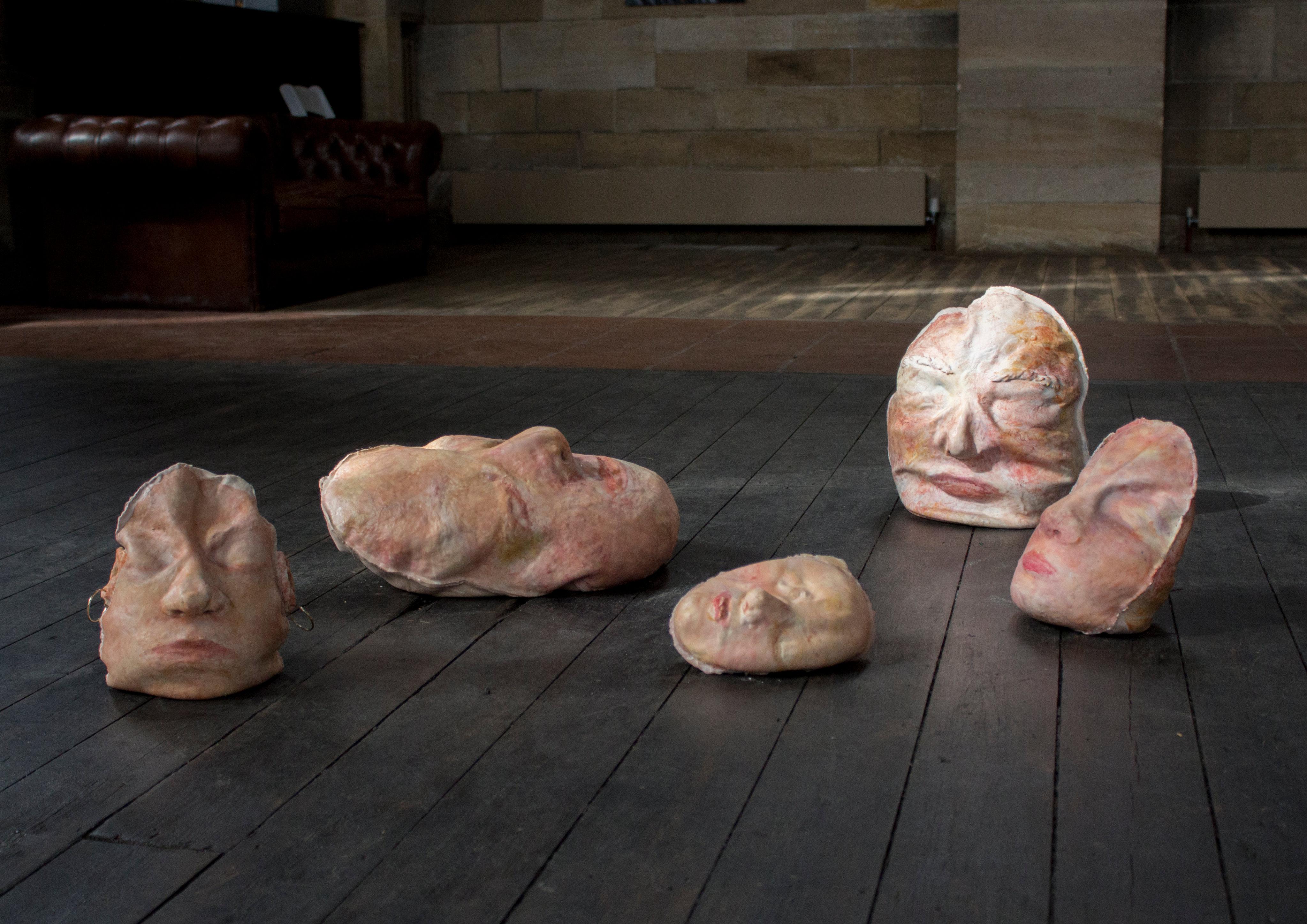 Sarah Larby, Family of Five (2020).
Catherine Morgan, BA Fine Art (International), said:
"Ones to Watch 2020 is a very exciting experience for me and for all the other artists exhibiting from our Faculty, and from across Yorkshire.
"With the coronavirus crisis there have been some obvious set-backs to seeing the work physically in the gallery, but Sunny Bank Mills have been really encouraging, helpful and innovative throughout this time with their communication with us as artists and with getting our work seen by the public.
"I am exhibiting three screen prints from my A.A Series (2020) and two paintings: A Format (2019) and B Format (2019).
"My work points to the inherent power of written language, how letters act as vessels of communication which have meaning bound to them. I aim to subvert this power by using the letter forms as visual tools to create an image that exclusively looks to form and shape.
"I play with whether the viewer reads my work or sees it as a visual image by layering letters, repeating them, twisting or breaking them apart. An essence of language remains but the letters are no longer bound to their understood meaning, pushing the boundaries of how long a letter's function remains to the viewer."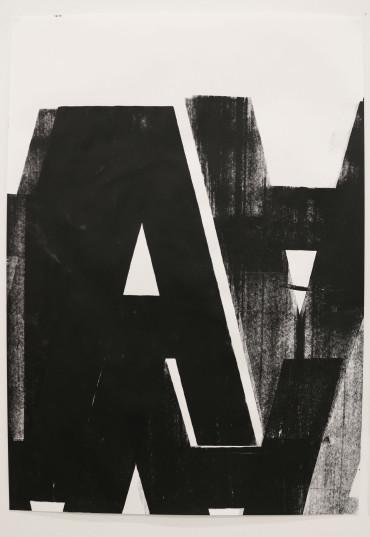 Catherine Morgan, A.A Series (2020), Screen print on paper, 84.1 x 59.4 cm.
Olivia Tess Russell, BA Fine Art (International), said:
"I feel very lucky to have been selected as part of Ones to Watch 2020 alongside other emerging Yorkshire artists. Of course, it is very unfortunate the exhibition fell on the dates it did this year and that, due to the current circumstances, we have not been able to see the exhibition in the flesh.
"Above all else, I was looking forward to meeting all the artists I would have exhibited with in the Sunny Bank Mills gallery this year.
"Despite this, it has been incredible to see the connections made online, via social media. How, even though we cannot celebrate in person together at this time, we are observing, sharing and praising each other's works digitally: I think this support is really important.
"The process of applying and being in contact with Sunny Bank Mills throughout this time has also given me such confidence to apply for more opportunities in the future.
"My work exhibited at Ones to Watch 2020 is my audio-visual performance titled Girl-ish, Fruitful, Fertile, Delicious! 2 (2020), shown on a 42" screen with headphones. This work is an accumulation of, and a conversation with, my past performance pieces and explores female identity, voyeurism, the fairy-tale, entrapment, lust and the uncanny.
"The audio and the visual of the piece hold the same importance. Some parts are only audio, allowing my viewer to focus solely on the sound. The piece has complete hold and control of the viewer's senses, as they stand as if plugged into the work (headphones), however they always have the freedom to leave. This is the main difference I have found working with audio-visual works compared to live performance: the question of audience holds a new resonance and one that I am very interested to explore further."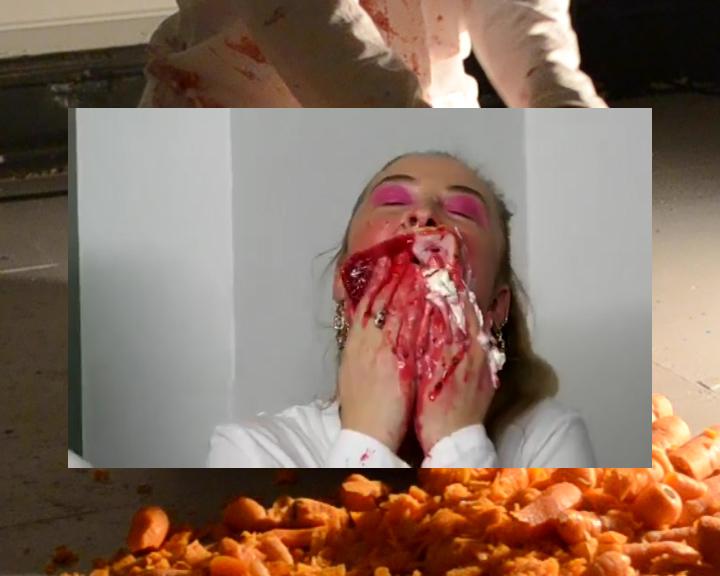 Olivia Tess Russell, Girl-ish, Fruitful, Fertile, Delicious! 2 (2020). Audio-visual performance. Running time 05:33 minutes.
Erin Shields, BA Fine Art with History of Art, said:
"I am really excited about being a part of Ones to Watch this year, even if it has happened under unusual circumstances. Obviously, it is a shame that we haven't yet been able to see the exhibition. However, the gallery has been so supportive of us and have been working on innovative ways to promote the show, which is something that is really exciting to be a part of.
"I think that being a part of the exhibition at this particular time has given me the confidence to apply for more exhibitions that are both physical and digital, but has also inspired me to adapt and develop my work in response to new parameters.
"I am exhibiting work that questions the place of women in the gallery. Through the mediums of print and book-making, I have made text pieces that respond to the seminal feminist essay The Laugh of Medusa. Through this, I aim to shift how the viewer reads and responds to women's writing.
"In the pieces, I attempt to set-up questions about the simultaneous publicity and intimacy of women's lives by revealing a poetic, visual display of my own response to the text to the viewer which disrupt the linear process of reading. I hope that the viewer can then further make meanings through their personal responses to the reading experience."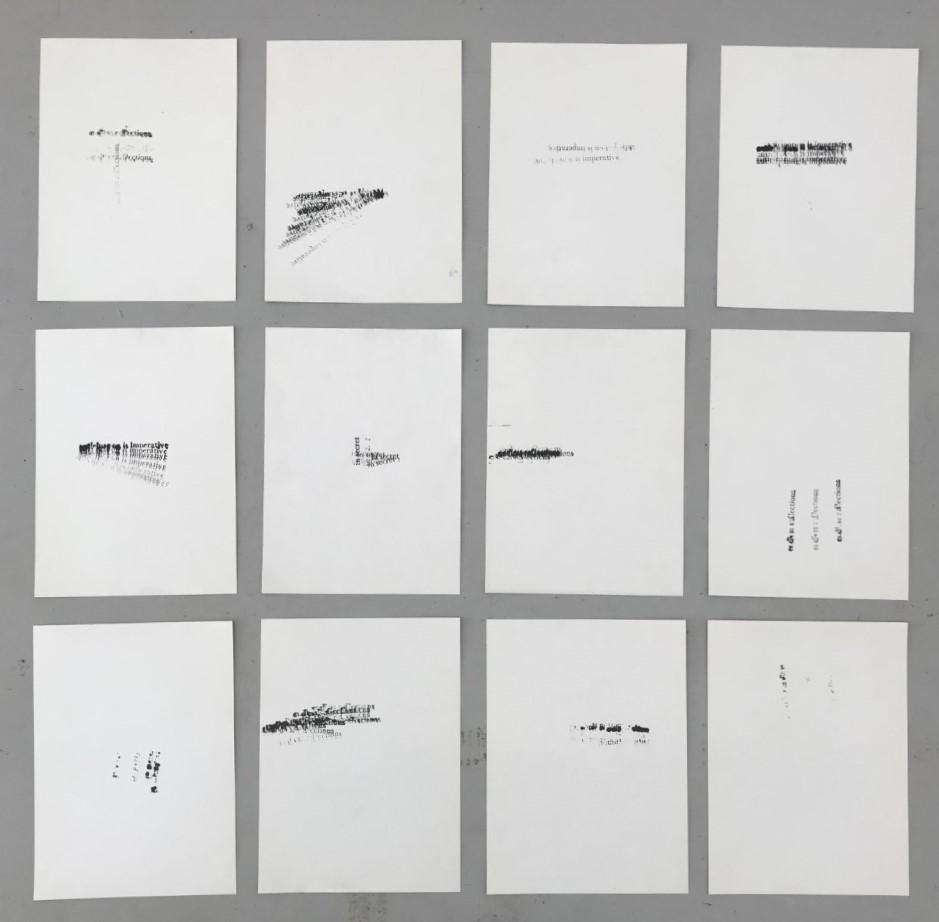 Erin Shields, Demands of the body (2019). 14 8cm x 21 cm ink on paper.
Poppy Jones-Little, BA Fine Art (International), said:
"I am so grateful to have been selected for this exhibition — especially when seeing the incredible talent I am exhibiting alongside.
"Four of my current works have been selected, these being Lumpenpack, A compact mass, Lumpl and Goliath and Lumpig at the discretion of the conservator (pictured). At the crux of each piece is the notion of 'lumphood', an idea which has fuelled my multi-disciplinary, research-based praxis for several years.
"I encountered the term 'lumphood' when reading Theodore Scaltsas' account of Aristotle's Theory of Substratum; curiously, the text provides no further insight into this idea. Since then, I have been scouring various discourses which utilise the word 'lump', to find that a 'lump' transcends disciplines and ultimately refuses clarification and classification.
"'Lumps' are not the same as 'things' or 'objects', nor can they be assimilated with 'hunks', 'shards' or 'blobs'. Often understood as an indiscriminate piece of matter, I have come to realise that this term can act as a placeholder. A word that is uttered when the right word cannot be recalled; 'lump' creeps in without clear intention to denote a non-thing.
"For Lumpig at the discretion of the conservator I deconstructed and bound the tattered sofa which my dog had sadly died upon; I worked instinctually and found the process quite cathartic — pulling, clutching, holding the components without using any tools or external materials.
"Not being able to have a physical opening for this exhibition is a shame, but Sunny Bank Mills have been exceptional in exhibiting the works upon their social media platforms — the excitement and momentum has not been lost."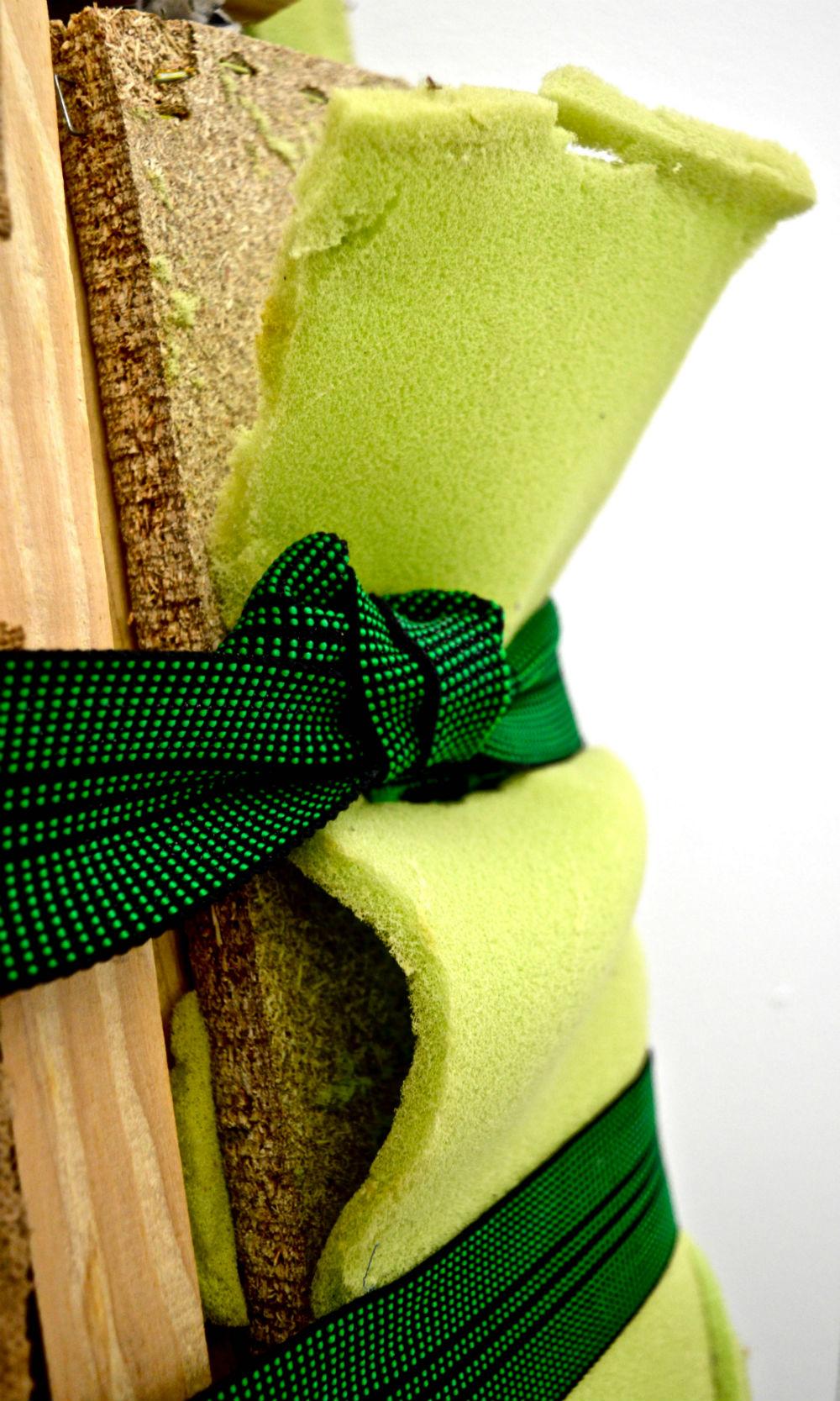 Poppy Jones-Little, Lumpig at the discretion of the conservator (2020). Arm of sofa, deconstructed and bound.
Chris Taylor, Professor in Fine Art Practice at the School of Fine Art, History of Art and Cultural Studies, said:
"During this extraordinary period when our access to art and culture has been severely restricted to that which we can craft in our own homes or view online, Ones to Watch provides Leeds' fine art students and recent graduates with a high profile platform on which to exhibit their work — engaging the attention of both dedicated arts and those chance audiences.
"This annual curatorial project showcases some of our best creative talent — emerging artists who are more than ready to question the realities of our newfound existence in a pandemic stricken world. At the same time, they maintain a grounded understanding and the need for aesthetic, formal and conceptual values as modes of visual communication."
You can see the artists' work on the Sunny Bank Mills' Instagram, Facebook and Twitter channels.
More information about Ones to Watch 2020 and Sunny Bank Mills, including blog posts from some of the artists, can be found here.
Our final year fine art students will also be showcasing their work at their annual degree show, which takes place this year in the digital realm in June. Find out more about the BA Fine Art Degree E-vent — Simmer — here.
Feature image
Ones to Watch 2020 exhibition at Sunny Bank Mills, including work by Catherine Morgan and Erin Shields. Photo by Jack Gaunt.