Fine art students take their work to town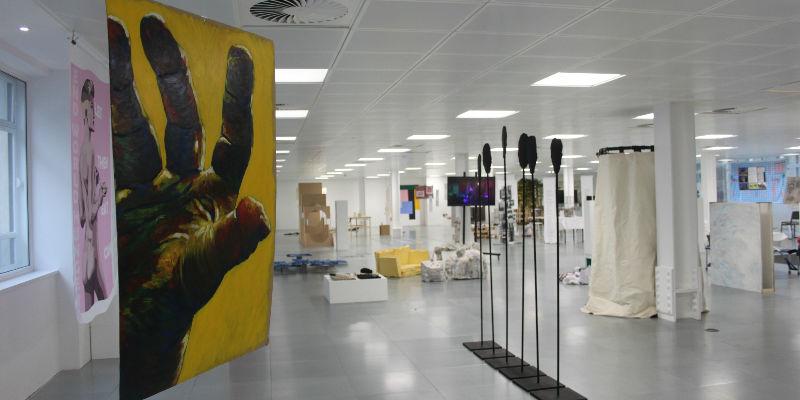 A new exhibition of work by second year BA Fine Art students from the University of Leeds opened earlier this month in Leeds city centre.
Showcasing a range of artistic practices — including photography, sculpture, textiles, performance and soundscape — this exhibition at Yorkshire House on Greek Street allowed emerging artists from the University of Leeds to explore their talents alongside one another in one large gallery space.
The exhibition space was generously provided by Skippko, a Leeds-based arts organisation that secures leases on temporarily vacant retail and commercial property to create arts and community hubs. This is the second occasion whereby students from the School of Fine Art, History of Art and Cultural Studies have been offered space in Yorkshire House for student exhibitions.
Cath Brooke, Project Manager at Skippko, said:
"It's been a pleasure for Skippko to be part of this exhibition. I'm impressed by the range of work on show and how well the students have curated the space."
The exhibition forms a part of a studio work module whereby 74 second year students were encouraged to engage with the complex nature of contemporary art practices, in a variety of media.
BA Fine Art (International) student, Nina Smith, decided to approach the exhibition by creating a collaborative sculpture, Under the Skin, with fellow student Courtney Newson.
"Prior to the exhibition, Courtney and I were primarily painters. We really wanted to push ourselves and create our first collaborative sculpture for our second-year show.
"By initially creating a wooden cube, we wrapped its surface in white latex in the hope of creating the texture, feel and appearance of skin. Alongside this, we created a variety of jesomite casts (consisting of hands, feet and faces) which were held on a structure within to protrude through the latex cube, resembling a distorted figure attempting to push out.
"Our hope was to express the juxtaposition and tension between our two separate practices. Courtney has been looking at the revealing of individual elements within a layer of skin and their ability to show emotion. I have been looking at the concealment of the human form in respect to its tension and privacy, and the ways you can allude to features but still remain hidden."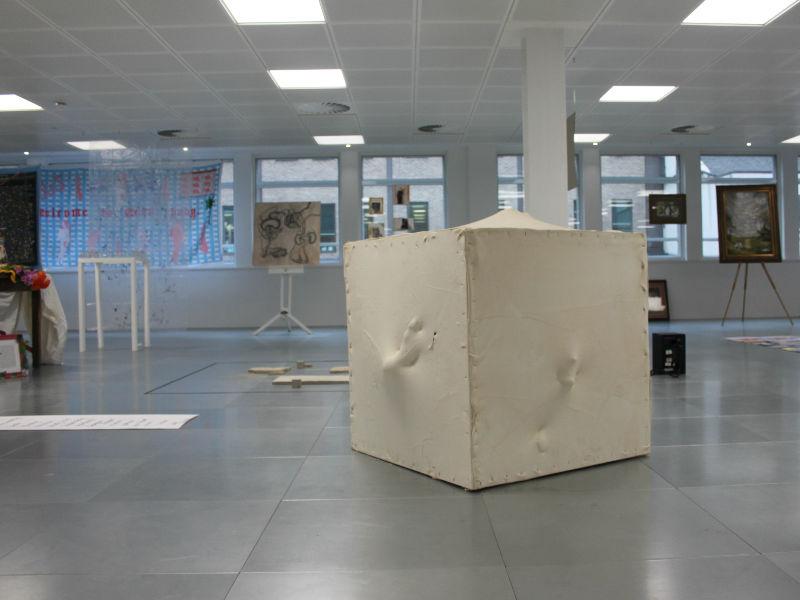 Nina Smith and Courtney Newson, Under the Skin (2019), Yorkshire House, Leeds. Photo by Nina Smith.
The course encourages students to build upon and critically apply skills learned in previous modules, and provides students with ongoing opportunities to try out ways of creating art that are completely new to them.
BA Fine Art student Sarah Birchall decided to focus on sound in her second year and made use of a recently dedicated sound room to learn new computer-based editing techniques to develop her skills in this field.
Sarah said:
"I always carry a recorder with me and I love to record sounds wherever I go. Having discovered the Dark Arches beneath Leeds City Station, I chose to do a sonic response to this wonderful space for this exhibition.
"By starting with historical research, I discovered that the Dark Arches were built in the 1800s and that only 30 years later a fire started in a nearby storage space containing raw soap materials, destroying Leeds City Station. I then found out that it became a market in the 1980s.
"My 15 minute narrative sonic piece, The Dark Arches, takes elements of three points in time: I have recreated explosions to represent the fire in 1882, market sounds for the 1980s and then recordings to show what the Dark Arches sounds like today.
"It was challenging finding the best place to put the installation in a gallery amongst other works of art, particularly due to the sound covering the gallery space. I see this as step one for this piece and would like to take this as a solo piece to more of a site specific space, perhaps in the Dark Arches themselves.
"Now I have these sound skills, I know I can collaborate with others to create new work. With a friend and fellow fine art student, Jenny Brown, we made a meditational audio piece called Contact and showcased that last Friday in a small exhibition at The Faversham. I hope to do more collaborations in the future.
"Being a fine art student at the University of Leeds has been great so far and I look forward to developing my skills further through a year abroad before starting my final year. The School of Fine Art, History of Art and Cultural Studies has many advantages over other art schools: it lets you try anything you like for your art practice and I absolutely love the fact that the course is 24/7 in terms of studio access."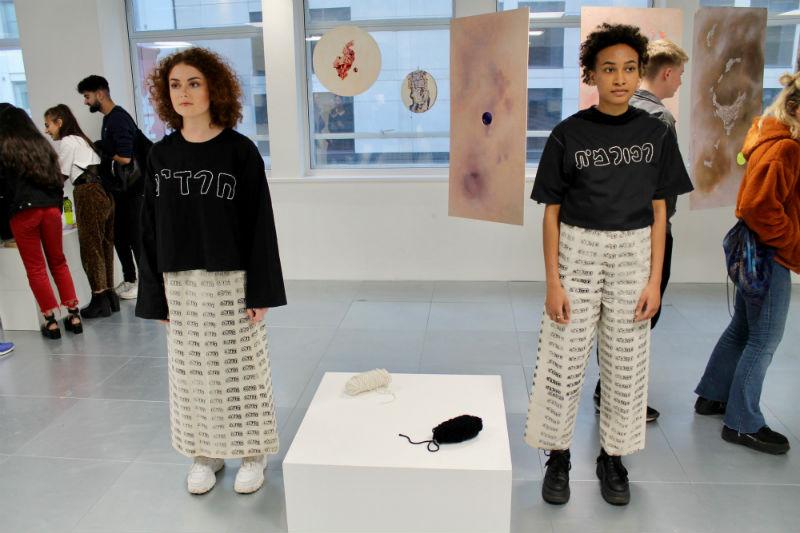 Sophie Gottlieb, Cut from the same cloth (2019), Yorkshire House, Leeds. Models: Lucia Freeman and Lisa Bates. Image courtesy of the artist.
BA Fine Art student Sophie Gottlieb decided to focus on her religion, Judaism, for the exhibition.
Sophie said:
"Through my art for this show, I wanted to put across the noticeable differences between the Reform community within Judaism, which I am part of, and the Orthodox community — in particular when it comes to how they dress.
"One of my main aims in creating this piece — which I've called Cut from the same cloth — has been to encourage discussion and to challenge perceptions.
"I created two sets of clothes: one an Orthodox inspired, modest outfit with a long sleeved embroidered black top and a screen printed skirt, which says הרדים (a Hebrew word which translates to Haraedim, meaning Orthodox). The second outfit is a Reform inspired, less modest outfit consisting of a cropped black t-shirt and screen printed trousers. It says רפורמית (this translates to Reformit, meaning Reform).
"On the opening night of the exhibition, my friends wandered up to my exhibit and dressed up in the clothes. It took people by surprise, like a flash mob. They wandered round the gallery space and then came back, sat down and did the main performance. This involved the wrapping of string around each of their arms to signify Tefillin (a black box that contains the Shema, the holiest prayer in Judaism) with which men, regardless of whether they're Reform or Orthodox, perform a ritual every morning.
"I was particularly interested that there's this unifying ritual for men but for women across both traditions of Judaism there's nothing similar which unifies them together in the way they interpret their religion. So I was really interested to play around with that, with the wrapping and unwrapping.
"It has been great to have input from my course tutors throughout the creation of this piece: they really helped me to think critically about what I was trying to achieve, both through an understanding of where I am coming from and also by offering a fresh pair of eyes. I've also benefitted from day to day support from the technicians who taught me so much about screen printing.
"I really enjoy the freedom that comes with the course where you can teach yourselves a wide range of skills and continue to learn new things. Even though I'm working in a fine art course, I've been able to work with textiles which I've realised is what I love doing."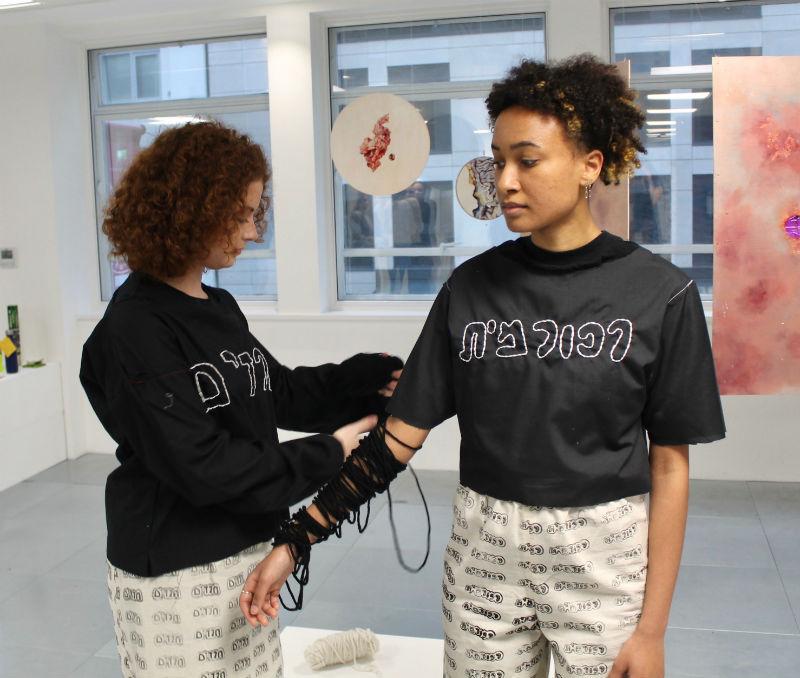 Sophie Gottlieb, Cut from the same cloth (2019), Yorkshire House, Leeds. Models: Lucia Freeman and Lisa Bates. Image courtesy of the artist.
Abby Barker, BA Fine Art, said of her experiences of taking part in the exhibition:
"I do straight Fine Art. Mainly because of the openness of the course, I have been able to be where I want in terms of my art practice.
"I have always found social interaction really interesting so, especially this year, I've done a lot of work trying to get people to communicate in different ways and engage in groups, whether that be within our student year group or part of society.
"The pieces of work I have been doing at the end of my second year have been looking a lot at the social construct around eating and food. For this one in the gallery, I have set up an interactive installation whereby people sit at a table and eat dry crackers, as they listen to the sound they make whilst eating them. I set up the same piece in The Faversham last week as part of a small collective exhibition, using microphones and headphones, and it had a completely different feel to it.
"Trying new things has been a big part of this course. I think in the first year you are dropped in at the deep end a little bit. But, in hindsight, I think that's a good thing because you really then have to think for yourself and think more about where you're going to go. I think everyone has become so diverse in what they are doing here because there's no limit: you can do what you want. which really encourages you to step out of the boundaries of what you maybe perceive as normal art."
Professor Abigail Harrison Moore, Head of the School of Fine Art, History of Art and Cultural Studies, said:
"This exhibition is a fantastic example of our fine art students working in partnership with our tutors, technicians and Skippko, and of thinking critically about how their work would be shown and seen in a city centre venue.
"I was particularly interested to see how our students combined their thinking and reading from their art history and cultural studies modules into their art practice ― creating questioning, thoughtful and socially engaged work."
The BA Fine Art Year 2 Exhibition ran from 9 to 12 May at Yorkshire House, Greek Street, Leeds. Full details about the exhibition can be found here.
More information about the range of BA Fine Art courses at the University of Leeds can be found here.
Images
Feature image of the BA Fine Art Year 2 Exhibition at Yorkshire House and Under the Skin courtesy of Nina Smith.
Photographs of Cut from the same cloth courtesy of Sophie Gottlieb. Outfits modelled by Lisa Bates and Lucia Freeman.