PhD alumna works with Burmantofts Senior Action to create a sculpture in Leeds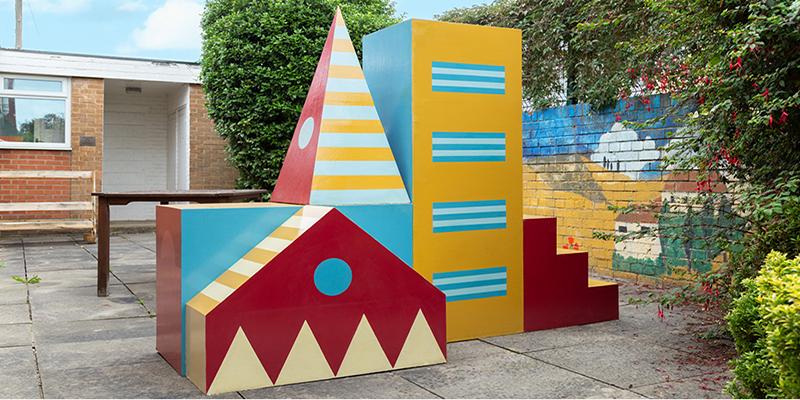 Louise Atkinson, a practice-based PhD graduate from the University of Leeds, recently completed a community sculpture commission for the Yorkshire Sculpture Triangle.
The commission was part of a series of community engagement pilot projects for Yorkshire Sculpture International 2019, which will take place from Saturday 22 June to Sunday 29 September 2019 across Leeds and Wakefield.
The festival will feature work by international artists across the four venues, as well as major new outdoor sculpture commissions across public spaces in Leeds and Wakefield, inviting visitors to interact with art in unexpected places in the cities. Yorkshire Sculpture International will be free to attend, encouraging new audiences to engage with sculpture.
For the Making Matters commission, Louise worked with participants from Burmantofts Senior Action to co-design and make a sculpture using plywood and emulsion. Through a series of workshops, participants explored different sculptural techniques alongside visiting the collections at Yorkshire Sculpture Triangle venues.
The sculpture alludes to the histories and architecture of the local area, including Burtons Textile Factory, Burmantofts Pottery, St Agnes Church and Beckett St Cemetery. The work also references the 1960s high rise tower blocks which are a feature of the area, replacing the older terraced houses.
Louise Atkinson is a visual artist, curator and researcher, specialising in the relationship between art and ethnography. She uses a range of media and techniques, including artist books, postcards, drawing, textiles, sculpture, and curating, often tailoring her approach to meet the requirements of the project or artwork.
Louise was awarded a practice-based PhD from the School of Fine Art, History of Art and Cultural Studies, University of Leeds, in 2016.
Throughout her practice-based research, she often collaborates with other artists and participants to create co-produced installations, engaging with notions of authorship and usership. Through producing work in conjunction with others, and exploring tactile methods of engagement, she has become more interested in socially engaged practice and co-creation.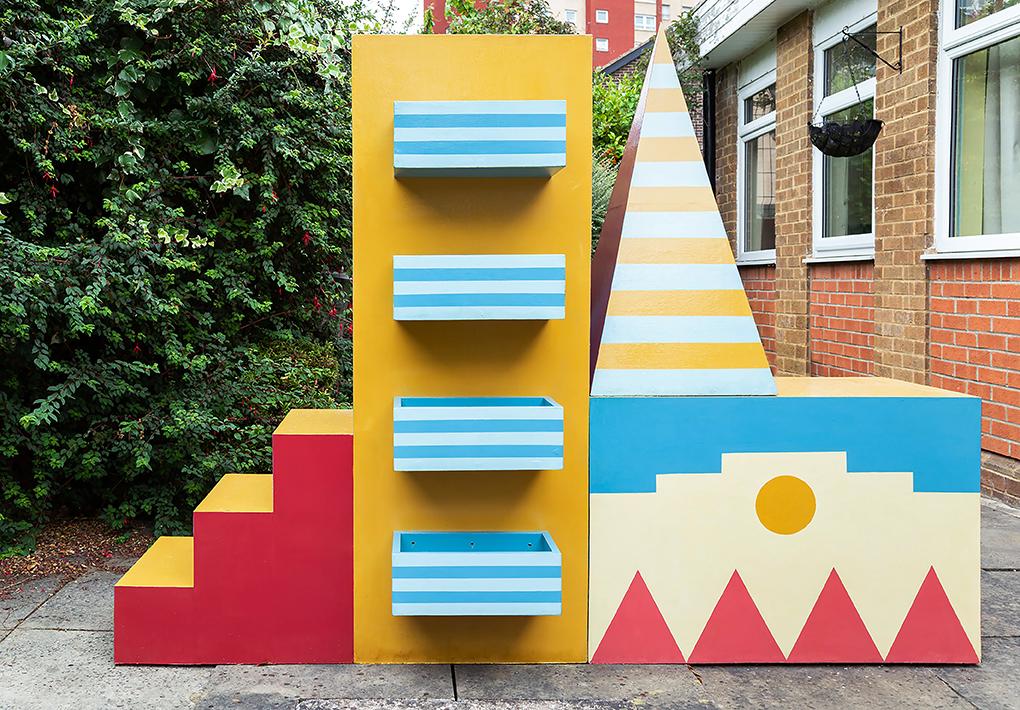 Louise Atkinson said:
"Working with the community group on the project encouraged me to be more ambitious and create my first piece of public sculpture. I also often work across forms of social engagement, education and making, so this opportunity was a great way to bring those aspects together.
"Working with participants was integral to sharing the history of the area and enabled local people to contribute their own stories to the project. The group were supported and encouraged to make and discuss art which enabled them to be more confident and experiment with sculptural materials.
"This project was made possible with the support of Arts@Leeds. I am particularly grateful to Burmantofts Senior Action, David Sowerby for his technical skill and expertise in constructing the work, and East Street Arts for their generous donation of space at 34 Boar Lane to paint the sculpture."
Kath, one of the members of Burmantofts Senior Action who participated in the project, shared her experience of taking part:
"When I first started I didn't have a lot of confidence and struggled with arthritis, but by the end I felt really proud of what I'd achieved."
Sheila, Burmantofts Senior Action Volunteer Activities Coordinator, also felt that the project provided an inclusive environment where everyone was able to get involved.
Sheila said:
"The participants have been part of the whole experience, every member was made to feel important. They were able to share their stories and we found out things about them that nobody ever knew. It's been a privilege to be part of the project."
The sculpture is now situated at Burmantofts Senior Action for the community to enjoy.
More news about Yorkshire Sculpture International and how the University of Leeds is backing this major new initiative that will celebrate Yorkshire's status as a leading destination for modern and contemporary sculpture.
Images: Yorkshire Sculpture International Making Matters project with Burmantofts Senior Action and Louise Atkinson. Photo by Tomasz Fraczek.