The Near and Elsewhere — an exhibition of paintings and drawings by alumna Zoë Carlon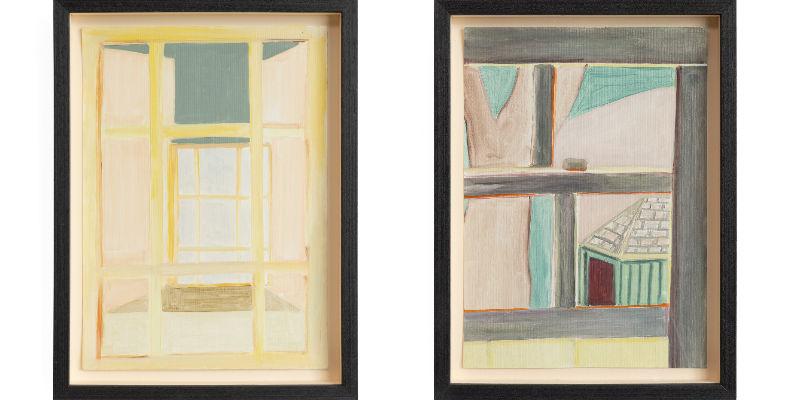 A new exhibition of work by BA Fine Art graduate, Zoë Carlon, opens this week at the South Square Centre in Bradford.
Zoë's practice explores ambiguous, transitory spaces that we experience within our everyday lives. Through the process of painting and drawing, she is interested in producing a balance between abstraction and figuration to create an invented space that draws on her own imagination and literal places she has encountered.
In these new works, she has used the motif of the window as a compositional device to explore the boundaries between exterior and interior space. The works lie somewhere between landscape, interior and abstraction, or perhaps a combination of all three.
These recent works were created during two residencies Zoë undertook this year at Dumfries House in Scotland with the Royal Drawing School and Art Quarter Budapest, Hungary.
Zoë Carlon graduated in BA Fine Art from the University of Leeds in 2017 and was the winner of the FUAM Graduate Art Prize in the same year. Her work was exhibited alongside the other three finalists from August to November 2017 at The Stanley and Audrey Gallery, University of Leeds.
Other exhibitions include Selected Works at the Emmaus Rooms, St Helen's Church (Wakefield), The Royal Academy Summer Exhibition London, and Post- at We Are Projects Wakefield (part of Art Walk Wakefield).
Zoë lives and works as an artist in Wakefield. She said of her latest exhibition:
"I am really looking forward to exhibiting this new series of works for the first time at South Square Centre. I really love the inclusivity and community ethos of the gallery and I am excited to present my works to a new audience.
"This series of paintings and drawings were created over the past year during two residences that allowed me to explore new methods of making and new environments. Both experiences were hugely valuable in developing my practice and I hope that comes through in the collection of works I have presented for this exhibition."
Abigail Harrison Moore, of the School of Fine Art, History of Art and Cultural Studies, said:
"Zoë has demonstrated numerous times that she is an artist to watch. Her work has won her prizes, collectors and exhibition opportunities on numerous occasions since graduation, and we are proud that she has chosen to develop her career in Yorkshire.
"I am delighted that Zoe's work will be available for the audiences of Bradford to enjoy and encourage everyone to visit the exhibition."
The exhibition launches at 6pm on Friday 2 November at the South Square Centre in Bradford, before opening to the public from 3 to 25 November.
Images of work by Zoë Carlon: Window II (Scotland), Oil on paper, 2018; Window I (Scotland), Oil on paper, 2018. Photographed by Jules Lister.