The Weight of Words — exhibition and events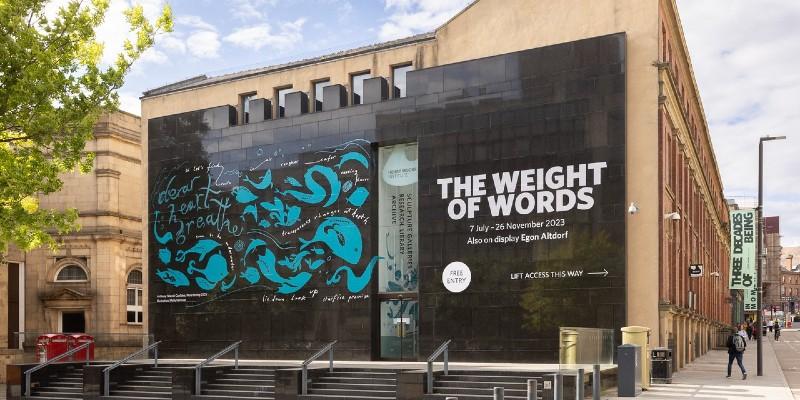 Date: Friday 7 July 2023
Location: Off-campus
Interval: Every day
Until: Sunday 26 November 2023
Cost: Free
This new exhibition at the Henry Moore Institute features an international and intergenerational mix of writers and artists.
Co-curated by Dr Clare O'Dowd (Research Curator, Henry Moore Institute) and Nick Thurston (Associate Professor of Contemporary Art and Literature, School of Fine Art, History of Art and Cultural Studies, (University of Leeds), The Weight of Words explores the overlap between sculpture and poetry.
The works on display range in tone from the humorous to the haunting, expressing everything from direct quotations to the unsayable. They reveal what can happen to languages, and our experiences of them, when sculptural interests in weight, materiality, form and arrangement are charged by a poetic impulse: both art forms take on new dimensions and meanings.
Find out about the exhibition and the artists taking part.
There are two strands of free events running in parallel with the exhibition, in addition to a free Saturday afternoon event at the Henry Moore Institute on 30 September, with book launches and panel discussions as a well as an exhibition tour. The programme of events can be found below.
There will be other spin-off events in connection with the exhibition – details will be announced on the Henry Moore Institute website.
Venue
Henry Moore Institute
74 The Headrow
Leeds LS1 3AH
Galleries open Tuesday to Sunday, 10am–5pm.
Online events programme
A strand of live, online critic-to-critic discussions includes:
Wednesday 19 July, 6–7pm
Iranian art historian Sussan Babaie in conversation with New Zealand-based comparative literature scholar, Jacob Edmond. Full details.
Wednesday 4 October, 6–7pm
British art historian Sam Rose in conversation with Mexican poet-critic Mónica de la Torre. Full details.
Wednesday 1 November, 6–7pm
American poet-historian Lucy Alford in conversation with British art theorist-critic John Douglas Millar. Full details.
In-person events programme
A second strand of live, in-person poetry readings and discussions (which began with Shanzhai Lyric at the exhibition opening event) includes:
Wednesday 20 September, 6–7pm
Anthony (Vahni) Capildeo and Denise Riley. Full details.
Wednesday 18 October, 6–7pm
Caroline Bergvall and Vidyan Ravinthiran. Full details.
Wednesday 15 November, 6–7pm
Lisa Robertson and Mia You. Full details.
Image
Anthony (Vahni) Capildeo, Word Fishing 2023, illustrated by Molly Fairhurst, on display as part of The Weight of Words. Courtesy the artists and the Henry Moore Institute. Photo: Rob Harris.