PAGES: Reset — Contemporary Artists' Book Fair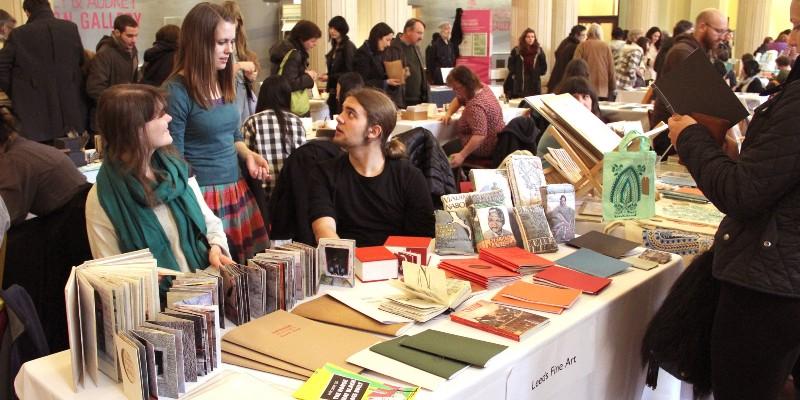 Date: Friday 17 March 2023
Location: Parkinson Building
Interval: Every day
Until: Saturday 18 March 2023
Cost: Free
The Contemporary Artists' Book Fair is back for the first time since 2019. Returning to the Parkinson Court at the University of Leeds, we have 'Reset'.
Over the event's two days more than 45 participants – including artists, publishers and educational institutions – will be showing and speaking about a very diverse range of work and with renewed enthusiasm.
The restrictions created by the pandemic, with exhibitions and work reduced to showing online, has made 'in real life' events such as this more pertinent than ever before, and a reminder that physical engagement – the handling and turning of the page – is crucial to the experience of the book and its function.
The book fair is organised by PAGES (supported by the School of Fine Art, History of Art and Cultural Studies at the University of Leeds).
See the PAGES website for more information including opening times.
Artists' book fair participants
ABPress
AMBruno
Anna Shilonosova
Art and Design and Graphic Design and Communication, University of Leeds
Art Byte Critique
BA(Hons) Visual Communication, Leeds Arts University
Best Books by Bernard and Anwyl
Café Royal Books
Chloe Cooper
Coin-Operated Press
David Armes
David Barton
David Faithfull
Essence Press
Fine Art Leeds
Gemma Lacey
Gnobilis Press
Gordian Projects
Guy Bigland
Helen Douglas / Weproductions
HG Makes
intergraphia
Jackie Chettur
Joan Ainley
Joan Newall Artist Book Maker
John McDowall
Leslie Gerry Editions
Longbarrow Press
MakingSpace
Morley House
Mr Smith
New Arcadian Press
Noelle Griffiths and Andrew Morrison
Pat Hodson
Rochelle Asquith
Rock – Tree – Landscape
Rosaleen Williams
Ruth Martin
SALT+SHAW
Sophie Loss
The Caseroom Press
The Mindful Editions
Tim Shore
whnicPRESS
Wild Pansy Press
Book fair events programme
The array of stalls within Parkinson Court – which includes contributions from fine art students and colleagues from the University of Leeds, amongst others – will be accompanied by a programme of free events:
Helen Douglas – A Venetian Brocade
Friday 17 March 2023, 6–7pm
The keynote speaker for the PAGES: Reset Contemporary Artists' Book Fair is Dr Helen Douglas, artist and publisher based in Yarrow, Scotland.
Crossing Borders? — Roundtable discussion
Saturday 18 March 2023, 1–2pm
Karen Babayan, Frank Finlay and Sophie Loss will discuss notions of home, and what it means to visit locations, cities and countries felt to be out of bounds as a result of displacement, genocide and political upheaval.
Shifting Borders: A Journey to the Centre of Our World(s)
Until 21 December 2023
In parallel with Reset, in the adjacent Treasures of the Brotherton Gallery, is the exhibition Shifting Borders (guest curated by Chris Taylor). This collection of artefacts from the University of Leeds Special Collections includes items from 15th century incunabula to 21st century artists' books which highlight how artists, writers, collectors and scientists have both imagined the world they live in, and represented their actual travels through word and image.
About PAGES
PAGES is coordinated by artists and researchers John McDowall and Chris Taylor. Founded in 1998 and operating with the Contemporary Artists' Book Fair at its center, the project provides wide-ranging opportunities for the development and awareness of the book as primary medium in art practice.
These satellite activities have in the past included curated projects and open calls, workshops and conferences, exhibitions and publications; initiatives that have stimulated and supported wider dissemination of the medium, and encouraged experimentation by makers, and discovery for audience.
Image
Fine art students from the University of Leeds at the Contemporary Artists' Book Fair in Parkinson Court, 2013. Photo courtesy of Chris Taylor.