Helen Douglas – A Venetian Brocade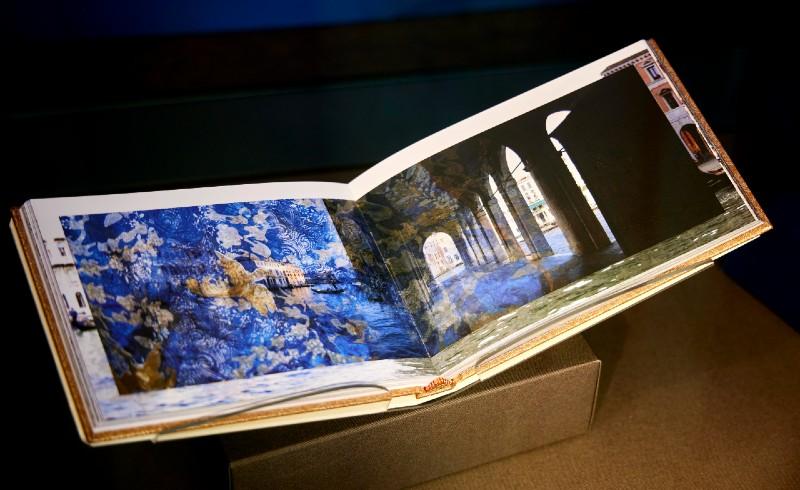 Date: Friday 17 March 2023, 18:00 – 19:00
Location: Treasures of the Brotherton
Cost: Free
The keynote speaker for the PAGES: Reset Contemporary Artists' Book Fair is Dr Helen Douglas, artist and publisher based in Yarrow, Scotland.
As co-editor of Weproductions imprint for over forty years, Helen's work 'resides in book'. Thinking through sequence, she explores her material using the codex, concertina and scroll formats. Her work can be viewed in major gallery, library and museum collections worldwide.
Helen Douglas is one of eleven contemporary artists and writers whose work is included in the exhibition Shifting Borders: A Journey to the Centre of Our World)s), displayed alongside historic artefacts relating to travel, migration and maps, all from the Brotherton Library's Special Collections. An insight into the content, development, collaboration and production of Helen's pivotal artist's book A Venetian Brocade (Weproductions, 2010) will form the core of her illustrated talk.
This event is organised by Professor Chris Taylor and Dr John McDowall as part of the PAGES Reset: Contemporary Artists' Book Fair. Taking place on 17 and 18 March at the University of Leeds, the book fair will display work by over 50 artists and imprints. Find out more about the book fair.
Book your place
Booking is essential as places are limited.
Please reserve your free ticket via Eventbrite.
Image
Helen Douglas, A Venetian Brocade, Yarrow, 2010. ©The Artist. Image courtesy of Leeds University Library Galleries.