Gustavo Matamoros – lecture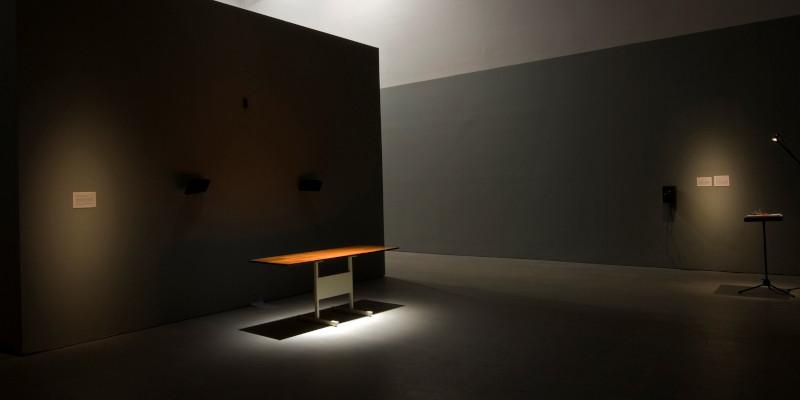 Date: Wednesday 8 February 2023, 18:00 –
Location: Online
Cost: Free
Sound artist Gustavo Matamoros will be talking on sound art and subtropics.
Gustavo will be in conversation with Jade Dellinger, Director of the Bob Rauschenberg Gallery at Florida South Western State College.
This event is organised by the Centre for Audio Visual Experimentation at the University of Leeds and funded by the Centre for Practice Research in the Arts (CePRA).
It is free to attend and all are welcome.
How to attend
This lecture will be hosted online on Zoom.
The use of headphones is recommended.
Join Gustavo's talk.

Meeting ID: 833 8593 2798
Passcode: a!4T6r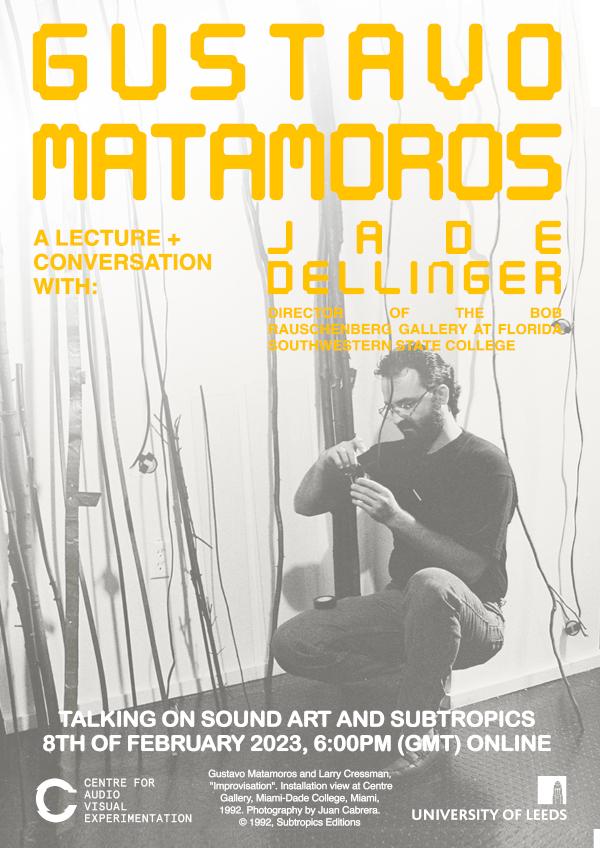 About Gustavo Matamoros
Gustavo Matamoros is a Miami-based sound artist, composer and improviser with roots in experimental music. He views his art as the outcome of artistic experiments that use sound as a means to interpret reality in an auditory way, as well as to strengthen intuition and an ever-deepening connection with the world.
His work, presented in the Americas, Europe, Asia and Australia, includes sound installations and spatial performances, cross-disciplinary collaborations, free improvisation, and radio, video and public art.
Gustavo Matamoros is a passionate advocate for the advancement of experimental music and sound art. He is the founder of the Subtropics Festival, one of the longest running experimental music and sound art festivals in the United States. He is also the founder of the nonprofit organization, Subtropics.org, which promotes experimental music and sound art.
About Jade Dellinger
Jade Dellinger is the director of the Bob Rauschenberg Gallery in Fort Myers, Florida, the iconic gallery where Bob Rauschenberg rehearsed 15 solo exhibitions, before sending them around the globe.
In that position, since 2013, Jade has curated shows as Yoko Ono Imagine Piece, Rauschenberg China America Mix, Dave Muller Everything Sounds Good Right Now, Wayne White Here Comes Mr Know it All, Keith Edmier Edison Impluvium, Glenn Branca and Philip Corner re:Sound and Empire and Arturo Vega Retrospective, among others.
Most recently he has curated a John Cage & Buddhism-themed exhibition titled Don't Blame it on Zen: The Way of John Cage & Friends for the Black Mountain College Museum + Arts Center which runs through May at the Museum of Contemporary Art in Jacksonville, FL.
Jade has also curated major solo museum shows for artists such as Alan McCollum, Lucy Orta, Atelier Van LIeshout, Carlos Amorales, Janaina Tschäpe, Felice Varini, Keiith Haring and the Art Guys amongst others.
Image
Gustavo Matamoros, Small Sounds on a Table Top (2009), hypersound, table top. SOUND exhibition, Bass Museum of Art, Miami Beach. Photo: Luis Olazabal © 2009, Subtropics Editions.