Convincing the Nation: Building Public Trust from the Origins of Vaccination until the Age of COVID-19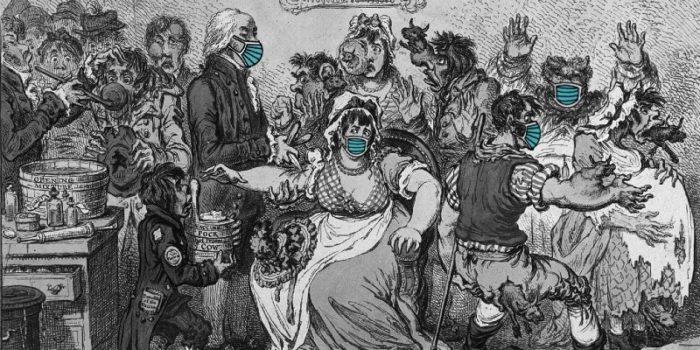 Date: Monday 7 December 2020
Location: Off-campus
Interval: Every day
Until: Monday 1 March 2021
Cost: Free
How much do you trust the new COVID-19 vaccine? Join us and take a look at how governing bodies have encouraged the public to get vaccinated!
This exhibition – curated by MA students at the University of Leeds with the help of the Science Museum Group collections – takes a look at the way public health officials have worked to convince the nation to inoculate, both back in the day until now.
Focusing on propaganda campaigns within the United Kingdom, Convincing the Nation travels through history, beginning with Edward Jenner and Blossom's help in creating the first vaccine in the western world. It moves on to the efforts to eliminate smallpox all the way to the MMR vaccine and ensuing pushback, finishing with the present day campaign regarding COVID-19.
Visit various counterarguments, ranging from the belief that inoculation leads to turning into cows, to belief that it causes autism. Though some seem more far-fetched than others, the legacy of these arguments can be seen years later.
We invite you to visit our to evaluate how these scenarios have affected the way the government has presented a response to COVID-19. between articles and posters, on how to 'battle the invisible killer'.
Has the public health office managed to generate more or less public trust?
Visit the online exhibition
Convincing the Nation is part of a wider series of exhibitions and projects undertaken by MA students from the School of Fine Art, History of Art and Cultural Studies as part of an Interpretations course module.
Image
Edward Jenner vaccinating patients in the Smallpox and Inoculation Hospital at St. Pancras: the patients develop features of cows. Edited coloured etching by J. Gillray, 1802. Credit: Wellcome Collection. Attribution-NonCommercial 4.0 International (CC BY-NC 4.0). Masks added by MA student Jordan Findlay.