Cut the Mustard ― BA Fine Art Degree Show 2019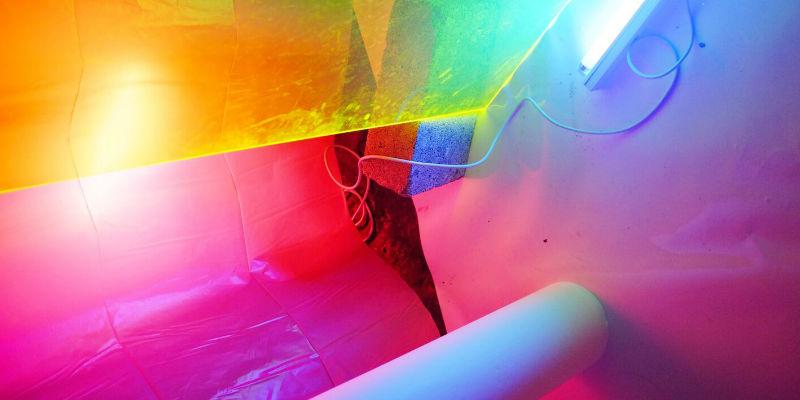 Date: Friday 7 June 2019, 10:00 – 17:00
Location: Fine Art, History of Art and Cultural Studies
Interval: Every day
Until: Saturday 22 June 2019
Cost: Free
In the most uncertain of times, 56 artists graduating from the University of Leeds present the BA Fine Art Degree Show for 2019.
In the most uncertain of times,
people in power seek to constrict,
place borders on what comes and who goes.
In the most uncertain of times,
the heat is rising and we can't be sure where we might be,
who will challenge this.
In the most uncertain of times,
we face increasing cuts to the arts;
shifts and shapes we're still making sense of.
Behold this shape; a squiggle revealed in the brightest yellow.
Cut a line through it, peer closer and you'll see many layers:
moments developed in a dark room, plaster sculpted,
the scroll of a computer cursor, the pull of a squeegee,
sound waves wrapped in the room you now stand.
We've mustered the strength to make it this far.
Let's see if we'll Cut the Mustard.
Venue
Cut the Mustard takes place across studio and shared spaces in the School of Fine Art, History of Art and Cultural Studies, located at the heart of campus on University Road.
The exhibition covers four floors: from the entrance hall, to Project Space on the first floor (next to the Student Common Room) and our studios on the second and third floors.
Private view
Join us on Thursday 6 June from 6 to 9pm for the opening night of Cut the Mustard.
Performances and curator tours
Look out for performances and tours over the duration of the Degree Show. Highlights include:
Monday 17 June, 4.15pm (Green Studio, second floor) ― A live choral performance of graduating artist Lucy Cunningham's 15 minute composition I was unspeakable, so I ran into the language of others
Wednesday 19 June & Thursday 20 June, 1.10 to 2.00pm (meet in the Student Common Room) ― A unique opportunity to be guided round Cut the Mustard, led by one of the student curators of the show.
Wednesday 19 June, 2.00pm (straight after Curator Tour) ― On Kneading Trauma (Sound performance, bread dough, table, loop pedals, sound equipment) performed by Daniela Maria Geraci.
All events are free to attend and there is no need to book.
Details of other events will be posted on our events pages and @fahacs on social media (Twitter and Facebook).
Website
Social media
Follow @cutthemustard19 on social media and get a taste of what's to come:
Image courtesy of Georgie Hall.