Date: Monday 20 March 2023
Location: Fine Art, History of Art and Cultural Studies
Interval: Every day
Until: Tuesday 21 March 2023
Cost: Free
Duality looks at different concepts that co-exist alongside each other, such as old and new, powerful and vulnerable, love and hate, natural and unnatural.
Duality is one of a number of exhibitions taking place on campus and across Leeds this month, as part of our Fine Art Level 2 Festival of Art.
All welcome.
Artists
Jake Stokes
Jakes artwork looks at old techniques of painting with a modern twist.
Charlotte Hullah
Charlotte's work reflects the ideas of love and heartbreak in past relationships.
Issy Ineson
Issy's work looks at combining feminism and nature through exploring the concept of taking things from Mother Nature alongside the unnatural world we have built.
Mia Jones
Mia's work explores the two sides of being labelled as a "slapper" and other derogatory names through themes of class, love and friendship.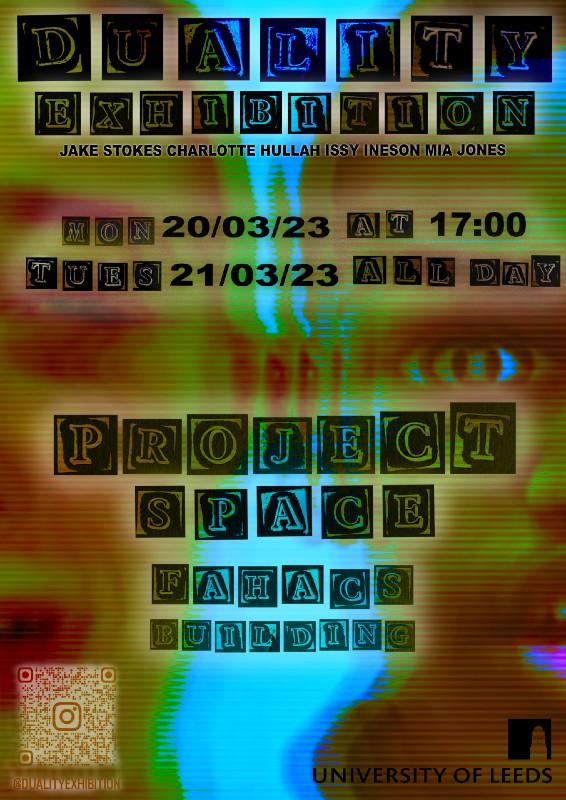 Venue
Project Space
School of Fine Art, History of Art and Cultural Studies
University Road
Leeds
LS2 9JT
Opening times
Monday 20 March: opening event from 5pm onwards, with drinks and snacks.
Tuesday 21 March, 10am to 5pm.
Image
Still from a video by Mia Jones.