Visiting Artist's Talk — Yael Davids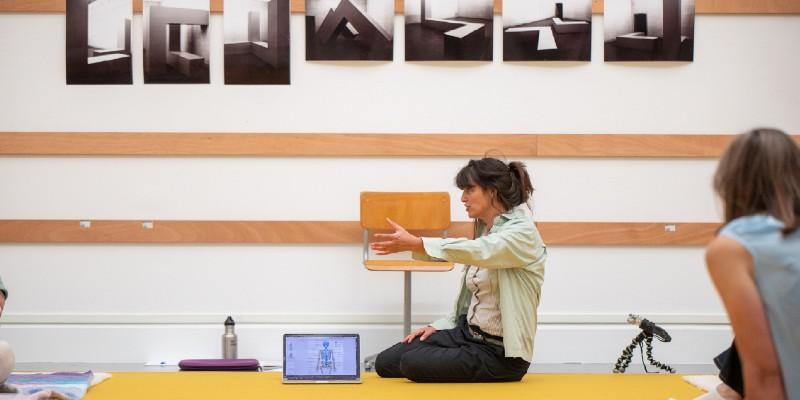 Date: Monday 24 January 2022, 14:00 – 16:00
Location: Online
Cost: Free
For this week's Visiting Artist's Talk, we welcome artist Yael Davids.
Yael Davids lives and works in Amsterdam. She studied Fine Arts at the Rietveld Academie, Sculpture at the Pratt Institute and Choreography and Dance Pedagogy at the Remscheid Academie. From 2017 to 2020 she was the first candidate of the Creator Doctus program, co-initiated by the Rietveld Academie and the Van Abbemuseum.
Her practice draws on a sculptural and performative vocabulary, in which the body is understood as a vessel wherein knowledge, memories, and habits are archived and enacted on a daily basis. As a trained instructor in the Feldenkrais Method, Davids often employs the method as a device for examining how the forces of psychology and physics influence perception, movement, relationality, and self-awareness.
The Visiting Artists' Talks (VAT) series for 2021/22 takes place live via Zoom every Monday afternoon during teaching weeks.
Each session brings an arts professional to talk with us about what they do and why, and to chat with the student body honestly about their career journey and interests.
All our talks are compulsory for our Fine Art students but are also open to anyone else who would like to join us.
Event link
For further information about the VAT series, please email Gill Park.
Image
Yael Davids, Feldenkrais class with works from the Van Abbemuseum collection - Shusaku Arakawa, Robert Morris, Toos Nijssen and Ossip Zadkine, Van Abbemuseum, 19 September 2020. Photo: Marcel de Buck.