i-Docs Community Conversations with Kate Nash and Patty Zimmerman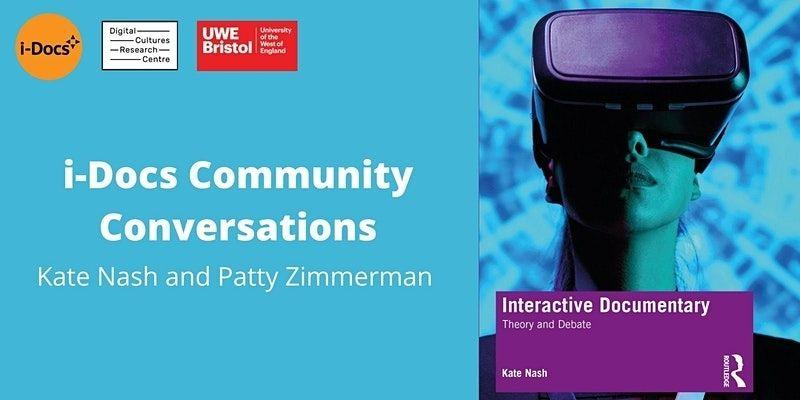 Date: Wednesday 17 November 2021, 17:00 – 18:30
Location: Off-campus
Cost: Free
A wide-ranging online conversation about Kate's recently published book: Interactive Documentary - Theory and Debate.
Please register for this online event via Eventbrite.
Published in July by Routledge, Interactive Documentary – Theory and Debate explores the dizzying array of new documentary forms that have emerged in the past ten years, drawing continuities between digital and documentary practice.
Grounded in the analysis of multiple recent examples of digital documentary work, Nash draws out the key issues that the work raises. These issues provide a starting point for theoretical reflection, with each chapter developing concepts and frameworks to facilitate thinking with and through interactive documentary. The book explores questions of polyvocality, participation, and political voice, as well as the sociality and performativity of digital documentary practice.
By thinking deeply and critically about interactive documentary practice, the book charts the many and various ways in which interactive documentaries claim the real – contingently, partially, or, in some cases, collectively. Each chapter draws on a range of examples – from digital games to data visualisations, database documentaries to virtual reality – demonstrating how we might engage with these 'unstable' digital texts.
A conversation between Kate and Patty will open out into a community discussion. The book is a major contribution to the field and we look forward to a lively exchange that will engage with central debates within interactive and immersive documentary – around form, meaning-making, purpose, audiences, impacts. i-Docs co-convenors Judith Aston, Sandra Gaudenzi and Mandy Rose hope that you will be able to join us.
Speaker bios
Professor Kate Nash is Deputy Dean, Faculty of Arts, Humanities and Cultures at the University of Leeds. Having come from a background in media production, her research is focused on the production, circulation and impacts of long-form factual media. She is a leading scholar in the field of interactive documentary, having contributed to understanding the ways in which digital media technologies and cultures are shaping (and are shaped by) documentary practices. She is Co-Editor of the documentary studies journal Studies in Documentary Film.
Patricia R. Zimmermann is the Charles A. Dana Professor of Screen Studies at Ithaca College, Ithaca, New York. She is also Director of the Finger Lakes Environmental Film Festival. Her most recent books include Thinking through Digital Media: Transnational Environments and Locative Places with Dale Hudson (2015); Open Spaces: Openings, Closings, and Thresholds in International Public Media l (2016); The Flaherty: Fifty Years in the Cause of Independent Cinema, with Scott MacDonald (2017); Open Space Collaborative New Media: A Toolkit for Theory and Practice with Helen De Michiel (2018); Documentary Across Platforms: Reverse Engineering Media, Place, and Politics (2019); and Flash Flaherty: Tales from a Film Seminar (2021), coedited with Scott MacDonald. With Louis Massiah she co-programmed the national touring exhibition We Tell: Fifty Years of Participatory Community Media.