Gold, Garnet and Lead: a response to the West Yorkshire Hoard — exhibition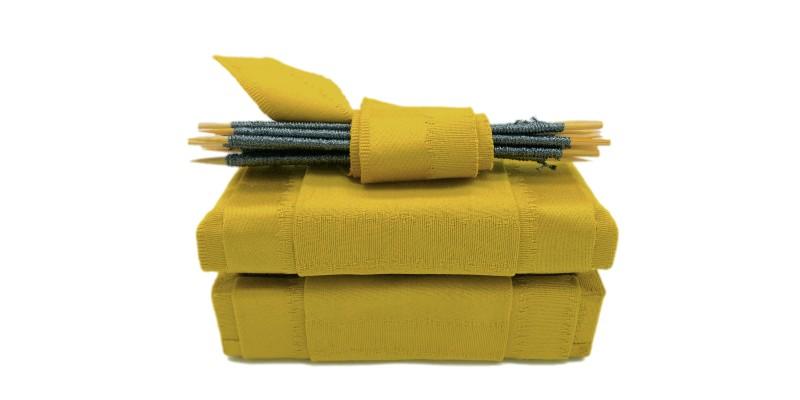 Date: Monday 6 July 2020
Location: Off-campus
Interval: Every day
Until: Friday 10 July 2020
Cost: Free - online exhibition
Practice-led postgraduate researcher Lorna Johnson brings together an exhibition of work made in response to the West Yorkshire Hoard.
Gold, Garnet and Lead looks to discuss the curated group of objects brought together and then bound together through time and space: a hoard.
The focus of this exhibition is the West Yorkshire Hoard, which was buried and found in Yorkshire.
Through a series of new artworks, made in response to this hoard, the exhibition aims to spark discussion about the material binds that brought these objects together. By considering their physical and material makeup as the catalyst for their eventual hoard-bound state, this next stage in these objects' use-life can be contemplated.
Gold, Garnet and Lead exhibition forms a part of the virtual exhibition, events and excursions strand of this year's International Medieval Congress (vIMC 2020).
About the artist
Lorna Johnson is a visual artist and practice-led Postgraduate Researcher at the University of Leeds, based at the School of Fine Art, Art History & Cultural Studies at the University of Leeds.
Working predominantly to make artist-made objects and sculptural installations / assemblages, Johnson's work is inclusive and experimental. Her instinct is to cherry-pick, and she sees this as part of her role as an artist.
She is drawn to objects and materials where the monetary value is questionable; visually this is explored through the combinations of materials and quantities of items that she chooses to use and make, and the associations people may have with both material and object. This is currently taking a central role in the work she is conducting as part of her practice-led thesis research: Yorkshire Hoards – Understanding the objective / subjective value of the objects we continue to earmark, lay, maintain, stow, put away through the artist's edit.
Johnson exhibits both nationally and internationally.
Website: lornamilnerjohnson.com
Twitter: @lornamjohnson @TheArtistsEdit
Instagram: @lornamilnerjohnson @theartistsedit
Visit the exhibition
Follow this link to take a virtual walk round the exhibition.
About the International Medieval Congress (IMC)
Drawing medievalists from around the world, the virtual International Medieval Congress 2020 (vIMC) is the IMC's first foray into the world of virtual conferencing.
With over 500 speakers across five days, as well as virtual exhibitions, book and craft fairs, socialising and networking opportunities aplenty, this alternative to the annual in-person Congress runs from 6 to 10 July 2020.
More information about vIMC can be found here.
Images
Lorna Johnson, Yellowing.