Medieval Group Session 'Swords of the Silver Screen'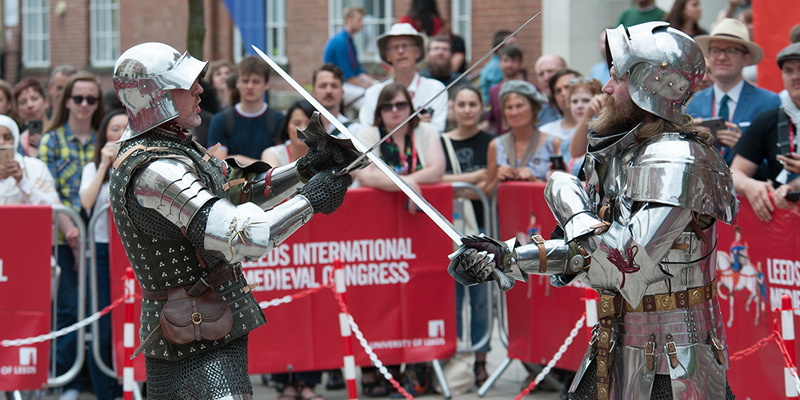 Date: Monday 27 January 2020, 17:30 – 19:00
Location: Parkinson SR (1.08)
Cost: Free
The first Medieval Group meeting of the semester will take place on Monday, 27 January 2020, on the subject of 'Swords of the Silver Screen'.
The Medieval Group is the oldest medieval studies-related association at the University, and is run by a committee of volunteers from among the staff, PhD, and MA students in the Institute for Medieval Studies (IMS). The Group runs various events, from a seminar series to trips to sites of medieval interest, and invites speakers from a wide range of interdisciplinary topics.
The first meeting of the new semester, titled 'Swords of the Silver Screen' will explore the accuracy of the portrayal of dramatic sword fights in recent television programmes and films, such as Macbeth (2015) or Game of Thrones. Led by medieval martial experts Dean Davidson and Stuart Ivinson, the session will compare two fight sequences involving the longsword, considering whether these portrayals are in any way grounded in knowledge of medieval combat or if the methods depicted would be effective in a real fight.
Dean Davidson has over 20 years' experience in martial arts and training in historical weapons. He is the KDF International Senior Instructor and European Historical Combat Guild Chapter Master at the Royal Armouries, Leeds. Dean holds a Masters in Health Informatics from the University of Leeds and is a member of the Leeds University Medieval Society. He frequently runs workshops in historical European martial arts from an array of academic sources throughout the UK. Stuart Ivinson has an MA in Medieval History, as well as an MA in Librarianship and a P. Dip in Heritage Management. He has made extensive studies of various aspects of medieval warfare, and has written Anglo-Welsh Wars, 1050-1300. Stuart is an assistant teacher at the Leeds chapters of KDF and the European Historical Combat Guild.
The event will take place in the Parkinson Building seminar room 1.08, from 17:30-19:00. All are welcome!