Visiting Artist's Talk — Karen Di Franco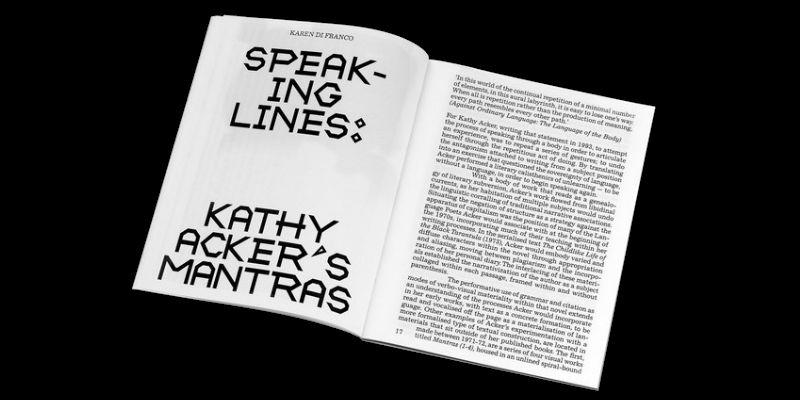 Date: Monday 11 November 2019, 14:00 – 15:30
Location: Chemistry West Block LT F (G.74)
Cost: Free
For this week's Visiting Artist's Talk (VAT), we welcome Karen Di Franco.
Karen Di Franco is a curator and researcher based between Tate Britain (London) and the University of Reading, with whom she researches 'embodied iteration' in artists' publishing practices.
Di Franco's recent projects include: the essay Speaking Lines: Kathy Acker's Mantras for Tinted Window journal (London, Autumn 2019); the screening programme We Will Pluck Our Magic Twangers, co-curated with Irene Revell for Whitechapel Gallery (London, September 2019); and the group exhibition, ORGASMIC STREAMING ORGANIC GARDENING ELECTROCULTURE, also co-curated with Irene Revell at Chelsea Space (London, 2018).
She has produced digital translations of the archives of institutions and individuals, including Book Works (London), Spike Island (Bristol) and artist Eddie Chambers. She writes and presents regularly on subjects such as feminist art practices, archives and artists' publishing.
The Visiting Artist's Talk (VAT) series hosts talks by an exciting range of arts practitioners from around the world every Monday afternoon from 14:00 to 15:30 during teaching weeks.
All of our talks are compulsory for our Fine Art students but open to anyone else who would like to join us.
For more information, email Nick Thurston.
Image
Spread: Speaking Lines: Kathy Acker's Mantras, in Tinted Window, issue 2, Autumn 2019.