Conservatoire graduates and the transition into the music profession: Exploring the career-building process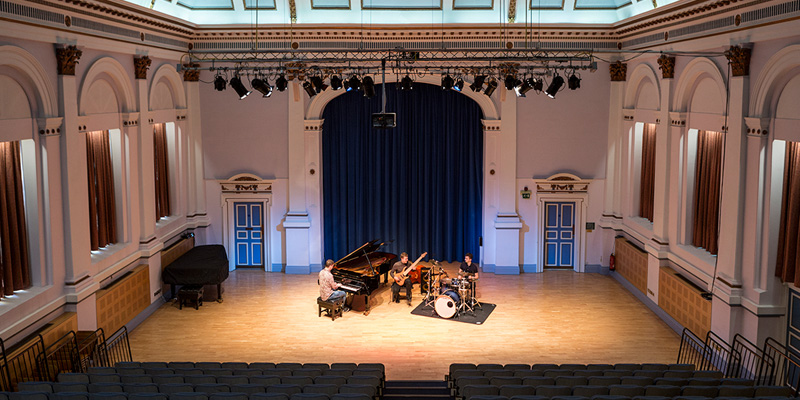 Date: Thursday 20 February 2020, 13:00 –
Location: Music
Cost: Free
Dr Kate Blackstone delivers a colloquium on conservatoire graduates and the transition into the music profession: Exploring the career-building process
This project investigated the career-building process for conservatoire graduates. Life transitions of any type are often anxiety-inducing, and graduation from a degree is no exception. Although conservatoires frequently return DLHE statistics suggesting that graduate employment rates approach 100%, other studies indicate that conservatoire graduates have inadequate career preview, and and are consequently unprepared for the realities of a career in music. Despite conservatoires' attempts to educate their students for varied future careers, the problem persists, and some students avoid careers advice completely.

Therefore, this project's aims were to gain a more nuanced understanding of conservatoire graduates' experiences of this transition with respect to their experiences whilst studying. The project took a qualitative approach, to capture rich experiential data. In the first part of the project, 21 written accounts were analysed, to investigate participants' lasting memories of their transitions. The ensuing interview study, with 19 respondents, aimed to build on the findings. Establishing and graduating musicians' perspectives were compared, to examine the ways in which graduates are (un)prepared for their future careers.

The findings suggest that a development in aspirations is central to the conservatoire-to-workplace transition. This came about as a result of enacting a wide variety of work roles during and after the conservatoire degree. Conservatoire education enabled respondents to enact orchestral and operatic roles 'as standard,' meaning that many new graduates aspired towards those job roles without considering their competencies outside of performance. Therefore, a great deal of aspirational development took place post graduation. Respondents developed their aspirations through greater self-knowledge and assessment of their values, requiring many of them to shed fixed ideas and attitudes pertaining to 'ideal' musicians' careers. A wider range of musical experiences and increased opportunity to engage with values may aid conservatoire graduates to make a 'smoother' transition into the professional world.
About the speaker
Kate Blackstone (University of Leeds) is a freelance musician based in Manchester, combining playing, teaching and research around the North of England. After graduating from the Joint Course at Manchester University and the Royal Northern College of Music, she completed an MMus and a PhD in Music Psychology at the University of Leeds. Kate's love of performance doesn't discriminate: as a founder member of the Kaleidoscope Orchestra she has played to crowds of clubbers at Sefton Park, but is equally at home playing contemporary music amongst friends for fun!