Pedagogy/ activist education through the arts: Learning from the Global South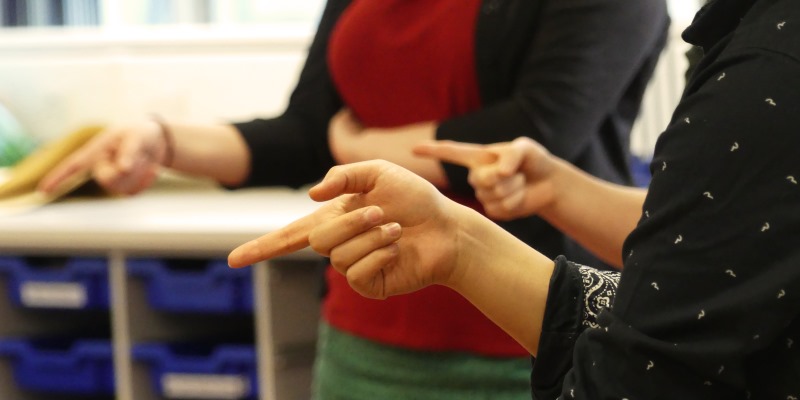 Date: Wednesday 22 May 2019, 10:00 – 16:00
Location: Stage@Leeds
Cost: Free - register your attendance below
An event to facilitate an exchange of knowledge between activist educators in South Africa and colleagues in the UK
We are interested in pedagogies and practical exchange between artists and activists. At this historical moment, land rights/ decolonisation is the background that frames and forms the optics for the issues to be explored.
Event schedule:
Workshop
10:00 - 13:00 (Dance Studio, stage@leeds building, University of Leeds)
Guest practitioner Alex Sutherland will introduce the work of activist education through the arts. This session is aimed at those wishing to use activating methods to engage communities. It will be practical, led by and through the range of aesthetic forms employed by our South African Partners: Tshisimani Centre for Activist Education.
For a place on the workshop, please contact Ally Walsh directly.
Seminar: Pedagogy/ activist education through the arts
14:00 - 16:00 (G11a, Clothworkers South - Ground floor towards the back of the entrance)
Main presentation
from Alex Sutherland, Creative Arts in Activism Co-ordinator, Tshisimani, South Africa.
Response Zodwa Nyoni – artist perspective/ provocation
Zodwa will talk about her plays Nine Lives and her current commission on Kwame Nkrumah (Royal Exchange, Manchester)
Digital Contribution from Hjalmar Jorge Joffre-Eichhorn
Afghanistan, Memory Boxes & the Struggle for Bottom-Up Justice
https://www.nytimes.com/2019/04/17/world/asia/kabul-afghanistan-memory-boxes.html

https://www.afghanistan-analysts.org/peace-in-the-air-but-where-is-justice-efforts-to-get-transitional-justice-on-the-table/

https://www.afghanistan-analysts.org/commemoration-in-the-basement-kabuls-hidden-war-victims-museum-2/
Please register your attendance at the seminar as places are limited.
Contributor Bios
Alexanda Sutherland is the Creative Arts in Activism Co-ordinator in the Centre. She has worked in community arts and activism throughout her career. She was a lecturer in the Rhodes University Drama department from 2001- 2017, where she taught theatre for social and political change, post-colonial and South African theatre and feminist performance. Her artistic and research projects have included a long-term theatre project with street-involved youth, and a theatre project with male inmates at Grahamstown correctional facility which uses theatre and performance for self-representation and political expression. She has worked closely with student movements and cultural activists in the Eastern Cape and is passionate about the possibilities of the creative and performing arts for political expression.
http://tshisimani.org.za/staff/
Hjalmar Jorge Joffre-Eichhorn is a German-Bolivian theatre maker, facilitator, script writer and director who uses different forms of interactive, participatory theatre such as Theatre of the Oppressed and Playback Theatre to work with communities in conflict and create possibilities for bottom-up dialogue and a search for grassroots solutions. He holds a Master's in Peace and Development Studies from Jaume I, Spain, a Master's in Educational Management from the University of Western Australia, Australia and a Bachelor's in Psychology and International Relations from Bond University, Australia. Hjalmar has carried out community-based theatre initiatives in more than thirty countries on all five continents including in (post-) conflict environments such as Afghanistan, Central African Republic, Kenya, Kyrgyzstan, Maldives, Northern Ireland, Rwanda, Sierra Leone, Tajikistan, Thailand, Timor Leste, Ukraine and Yemen. In 2013 he published 'Wenn die Burka plötzlich fliegt-Einblicke in die Arbeit mit dem Theater der Unterdrückten in Afghanistan', a book in German language reflecting about his experiences working with theatre in Afghanistan. Some of his writing has been published in Bolivia, Spain, Germany and the USA.
Zodwa Nyoni is a playwright and poet based in Leeds, England. She started writing in 2005 with Leeds Young Authors (LYA), a community based performance poetry group. As a member of LYA, she represented the United Kingdom at the Brave New Voices International Youth Poetry Slam in New York City, USA in 2006. In addition she led poetry workshops in schools, prisons and community groups in Yorkshire and Lancashire. As winner of the Channel 4 Playwright's Scheme she was Writer-in-Residence at the West Yorkshire Playhouse in 2014. She has previously been Apprentice Poet-in-Residence at Ilkely Literature Festival (2013), Leeds Kirkgate Market (2012) and Writer-in-Residence at I Love West Leeds Festival (2010). She is currently under commission at Kiln Theatre (formerly Tricycle) and Manchester Royal Exchange. She was also part of the 2015 Creative England iWrite Regional New Voices Initiative. In 2010, she started writing theatre with Freedom Studios as part of Street Voices 3. She wrote her first play, The Povo Die Till Freedom Comes. It toured to Theatre in the Mill, Square Chapel and the Bush. Following this, she's written plays for the West Yorkshire Playhouse, Manchester Royal Exchange, Young Vic and BBC Radio 3. She's led writing workshops in community organisations, schools and universities in the UK, USA and South Africa. Zodwa graduated from the University of Leeds with an MA in Writing for Performance and Publication. Her plays are published by Bloomsbury.
For further information about these events please contact Dr Aylwyn Walsh
Image by Fenia Kotsopoulou