Research project
The Tim Hetherington collection and conflict imagery network
Start date: 1 July 2020
End date: 1 May 2022
Funder: Arts and Humanities Research Council
Primary investigator: Professor Katy Parry
External co-investigators: Greg Brockett (Imperial War Museum)
Value
£32,155
Partners and collaborators
Imperial War Museum, Bronx Documentary Center, International Center of Photography
Postgraduate students
Katy Thornton (Imperial War Museum)
Description
Top image credit: Nifty Fox Creative. Laura Evans of Nifty Fox Creative created the drawings displayed here to reflect the activities and discussions in our public engagement workshops held with refugees in Greater Manchester. We are grateful to the Manchester Refugee Support Network for co-organising the workshops.
In November 2017 the Imperial War Museum acquired the complete archive of award-winning conflict photographer Tim Hetherington.
This extensive archive comprises his seminal photography and video work from his assignments in Liberia (2003-2006), Afghanistan (2007-2008) and Libya (2011), reflecting his work as a conflict journalist but also as a humanitarian and innovator in his field.
Offering a unique insight into his working practices, the archive also includes never-seen-before handwritten journals and correspondence, cameras, tear sheets, and publications featuring his photography.
Working in partnership with IWM, the network activities are designed to generate enriched understandings of the archive from people who worked with Hetherington as photographers, reporters and film-makers, in addition to scholars and interested members of the public.
This is achieved by bringing together this mix of international participants at a series of one-day events inspired by and responding to Hetherington's body of work.
Image credit: Nifty Fox Creative
The aims of the research are therefore to develop an international and interdisciplinary research network committed to enhancing knowledge about the practice and ethics of image-making and conflict prompted by the unique Hetherington archive at the Imperial War Museum.
Through a series of events the network examines his legacy and promotes greater understanding of both Hetherington's work and wider compelling issues of conflict imagery in the digital era.
Events
Our project launch event in April 2021 focused on the visual tropes of war, including the idea of the 'feedback loop' which Hetherington spoke about, where soldiers co-opt popular culture into their own self-representations.
Our expert speakers discussed issues such as military masculinity, picturing injury, and the appeal of animals in combat imagery.
Our second event in September 2021 at IWM London considered the potential and pitfalls of 'humanitarian photography'. The presentations and roundtable discussion paid attention to the evidential, cultural and political work of photography which attempts to convey the lasting consequences of war.
Image credit: Nifty Fox Creative
The third event took place at the Bronx Documentary Center in New York in April 2022 and brought together distinguished scholars, curators and photojournalists to discuss how the pressures of the digital era are shaping professional values and experiences for those producing conflict and post-conflict imagery.
Recordings for these events are available on the Imperial War Museum website.
Impact
The network has both academic and wider public cultural impact at its core, with all activities combining a research-focused and public engagement element.
The primary beneficiaries are:
1. Museums and third sector organisations
Co-designed with the IWM, the network is imbued with the purpose of the museum: helping public audiences to understand and contextualise current, recent and future conflicts.
The network would benefit the museum and its visitors by organising an opportunity for the public to have early access to this unique archive in a workshop setting and contribute to developing the thematic strands identified in Hetherington's work.
Project partners, the International Center of Photography (ICP) and the Bronx Documentary Center (BDC) bring their distinctive New York connections with Hetherington to the network, and benefit through participating in creative and stimulating dialogue about visual culture as a catalyst for social change.
2. Public audiences
Using the PI's 'Ignite' project funding, we had already held two 90-minute public engagement workshops at the museum (March 2019) with both military community and non-military groups.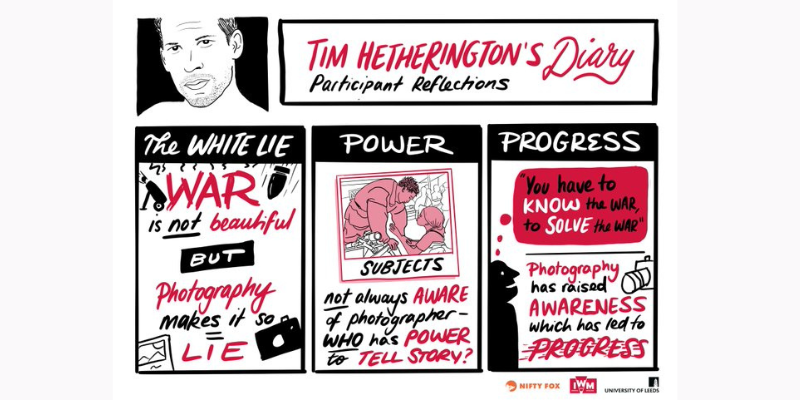 Image credit: Nifty Fox Creative
Feedback was overwhelmingly positive, especially in relation to the importance of Hetherington's work and enjoying the opportunity to share views and hear from others.
The network funding enabled us to carry out further public engagement workshops, benefiting from a greater amount of the archive being catalogued by this time.
3. Practitioner communities in filmmaking and photojournalism
In this field of research there is a substantial overlap between practitioner communities and scholars, and we are confident that the network activities will attract those working across journalism and documentary; and artists, photographers, and film makers.
Publications and outputs
Please see our website for recordings of events held online, in London, and New York.
A journal special issue is forthcoming.
Project website
https://www.iwm.org.uk/research/research-projects/tim-hetherington-collection-and-conflict-imagery-network