International Medieval Congress 2021: Registration Now Open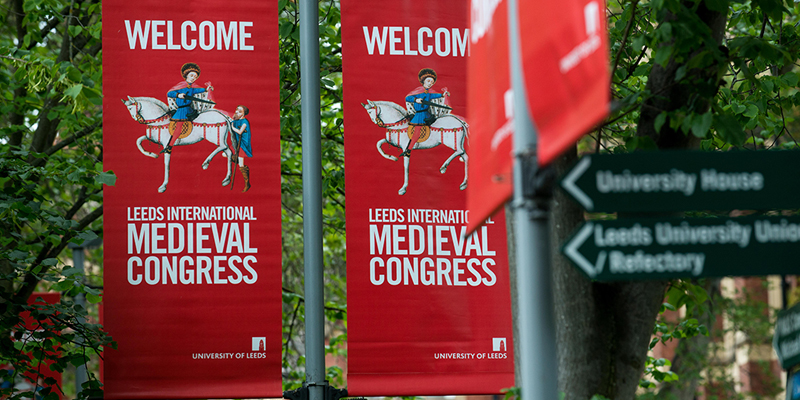 Registration for IMC 2021, Europe's largest forum for sharing ideas in medieval studies, is currently open until Monday 10 May 2021.
IMC 2021
Registration for the anual International Medieval Congress (IMC) is open now! The IMC 2021 will be fully virtual with over 1,650 actively involved participants from 57 different countries meaning it is going to be one of the biggest academic events in the world taking place this year. The IMC will take place from 5-9 July with up to 26 sessions at the same time showcasing the latest research in the field of Medieval Studies – an enormous organisational feat! This year's main focus is 'Climates' – a subject area of major importance in the Middle Ages as well as in modern times. Medieval climate is of great interest to modern science as an indicator of how societies can adapt to rapid change. The IMC will welcome keynote speakers from Austria, Belgium, China, South Africa, and the USA.
View the full programme for the IMC 2021
Registration
Registration for the IMC 2021 is now open until Monday 10 May 2021.
Register for this online event
Late Call for Papers
Although the main calls for papers are now closed there are still individual sessions that are looking for papers. All late proposals must be submitted via the online form.
View the late call for papers page
Contact
Any queries about the IMC 2021 can be directed to:
Email: imc@leeds.ac.uk
Since its inception in 1994 the IMC has brought 1000s of researchers together from different countries, backgrounds, and disciplines, providing opportunities for networking and professional development in an open and inclusive environment. It has often been described as the 'Medieval Glastonbury'. The IMC is organised and administered by the Institute for Medieval Studies at the University of Leeds and usually takes place on the main University campus.
The Medieval Academy of America (MAA) has announced that it will be giving the 2021 Kindrick-CARA Award for Service to Medieval Studies to the Director of the IMC, Axel Müller. The Chair of the MAA Awards Committee stated that Axel, who has been the Director of the IMC for 25 years, had been given the award, "in recognition of long commitment to medieval studies and to medievalists across the globe".
Founded in 1925, the Medieval Academy of America (MAA) is the largest organization worldwide promoting the field of Medieval Studies. This is the first time this award has been given to a scholar from outside North America. The Kindrick-CARA Award recognizes medievalists who have provided leadership in developing, organizing, promoting, and sponsoring medieval studies through the extensive administrative work that is so crucial to the health of medieval studies but that often goes unrecognized by the profession at large. The presentation of the award will take place virtually at the upcoming Annual Meeting in April.