"Homeschooling History" and "You're Dead To Me" - IMS Postgraduate Researcher works on BBC Podcasts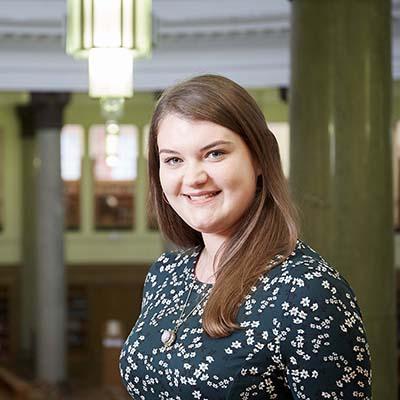 IMS Postgraduate Researcher Hannah MacKenzie discusses her experience working on the BBC Radio Four podcasts, 'You're Dead to Me' and 'Homeschool History'.
When asked about how the opportunity to work alongside the BBC came about, Hannah recalled: 'I had to do an internship as part of my WRoCAH studentship, and they already had several partner organisations, one of which is with the Athletic for BBC. To help with finding internships WRoCAH put on a Researcher Employability Project (REP) fair with a number of their partner institutions and this is where I leant about the 'You're Dead To Me' internship and information about how to apply for the position. My application consisted of a cover letter and a CV, and I was then asked to attend an interview over Zoom with Greg Jenner (public historian and chief researcher on Horrible Histories) and Emma Nagouse, the script writer for the show.'
I am incredibly proud of my contribution to the project – hearing my name read aloud in the podcast credits is an amazing feeling – but I am particularly pleased that I was able to help turn an entire podcast series around in such as short amount of time.
Hannah spent time working on two different podcasts during her internship. Describing her time working with the BBC, she said: 'For the first half of the internship I was doing research for a comedy-based history podcast called 'You're Dead To Me'. Alongside undertaking research for the podcast, I also spent time sitting in on the recordings so that I was on hand to answer any questions relating to the subject, and make sure that everybody hit the major points that were in script. In the second half of the internship I was working with the 'Homeschool History' podcast. I was involved in every episode and my role in that one was to attend research meetings with an expert historian who briefed us on the topic. Then I would go away and write notes on that meeting to try and figure out the most streamlined way through the topic for children, which I then sent on to script writers who made it into a 13 minute episode. I also had the opportunity to write two episodes - these were on the topics of Ancient Egyptian Religion, and the English palaeontologist Mary Anning.'
I had the pleasure of making numerous new contacts from different fields of historical research and from different international institutions, who I hope to keep in touch with I progress in my academic career!
When asked about future plans regarding the internship, Hannah stated, 'I still plan to keep in touch with the podcast team as both series continue to air weekly. In six months, the entirety of You're Dead to Me series 3 and Homeschool History series 2 will have been released and we will have a fuller understanding of how the series were received by audiences. I hope to catch up with the team at that time so we can have a chat about the success of the podcasts and discuss any plans they may have for future series.'
Hannah MacKenzie is a PhD researcher from the University of Leeds funded by the Arts & Humanities Research Council (AHRC) through the White Rose College of the Arts & Humanities (WRoCAH). Episodes of both shows began to air weekly in January 2021 and are available on BBC Sounds (Homeschooling History and You're Dead To Me) and all other major podcast platforms.