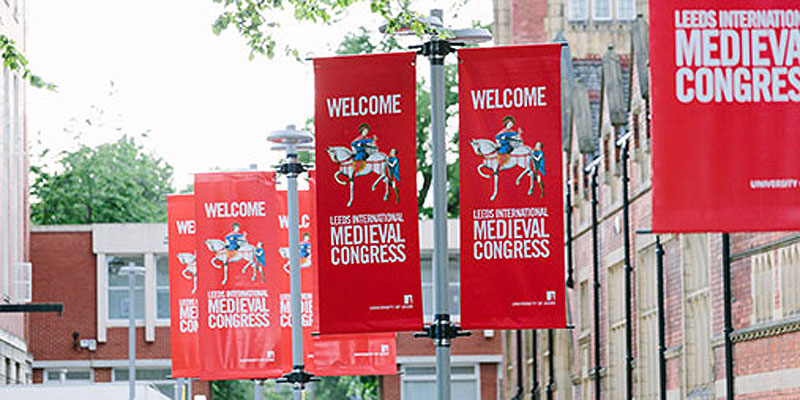 IMC 2021 will be a virtual event which will take place wholly online between Monday 5 July and Friday 9 July 2021.
This difficult decision was taken following consultation with senior management here at the University of Leeds, as well as the IMC Programming and Steering Committees, and as a result of the various restrictions in place in many parts of the world to manage the spread of coronavirus. This means that IMC 2021 will be held virtually and not in-person. The virtual event will take place between Monday 5 – Friday 9 July 2021 and will be wholly online with no face-to-face activity in Leeds.
"This decision has been made with a heavy heart, as we had very much hoped to be able to welcome delegates to Leeds next year", said Axel Müller, Director of the International Medieval Congress.
"We, and the University as a whole, are keen that the IMC continue as a world-leading forum for the exchange of ideas amongst the widest possible community of medieval studies scholars. Given all these factors, we felt that the best and most certain chance of holding a wide-ranging and inclusive Congress involving as many medievalists as possible is to host IMC 2021 online."
The IMC team has spent the past few months working with colleagues at the University of Leeds and beyond to explore potential formats for IMC 2021. The scenarios considered have included an in-person Congress which maintains social distancing and other Covid-19 requirements, a hybrid event making the most of what may be possible in-person blended with a virtual component, and a fully virtual Congress building on the foundations laid at this year's vIMC. These investigations have included a review of the available physical spaces and their Covid-safe capacities, as well as available IT solutions, platforms, and support.
As well as the logistical, technical, and legal considerations as to whether an in-person event would be possible, we are aware that there may be many reasons why delegates might be unable to travel to Leeds in 2021 including continued shielding, health concerns, increased caring responsibilities, travel restrictions or quarantine requirements, the suspension of foreign travel for work purposes by some institutions, and reductions in travel budgets.
Therefore, IMC 2021 will be developed based on the format of the 2020 vIMC. We are working closely with colleagues in the Conference and Events team, as well as with technical experts, to expand and build upon the feedback from last year's event. The academic programme will be greatly expanded, alongside increased networking opportunities to delegates.
We have been pleased, as ever, with the quantity and quality of submissions received, showing the creativity, tenacity, and resilience of the medievalist community even in these strange and difficult times. We have received a total of 503 session proposals plus 37 round table discussion proposals representing a total of 1603 papers and 1,803 people wishing to be actively involved in IMC 2021. These have come from a wide range of disciplines and 57 countries.
All proposals have been processed by the IMC team and are now with members of the Programming Committee for review, following the same criteria as for an in-person Congress. We intend to send out notifications of acceptance or rejection, as usual, in early December.
Whilst we hope that as many of you as possible will chose to participate virtually in IMC 2021, we are aware that some may not feel able or comfortable with presenting in this format. If you wish to withdraw your proposal, please email us at imc@leeds.ac.uk quoting both your paper title and session name (if known) by 23:59 (GMT), Monday 26 October 2020. If you are a speaker in an organised session, then you must also contact your session organiser directly. If we do not hear from you, we will assume that you are able and willing to present your paper virtually in 2021.
While last year's emergency replacement event was offered for free, this was due to the generosity of the University of Leeds who were keen that the IMC went ahead in some form despite the extraordinary circumstances.
The IMC is run on a non-profit basis with any surplus redirected into the Bursary Fund, towards improvements to the IMC experience on campus, or to ensuring our submission and registration systems remain fit for purpose. To ensure the future stability and continuation of the Congress for years to come, we need to limit our losses and cover as large a proportion of our costs as possible.
This means that, while IMC 2021 will be virtual, there will be a cost for speakers and delegates to participate. This fee will be in the region of £100-150 and will cover the processing of proposals, production of the programme, staffing costs, development of software/an online platform, as well as ensuring excellent delegate support is available for all speakers and attendees throughout the virtual event.
As in previous years, reduced registration fees will be offered for less well-off members of our community, including students, retired, unwaged, and low-waged individuals.
We are aware that it may seem very early to make this decision when so much could change in the coming months. We hope that by taking this hard decision now we will reduce uncertainty around IMC 2021 and enable delegates to plan ahead. It also enables the small IMC team to focus all our energies on developing a high-quality virtual Congress.
We will be in touch with all participants as our plans develop. We intend to send out Programming Committee decisions regarding acceptance to the programme in early December, and Bursary Committee outcomes around the same time. In the new year, we will be able to update you on when and how to register, as well as updating delegates on the new IMC 2021 registration fee structure, and details of the virtual platform and any new processes which will be used for IMC 2021. Updates and further information will also be available via our website at www.imc.leeds.ac.uk
Finally, we would like to thank you for your support and assure you that this decision does not constitute a permanent move online for the International Medieval Congress. We are committed to the future of the IMC as an in-person event and very much look forward to the time, hopefully in 2022, when we can once again welcome friends and colleagues from the medievalist community back to Leeds.