IMS academic to present at Ilkley Literature Festival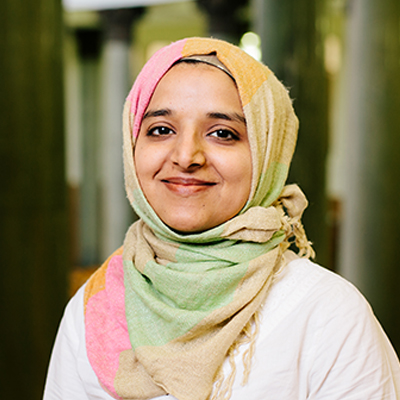 IMS Lecturer Dr Fozia Bora is presenting 'Capturing the Past', focusing on a history book written by Ibn al-Furat in late 1300s Egypt, as part of this year's Ilkley Literature Festival.
The annual festival, which takes place between Friday 4 October to Sunday 20 October 2019 in and around the town of Ilkley, includes around 250 different events. Over the last 40 years, innumerable famous authors have participated in the Ilkley Literature Festival – from international figures and Nobel prize winners to poets like Ted Hughes and Benjamin Zephaniah. There have been residencies, literary walks, discussions, commissions, workshops, exhibitions, performances & moments of high drama.
Dr Fozia Bora, Lecturer in Middle Eastern History and Islamic History in the School of Languages, Cultures and Societies, will present a public talk titled 'Capturing the Past' on 13 October 2019 at Church House, beginning at 15:00. The talk will be chaired by Dr Alaric Hall, Associate Professor in the School of English and Director of the IMS.
In late 1300s Egypt, an obscure school teacher, Ibn al-Furat, began writing a history book. Resourceful in filling the work with letters, documents, poems and anecdotes from Arab, Persian, and Latin sources, this source is a rich treasure trove of material. Dr Bora will explore the mindset and working methods of this influential historian and will take listeners on a journey through this vivid historical account, and the 'archival' mindset that produced historical works in the medieval Islamic world.
Dr Bora recently published Writing History in the Medieval Islamic World: The Value of Chronicles as Archives (Bloomsbury, 2019). Her research and teaching focuses broadly on the history and historiography of early and medieval Islam, specifically Arabic historical texts of the Fatimid, Ayyubid and Mamluk eras in the sixth to ninth Islamic centuries (twelfth to fifteenth centuries CE).
Tickets are now on sale and the full event programme is available on the festival website.