IMS postgraduate researcher presents at Royal Armouries Museum conference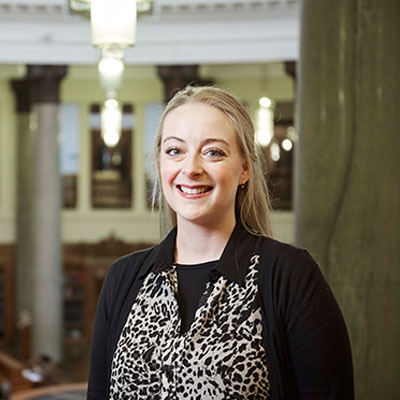 Eleanor Wilkinson-Keys, IMS postgraduate researcher, is presenting a paper at the Royal Armouries Museum conference 'Weapons in Society' on 26 September 2019.
The Institute for Medieval Studies (IMS) fosters interdisciplinary, international and collaborative research projects, linking up with scholars within the Faculty of Arts, Humanities and Culture, the University of Leeds and the wider academic community - nationally and internationally. Among other bodies, the IMS works closely with the Royal Armouries, which includes five floors of stunning displays of arms and armour from across the world and through time.
The Royal Armouries Museum 'Weapons in Society' conference will explore the interrelation between arms and armour and wider social and political trends, with an interdisciplinary focus spanning both technology and culture. The conference includes a keynote, nine papers, a tour of the galleries, and an opportunity to handle selected artefacts from the national collection of arms and armour.
There will also be a poster competition, to encourage junior researchers to share their research.
The conference will be held at the Royal Armouries Museum on 26 September 2019 from 9:30-18:30. Speakers include academic researchers as well as heritage sector professionals.
IMS Involvement
Eleanor Wilkinson-Keys (IMS postgraduate researcher) will present 'The Tournament Horse' in September. In her paper, Wilkinson-Keys will show how surviving tournament equipment, horse armour, and their decorations illustrate the power of the tournament horse as a psychological weapon both on and off the tournament field.
In addition to pursuing PhD research, Wilkinson-Keys is also the Volunteering and Events Coordinator, Museums and Castles, for Wakefield Council. Wilkinson-Keys runs the volunteer scheme across six sites: Castleford Museum, Pontefract Castle, Pontefract Museum, Sandal Castle, Wakefield Museum and the museum stores.
In addition to being responsible for 'marketing the scheme, recruitment, and training volunteer support across the Museums and Castles team', Wilkinson-Keys works to 'engage a diverse team of volunteers, aged 13 and above, in a variety of exciting roles like assisting with events and activities, supporting learning activities and school visits, tours, social media, grounds maintenance and more'. Wilkinson-Keys also organises and delivers 'a really varied programme of events'.
More information about events sponsored by Wakefield Museums and Castles can be found here. The next major event, Proms in the Castle, will be held at Pontefract Castle on 22 June 2019.
Wilkinson-Keys enjoys being involved with heritage, in addition to her PhD work: 'I really love being part of a team that engages volunteers and visitors in Wakefield Council's heritage spaces and collections in such a variety of ways'. Wilkinson-Keys' experience both as a heritage sector professional and as a PGR Researcher will be a welcome addition to the conference.
Registration
Registration is currently open; tickets are £5. To book tickets, for more information on bursaries or the poster competition, or for any other questions, contact the Steering Committee at weaponsinsociety@gmail.com.