Medieval Studies Students visit Kirkstall Abbey during Halloween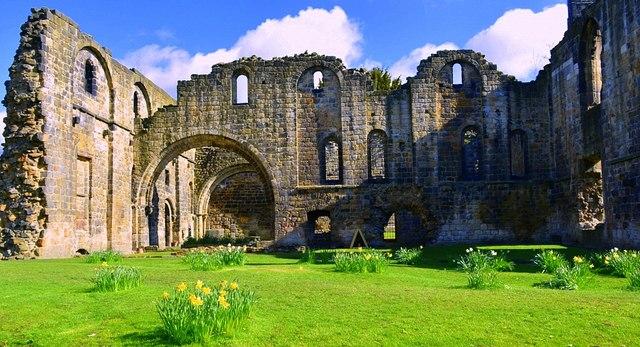 Students and members of the LUU Medieval Society visit the twelfth-century Cistercian ruin of Kirkstall abbey, on an eerie and wet Saturday in October.
On 29th October 2022, medieval studies students from the Institute for Medieval Studies travelled to Kirkstall abbey, a twelfth-century Cistercian ruin, situated next to the A65, one of the main roads leading into Leeds.
They went there on a trip run by the Leeds University Union Medieval Society, which organises trips, medieval film nights, board game nights and other social events throughout the year. Membership is open to any student of the university who has an interest in the medieval period and wants to find like-minded people to socialise with. Despite the miserable weather on that particular day, our students had a great time at the abbey, taking pictures of the ruins and sampling some of the delights at the market.
Kirkstall abbey itself was founded in 1152 with the help of Henry de Lacy, as a daughter house of Fountains abbey. The abbey was extended and added to over the years until it was surrendered to Henry VIII and his commissioners during the dissolution of the monasteries in 1539. Since then it has been left in ruins. In its later life, the abbey became part of a main road leading into Leeds. The road went through the nave from the western doorway and up a ramp through the large window at the other end. Eventually the road moved to its current position skirting the abbey when Leeds City Council bought the abbey site, turning the area into a park. The abbey become a Grade I listed building and after a 5.5 million pounds restoration project, the abbey continues to stand today and can be visited by the public to explore its architecture and history.