Interview with Postgraduate Researcher Grace Pesticcio about LGBT History Month and LUU Medieval Society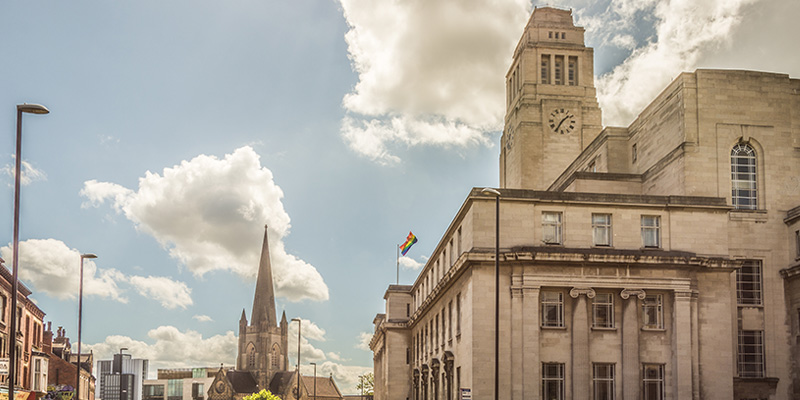 IMS Postgraduate Researcher Grace Pesticcio speaks about organising the Medieval Society events for LGBT History Month and the society's upcoming events.
You are holding a series of MedSoc (Medieval Society) events as part of the LGBT month. What are they about?
Grace Pesticcio: There were two parts to the Medieval Society's LGBT History Month events! The first part was two talks from speakers: Amy Jefford Franks, and Dr Kit Heyam, who both talked about their own research on queer medieval history. The second was a social media campaign, where we posted accessible research on queer medieval history to our Twitter and Facebook pages on a daily basis.
How did these events come about?
GP: LGBT History Month is something I'm really passionate about as a bisexual medievalist myself. I joined the Medieval Society committee as the Equality and Diversity Officer at the start of the academic year, and from that point I really wanted to put on a series of events for LGBT History Month. Most importantly, I wanted to use this opportunity and the Medieval Society's platform to showcase queer research, debunk myths about historical queerness (eg it didn't exist, it only appeared in via negative depictions, etc), and engage academic and non-academic audiences with queer medieval history.
Can you tell us a bit about the speakers and their talks?
GP: Of course! Amy Jefford Franks is currently an independent scholar and holds an MA in Viking and Medieval Norse Studies from the University of Iceland. Their work focuses on pre-Christian Scandinavian religion from a perspective of gender and queerness, whilst also working on Medievalism and the use of 'Vikings' in white supremacy in the last two centuries. They presented their paper, 'Why We Should Care About Queer Vikings', which drew upon all these facets of their research, to 217 people on Thursday 18th February.
Dr Kit Heyam is currently a Lecturer in the Department of Humanities at Northumbria University, and they did their PhD in the School of English here at Leeds! Their research interests concern gender and sexuality in medieval and early modern literature and culture, focusing on accounts of the life of Edward II, who is the subject of their first monograph, The Reputation of Edward II, c. 1305-1697: A Literary Transformation of History (Amsterdam University Press, 2020). Kit presented their paper, adapted from research in their monograph, '"Beloved Edward II…tortured to a painful death": Epitomising Medieval Queer History' to over 50 people on Monday 22nd February.
Social media must have been instrumental in promoting the campaign. How much did it play as a supporting role for promoting the events?
GP: Social media definitely played a huge role in our LGBT History Month events! Without being able to publicise our talks over Facebook or Twitter, we wouldn't have had so many sign-ups or attendees! We've also reached a huge number of people with our daily, accessible research posts – from inside and outside the University of Leeds – which couldn't have happened without social media. It's been really helpful to spread awareness of queer medieval history and encourage people to engage with it, even if it's not something they've ever studied before!
What do you hope to work on after this series of events? What is the next big thing for the Medieval Society?
GP: We've got lots of events coming up! We've got a photo-sharing scavenger hunt going from Monday 12th April to Friday 16th April, as well as other events, like games nights, pub quizzes, and virtual cook-a-longs. To find out more, you can check out our Twitter and Facebook pages or join the society via the union website!
Grace Pesticcio is an IMS Postgraduate Researcher at the University of Leeds. Alongside queer history, her current research looks at intersections of liturgy and community identity in the sequentiaries of Neuwerkskloster, an Augustinian convent in Erfurt, from 1300-1450.