IMS Honorary Visiting Professor Trustee Appointment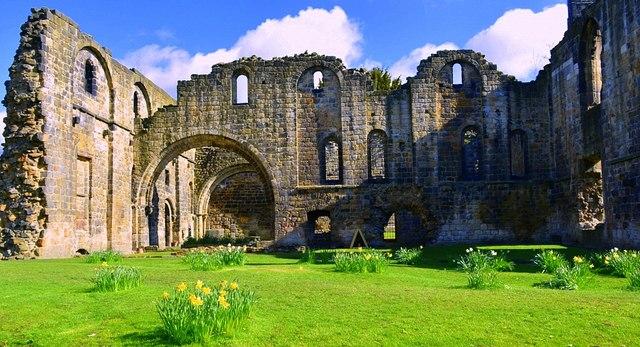 David Stocker, IMS Honorary Visiting Professor, has been appointed a trustee of the National Heritage Memorial Fund.
National Heritage Memorial Fund
The National Heritage Memorial Fund (NHMF) was established in 1980 to secure landscapes, buildings and works-of-art for the public, as lasting memorials to those who have given their lives in war. In 1993 its role was enlarged enormously with the establishment of the National Lottery Heritage Fund, which resulted in a proportion of Lottery tax revenue being allotted for good causes.
In the last 25 years National Lottery grants have not only improved the condition of heritage, but have also changed the public's attitude to the past. Many buildings in Leeds have benefitted, including The White Cloth Hall, Kirkstall Abbey (pictured above) and Leeds City Musuem, along with many medieval buildings and monuments across the country, such as York Minster and The Merchant Adventures in York. A sum amounting to £1.2 billion will be distributed to heritage projects (broadly defined) in the next five years.
The National Lottery Heritage Fund also supports initiatives to provide formal training in a wide variety of skills, support individuals in undertaking research, and facilitate the sharing of these research interests with the wider community. Examples of these kinds of initiatives include Ameha Shewaye's involvement with Re-Making Leeds and Hazel Pannack's experience working with the Boiler Engineering Skills Training Trust (BESSTT).
David Stocker, Trustee
David Stocker, IMS Honorary Visiting Professor, has been appointed a trustee of the National Heritage Memorial Fund. An archaeologist and architectural historian, Stocker also sits on the Heritage Lottery Funds's Northern Committees, is a trustee and President of the Lincoln Record Society, and the Council for British Archaeology (CBA) nominee to the Council of the National Trust. Stocker was appointed along with four other trustees by the Prime Minister.
Stocker called his appointment 'a great honour', and pointed out that this is the second time a Leeds University affiliate has been invited the fill the role. Professor Richard Morris, former Director of the Institute for Medieval Studies (IMS), also served as trustee.
After being involved in the research and management of heritage for 40 years, Stocker explained that he has 'seen an enormous democratisation of British heritage, encouraged greatly through the National Lottery Heritage Fund's efforts'. Stocker clarified that National Lottery grants have encouraged individuals 'to see heritage as an integral and valued part of the daily round: something which adds quailty and value to the lives of both individuals and communities'.
Ultimately Stocker describes this process as 'a challenging journey for professional historians, archaeologists and other scholars who deal with the past', because the skills they have honed 'are now called upon to engage with the entire community of non-experts in different ways'. However the result of these efforts is indisputably positive, as 'more than a century after William Morris' death, his vision of a past curated effectively, by the whole community, because they have acquired a proper understanding of its value, is now coming much closer to reality'.