Lisa Trischler appointed as an Editorial Assistant for Leeds Medieval Studies Journal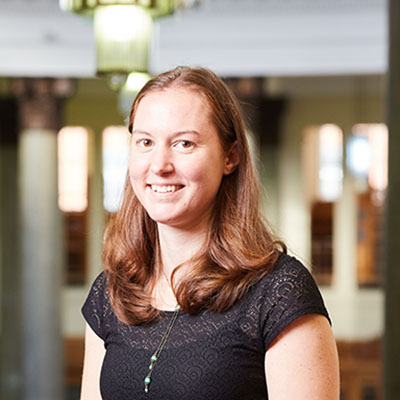 We interview Institute for Medieval Studies Postgraduate Researcher Lisa Trischler, who has been appointed as an editorial assistant for the IMS's new open access journal, Leeds Medieval Studies.
What does your new role at the LMS journal involve?
Lisa Trishler: As the editorial assistant for the Leeds Medieval Studies journal I get to be involved with the publication from beginning to end – which is really great! Since this is a new journal (we merged the Leeds Studies in English journal and the Bulletin of International Medieval Research) I was able see and contribute to the shape of the journal. For example, I helped transitioning the journal to open access by researching the different options available, figuring out which platform worked best for us, and adhering to the specifications from the Directory of Open Access Journals (DOAJ). I also had the opportunity to learn some coding as well as troubleshoot how to typset the journal in both HTML and PDF – which was a great opportunity to use a different part of my brain!
I also get to do a bit of website development like reconfiguring the website and creating a new page for the new journal and a section for past publications which includes an archive of Leeds Studies in English, Leeds Texts and Monographs, The Bulletin of International Medieval Research, and a selection of medieval history texts in translation. The role also involved the design of an organisation system for tracking the progress of each volume. I am also responsible for ensuring each article adheres to the MHRA citation style guidelines and is typset correctly.
It is a really fun job because I get to see and help facilitate how the process works from the very beginning of a volume to its end.
How did you get this role?
LT: Each year the IMS publicises various internships available to MA and PhD students. During my MA I was the IMS Lectures and IMC Support Assistant and I really enjoyed it. When I saw this opportunity come up, I jumped at it because I have always been interested in the editing process – I even started the Peer Review College with a modern historian to provide peer-review to postgraduates in the History Department on anything from chapters to articles and conference papers. I was also very keen because I thought it would help me to understand the process for publishing articles and how to improve my own submissions (and it has!).
How did the LMS Journal come to Fruition?
LT: As I mentioned earlier, it is the successor to and continuation of Leeds Studies in English (founded 1936) and The Bulletin of International Medieval Research (founded 1995).
Leeds Studies in English and Kindred Languages was started in 1932 as an annual philological journal by Bruce Dickins, Alan S. C. Ross and R. M. Wilson, who were all teaching in the Department of English Language at the University of Leeds. There were six issues before the outbreak of war in 1939, but publication was then suspended. Numbers 7 and 8 were published as a combined volume in 1952, but it was not until 1967, under the editorship of A. C. Cawley and R. C. Alston, that regular annual publication was resumed, in a new series under the title Leeds Studies in English. Notwithstanding its name, the journal's focus has always been on the language and literature of medieval north-west Europe, particularly English, French, and Old Norse.
Meanwhile, the Bulletin of International Medieval Research was begun in 1995 by Alan V. Murray, editor of the International Medieval Bibliography. Originally a means to keep in touch with the Bulletin's widely dispersed contributors and to publish book reviews related to the Bulletin's work, the publication soon evolved to publish peer-reviewed research articles.
Leeds Studies in English and the Bulletin of International Medieval Research merged in 2020 to consolidate the editorial work of Leeds medievalists and align it institutionally to the Institute for Medieval Studies. Both journals have always been published by scholars, for scholars, disseminating high-quality research at as low a cost as possible and keeping publication in-house. Leeds Medieval Studies, free-access online and low-cost in print, continues these traditions. It welcomes submissions reflecting the full intellectual range of the interdisciplinary Institute for Medieval Studies, including history, art, and literature in the period c. 500-1500 CE, and the study of modern medievalisms. We are also glad to continue our long-standing commitment, unusual in academic journals, to publishing editions and translations as well as essayistic articles.
We are very excited for our first volume to come out before the end of 2021! We're now making finalised articles available online on a rolling basis which you can check out here: https://ims.leeds.ac.uk/issue/lms-1-2021/.
Lisa Trischler is a PhD candidate in the Institute for Medieval Studies exploring the intersection of art history and literature; in particular, how ideas are expressed and transmitted in the material culture of architectural space. Her current project is interested in the question of how architecture and urban expansion in thirteenth- and fourteenth-century Florence influenced the poetry of Dante Alighieri's Commedia.