Rory McCartney — Smoke Proof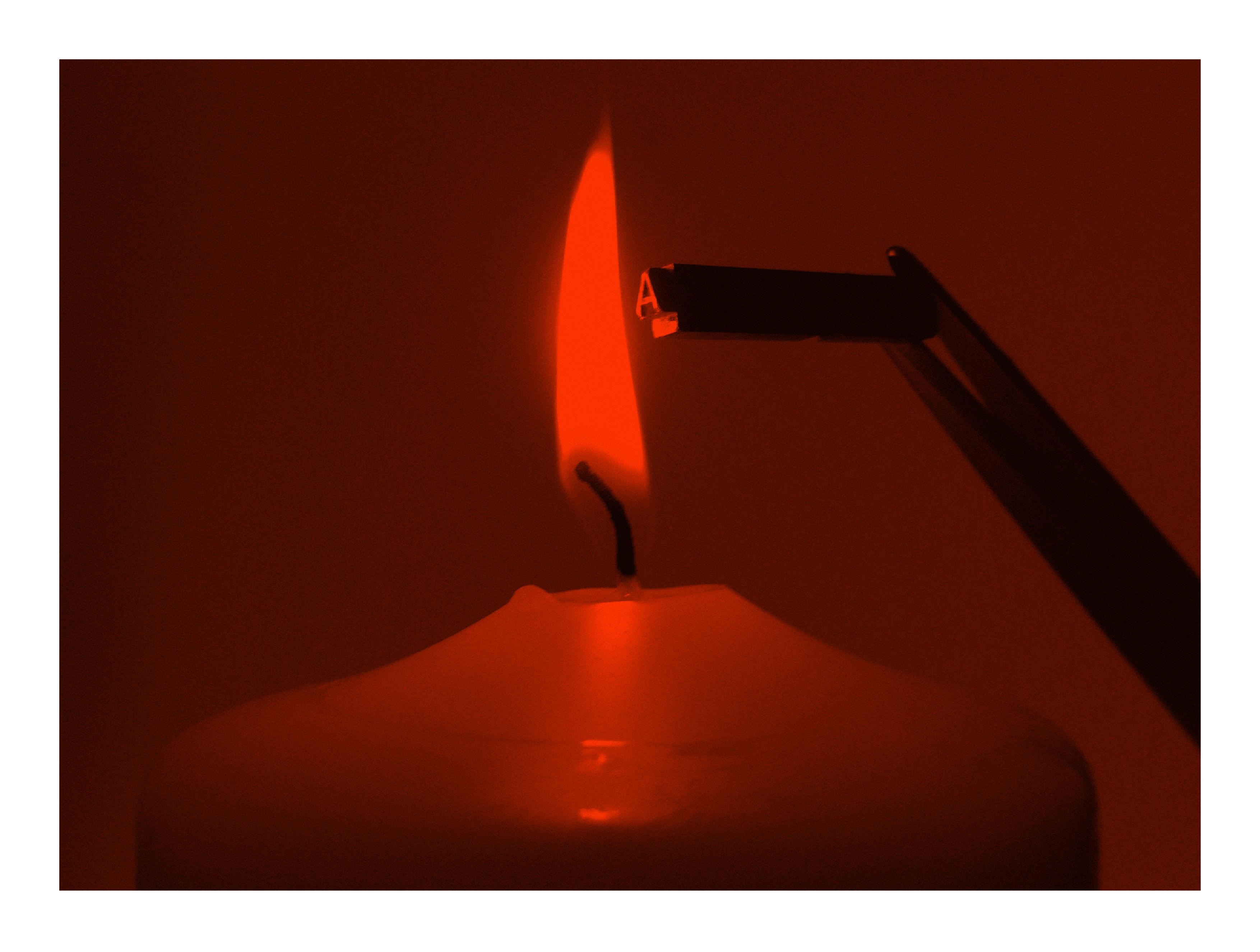 Date: Thursday 28 March 2019
Location: Fine Art, History of Art and Cultural Studies
Interval: Every day
Until: Wednesday 17 April 2019
Cost: Free
The Centre for Audio Visual Experimentation (CAVE) presents the latest in this year's programme of exhibitions in our Project Space.
Open Tuesday to Friday, 10am to 5pm
Private view: Thursday 28 March, 6-8pm
Three lines of connection run between: the histories of 1930s blues recording techniques, letterpress smoke-proof tests and Édouard-Léon Scott de Martinville (printer, typographer and amateur inventor). Smoke Proof sees lampblack soot as the harmonising material which draws these disparate histories together, and enabled recorded sound with a direct link to language.
In 1857, de Martinville's obsession with linguistics led him to make the earliest known sound recording. French folk song 'Au clair de la lune' was recorded on his mechanical invention which carved soundwaves into a layer of lampblack soot. The recording could not be played back until it was rediscovered in 2008.
In Smoke Proof, artist Rory McCartney explores the notion that de Martinville recorded sound by adapting and inverting the temporary printing technique used by typographers to make smoke-proof tests with candle smoke as a quick printing method to test new lead letterforms. De Martinville used lampblack as a recording device to transcribe the sound of human speech in a way similar to that achieved by the then new technology of photography for light and image. He created a machine that would do for the ear what the camera did for the eye.
For the exhibition, McCartney creates a sound installation. Each layer of the four-channel sound installation is based on a separate recording technique. Each layer in the composition is isolated in its own speaker, to create a constellation of sounds that fill the gallery with the multiple voices that together make up a single composition. The sound becomes sculptural as the space is navigated. The piece is constantly deconstructed, and new compositions are created as different layers of sound in the space are encountered which fade in and out of earshot.
Biography
Rory McCartney is an artist who lives and works in London. He is currently a research associate at Slade School of Fine Art where he is exploring lines of research into the history and possibilities of written language and expanded typography. Instead of presenting one definitive perspective or narrative, recent projects have celebrated the many ways research can be assembled.
Previous Exhibitions include: Heated Words Documentary Preview, Union, Los Angeles, USA; Soviet Space Archive, Calvet 22, London; Heated Words with Maggs Counter Culture, and AA Bronson for Tenderbooks, Room&Book, ICA London; Publishing + Censorship (Bootleg), Lima Zulu, London; Publishing + Censorship, Oriel Sycharth Gallery, Wales; Concrete on Mars , Barbican Centre, London; Cold War Cover Versions, Radio broadcast, Resonance FM; Gazelli Art House, Baku, Azerbaijan; Interkosmoz, Liquid Courage Gallery, Nassau, Bahamas; Cut & Paste (performance), Victoria and Albert Museum (V&A), London.
Image: Rory McCartney, Smoke Proof, 2019.