Jo McGonigal — Act Seven: Paler, blinder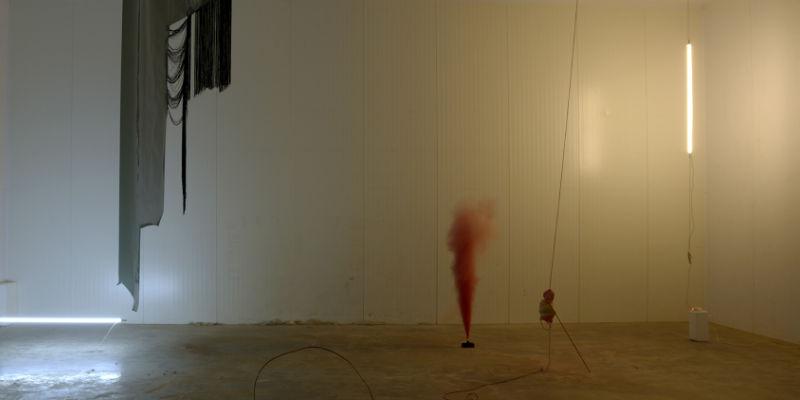 Date: Friday 23 November 2018, 10:00 – 17:00
Location: Fine Art, History of Art and Cultural Studies
Interval: Every day
Until: Saturday 8 December 2018
Cost: Free
The Centre for Audio Visual Experimentation (CAVE) presents the latest in this year's programme of exhibitions and events in our Project Space.
Open Tuesday to Saturday, 10am to 5pm
Private view: Thursday 22 November, 6-8pm
Jo McGonigal is staging this exhibition as part of her final examination for her practice-based PhD at the University of Leeds. Her research and practice examine painting and its relationship with architecture.
Her practice begins with a visual analysis of historical Baroque painting as a basis for understanding the medium as a complex spatial construction. These observations materialise into 'spatial paintings' constructed out of physical things in real space, where architectural concerns become complicit with the work. She uses both found and everyday materials, to examine the formal grammar of pictorial language – the vernacular of painting, where moments of drama, stillness, distance, translucency, edge and colour, co-operate to develop an understanding of painting as a retinal, physical and spatial event, activating the body as much as the eye.
McGonigal asks the viewer to gaze and take in its panoramic view, then focus, so the eyes remain in a perpetual state of unrest, moving from strong darks to light, zigzagging across, taking in different degrees of distance, strengthened opacity and the co-existence of different details and segments of time.
Biography

Jo McGonigal is an artist living and working in Manchester, UK. She is also currently a Lecturer in Fine Art in the School of Fine Art, History of Art and Cultural Studies.
Solo exhibitions include: Shift, Patricia Fleming Projects, Glasgow; Between Painting & Place, Platform A Gallery, Middlesbrough, UK.
Group exhibitions include: Eccentric Geometric at Arthouse1, London; Raumx Projects, London (with Mary Maclean); International Biennial of Non-Objective Art, Lyon, France; After An Act, Golden Thread Gallery, Belfast; From A to C; This Being B, Caustic Coastal, Salford; Real Painting at Castlefield Gallery, Manchester Marmite Painting Prize - Block336 Gallery (finalist), London & Highlands Gallery, Ireland; Chiara Williams Solo Award (finalist), Cello Factory, London.
In 2017 and 2018, McGonigal was shortlisted for the prestigious Paul Hamlyn award.
Image: 2#4 (Pink Cloud) ii, Jo McGonigal