Visiting Artist's Talk – Chila Kumari Burman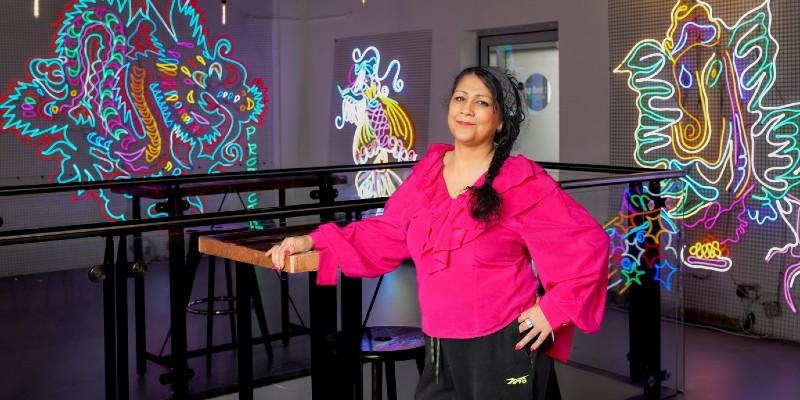 Date: Monday 19 February 2024, 14:00 – 16:00
Location: University of Leeds
Cost: Free
For this week's Visiting Artist's Talk we welcome Chila Kumari Burman, an artist with an long-standing attachment to Leeds.
Chila Kumari Singh Burman grew up in a working-class Punjabi-Hindu household in Liverpool. Her upbringing has shaped her practice, which challenges stereotypes and places alternative perspectives of British-ness at the forefront of art history. She has exhibited nationally and internationally since the 1990s, including notable commissions for the Havana Biennial of 1996 and the façade of Tate Britain in 2020. She has also created public artworks for Covent Garden's market buildings (London) and Liverpool's Town Hall, among other civic spaces.
Burman taught at Lahore College of Art in Pakistan and received an Honorary Doctorate from University of the Arts London in 2017. She has served as a Trustee on the board of Rich Mix, London, and was awarded an MBE in 2022 for her services to the visual arts.
About the Visiting Artists' Talks series
The Visiting Artist's Talk (VAT) series hosts talks by an exciting range of arts practitioners from around the world every Monday afternoon from 2 to 4pm during teaching weeks.
All of our talks are compulsory for our Fine Art students but are also open to anyone else who would like to join us.
For more information, please email Nick Thurston.
Venue
This event will take place on the campus of the University of Leeds. The specific location will be announced nearer the time.
Image
Chila Kumari Singh Burman at Rich Mix, London, summer 2023. Courtesy of the artist.