Visiting Artist's Talk – Rommi Smith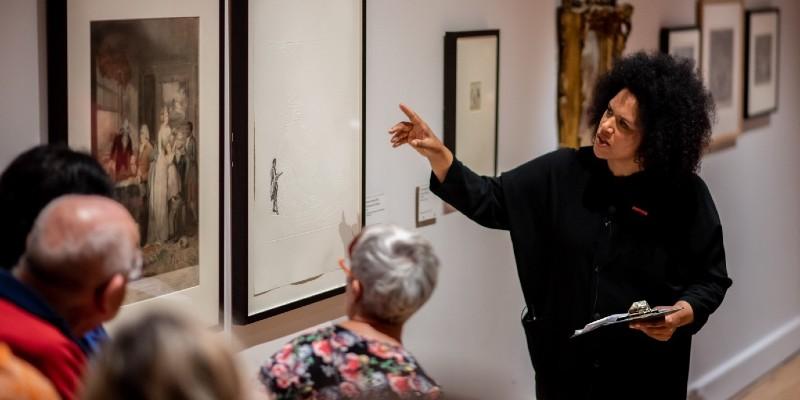 Date: Monday 5 February 2024, 14:00 – 16:00
Location: University of Leeds
Cost: Free
For this week's Visiting Artist's Talk we welcome Rommi Smith, a playwright, poet, singer, scholar and broadcaster based in Leeds.
Dr Rommi Smith is a multi-award-winning poet, playwright, librettist, theatre-maker, performer, scholar and broadcaster.
Smith works as a curator and interlocutor of visual art, collaborating with musicians and other performance creatives to produce bespoke, participatory experiences in gallery spaces. She curated 'Changing the Story: photographs of British Life in Black and White' (1917-1962) and the 'Temples to These Women' series, a response to Sonia Boyce's 'Feeling Her Way' exhibition for the Venice Biennial 2022. In 2023, Smith's new choral work in collaboration with Roderick Williams, entitled 'Forever?', was premiered. She has appeared on radio programmes ranging from 'The Verb to Front Row, Poetry Please' to 'Woman's Hour' (all BBC) and her audio essay on Vaughan Williams' The Lark Ascending features as part of the BBC Radio's The Essay series.
Smith was awarded a doctorate in English and Theatre and has published widely with academic presses. She is a Cave Canem Fellow and winner of numerous residencies and commissions from institutions ranging from the British Council to the BBC. She was the inaugural British Parliamentary Writer-in-Residence, the inaugural Poet-in-Residence for Keats' House in Hampstead, London, and the 2022 Poet-in-Residence at the Wordsworth Trust, Grasmere.
About the Visiting Artists' Talks series
The Visiting Artist's Talk (VAT) series hosts talks by an exciting range of arts practitioners from around the world every Monday afternoon from 2 to 4pm during teaching weeks.
All of our talks are compulsory for our Fine Art students but are also open to anyone else who would like to join us.
For more information, please email Nick Thurston.
Venue
This event will take place on the campus of the University of Leeds. The specific location will be announced nearer the time.
Image
Rommi Smith, 'A Response to the Wisdom Tree'. Photo courtesy JMA.