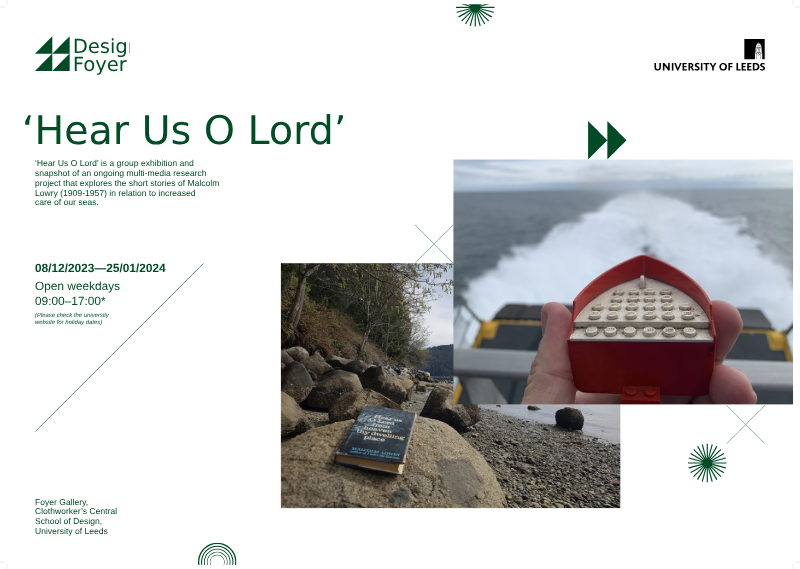 Date: Friday 8 December 2023, 09:00 – 17:00
Location: Clothworkers Building Central and Link
Interval: Every day
Until: Thursday 25 January 2024
Cost: Free
Hear Us O Lord is a group exhibition and snapshot of an ongoing multi-media research project that explores the short stories of Malcolm Lowry (1909-1957) in relation to increased care of our seas.
This exhibition Hosted in the Foyer Gallery in Clothworkers Central Building in the School of Design.

A network of artists, students, musicians, a former Shell sea captain, poets and one of the world's leading sound recordists has been sailing between Lowry's birthplace and the Isle of Man (population 84,000), a place he used as early as the 1950s to write about ocean pollution.
The island is 85% marine territory and the network has been meeting Government ministers, wild swimmers, environmentalists and local musicians to develop a series of podcasts and artefacts, some of which are on display here.
The network comprises Alan Dunn, Helen Tookey, Bryan Biggs, The Art Doctors (Liz Stirling and Alison McIntyre), Roger Cliffe- Thompson, Rob Keith, Cian Quayle, Louise K. Wilson, Chris Watson, BAD PUNK / Band of Holy Joy (James Stephen Finn & Johny Brown), Ian Murphy, Jessica Van Horssen,