Memoirs of the Self — exhibition
Date: Thursday 23 March 2023, 18:00 – 21:00
Location: Fine Art, History of Art and Cultural Studies
Cost: Free
Memoirs of the Self is the product of creative endeavours into identities, memories and experiences.
Through the art of painting and mixed media we create visual representations and embodiments of ourselves as artists.
Identifying as painters, the three artists in this exhibition push the boundaries of their practice through a variety of media to explore common themes. Whilst this exhibition investigates experiences and themes of identity personal to that of the individual artists, the familiar motifs carry a collaborative concept which can be seen.
Memory plays an important part in identity formation and in creating a positive sense of self. Experiences from childhood create this sense of self that develops over time into the person we are today. Losing a part of oneself or even one's sense of self can be life-changing in the hardest way possible.
As we, as artists, aim to explore our own sense of self, we wish to simultaneously bring attention to those who are losing their ability to hold on to their memories and experiences.
Our exhibition has partnered with Alzheimer's Society UK who provide support and care for those living with life-altering conditions like Dementia.
This is a fundraising event for Alzheimer's Society, with donation opportunities. There will be prints on sale with 10% of proceeds going to Alzheimer's Society.
Memoirs of the Self is one of a number of exhibitions taking place on campus and across Leeds this month, as part of our Fine Art Level 2 Festival of Art.
Artists
Jessica Bills
Skye Davies
Rhiannon Piper
Follow Memoirs of the Self on Instagram.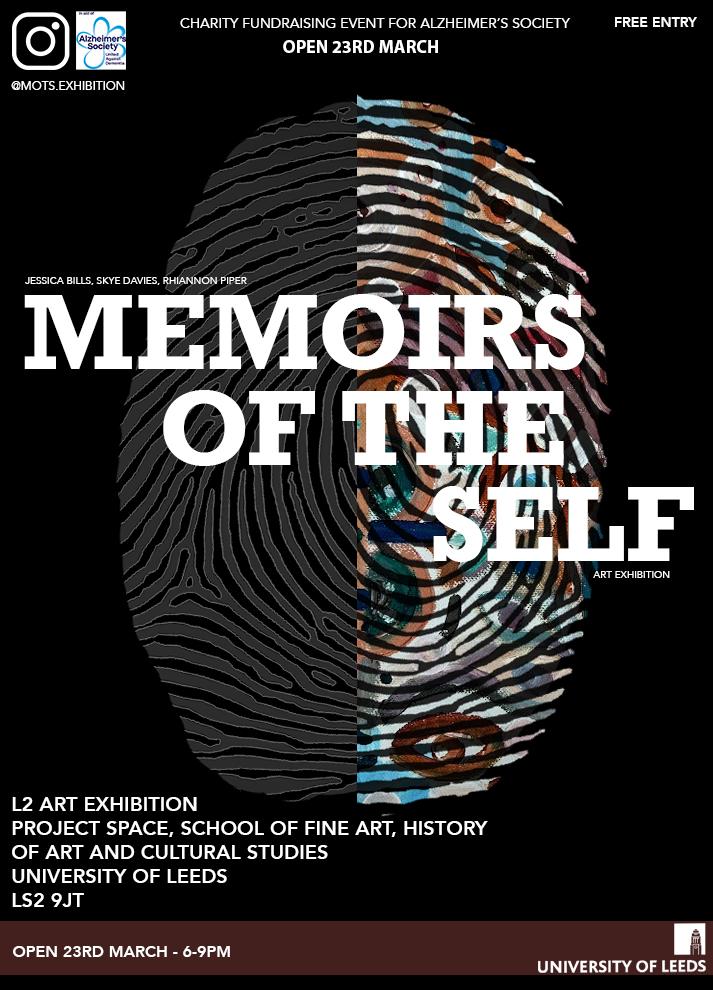 Venue
Project Space
School of Fine Art, History of Art and Cultural Studies
University Road
Leeds
LS2 9JT
Opening times
Open for one night only! Join us on Thursday 23 March from 6 to 9pm.
All welcome!
Images
Poster design and feature image by Jessica Bills and Skye Davies.