Howard Eaglestone: Pink Sofa — Popular Colours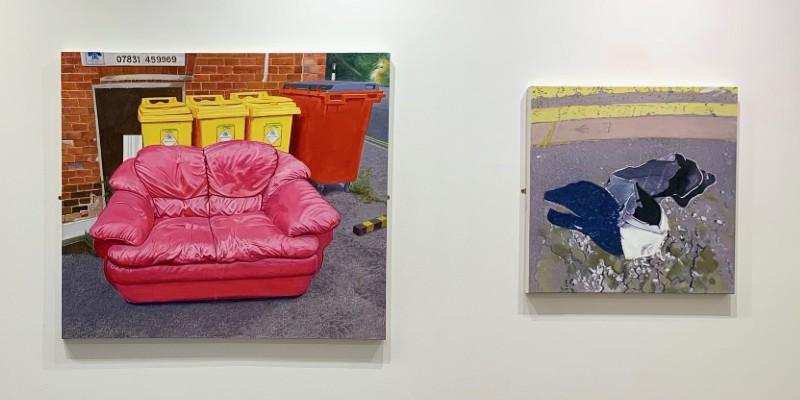 Date: Wednesday 8 February 2023, 18:00 – 23:00
Location: Off-campus
Cost: Free
Opening event with artist talk to celebrate fine art alumni Howard Eaglestone's new solo exhibition at Hyde Park Book Club, Leeds.
Howard Eaglestone has been a resident in LS6 for decades, and has spent several of those years studying fine art at the University of Leeds and subsequently teaching painting on the BA Fine Art/Art & Design at Bradford College.
He is resident in a space that is vital and somehow transient, so it's no surprise that his careful painterly observations seem to capture this oscillation. His deliberate literal titles, embedded symbolism, purposeful reflective primaries, and no frills approach are underpinned by moments of stopped time — resulting in carefully complex 'still lives' drawn from the discarded, found ephemera of an area that keeps moving around us.
For Pink Sofa – Popular Colours Howard presents a selection of paintings that focus on the collision of private and public domains in LS6, proffering that the Hyde Park Book Club itself seems to be steeped in this sense of the private within the public — an intimate space where the community and its ideas can collide, a catalyst for collective creativity, a place of politics, storytelling or simply to get your morning coffee.
Eaglestone is generous like that — in not attributing judgement. His process of moving objects into image and capturing true unambiguous hues, involves photographing the assemblages of objects he finds before painting them. This process is essential in creating a distance between him, the object and the image, creating a layer of visual excitement that seeks to stimulate further contemplation.
So despite an underbelly of careful planning, and embedded symbolic reference in Eaglestone's work, these seemingly playful outtakes are actually presented not as 'still lives', but are rather 'still living' — and open to interpretation accordingly. There's ample space for the viewer to read between the lines. In the playful awkward comfort of an empty sofa – all plush and blushing by the bins, in the soft gaps of traffic control barriers through which anthropomorphic sacks squeeze us, or dancing on a ceiling, bathed in a construction neon or swimming in the confusion of a safety bollard cracked wide open - oily on the inside. This is our mess of constant entropy and resurrection, but from here we can stand to look at it.
Keep looking and you'll discover Eaglestone's works are painstaking painterly rabbit holes rooted in the real.
The opening event will have DJs from 6 to 11pm, with an artist talk by Howard Eaglestone from 7 to 8pm. Free, all welcome.
Booking information
Book your free place via Eventbrite.
Venue
Hyde Park Book Club
27-29 Headingley Lane
Leeds LS6 1BL
Exhibition dates and opening times
Exhibition open 9 February to 9 April 2023 at Hyde Park Book Club
Open daily, 9am to late.
Image
Installation detail of Howard Eagleston's Pink Sofa — Popular Colours solo show, opening on 8 February at Hyde Park Book Club, Leeds. Photo @hydeparkbookclub