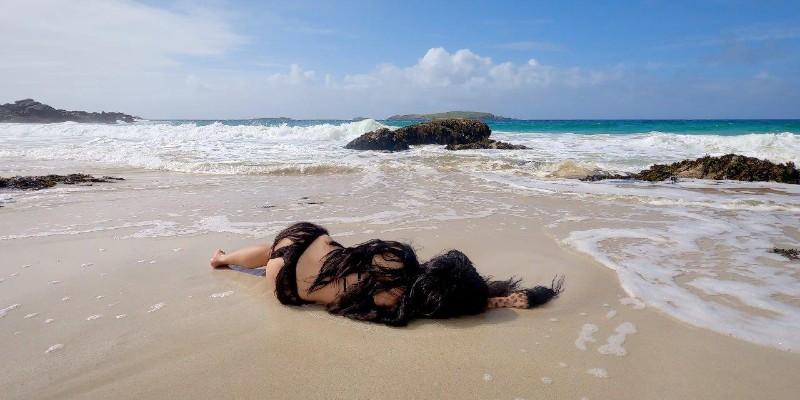 Date: Friday 18 November 2022
Location: Fine Art, History of Art and Cultural Studies
Interval: Every day
Until: Sunday 4 December 2022
Cost: Free
The Centre for Audio Visual Experimentation (CAVE) is delighted to host a boundary defying film work by artist Soojin Chang in our Project Space.
Jerwood/FVU Awards 2022 travels to Leeds this November from Jerwood Space in London, featuring new film works from Soojin Chang and Michael. which will be showcased at Leeds Art Gallery and the University of Leeds.
Soojin Chang's commissioned film BXBY is a radical, semi-fictional work which explores the fusion of interspecies life.
BXBY is a year-long performance project that merges forms of semi-fictional documentary and ritual practice, following Chang as a hybrid, shape-shifting being trying to learn to reproduce.
Drawing from chimeric figures within creation stories of the British Isles and the diasporic cultures of Chang and her collaborators (Choulay Mech, Jade O'Belle, Anika Ahuja, and Aditya Surya Taruna a.k.a Kasimyn), Chang positions her own hybrid body – part animal, part woman, part alien – as a site of technological interaction and as a locus of ongoing experiment.
Sampling diverse scientific methods such as IVF, biohacking, and voluntary self-touch, BXBY addresses the legacy of colonial science to open out into wider affirmation of queer, interspecies kinship and reliance. From this position, BXBY aims to spur a purposeful discussion on notions of sacrifice, animality, objecthood and in/visibility; looking in particular to animist techniques of embodying and remembering.
Content note: BXBY contains graphic reproductive content, direct reference to terminated pregnancy and imagery of the culling and dissection of a deer.
About Soojin Chang
Soojin Chang (b. 1991, unceded territory of the Ramaytush Ohlone) is a Korean non-binary performance artist, filmmaker, ritual practitioner, and researcher who lives in Glasgow and works internationally. Using their body as technology to transmute in/visibility, Chang's practice reflects on contemporary ethics, colonial inheritance, and trans-species reliances. Soojin uses phenomenology and animism as methods to experience matrixial glitches in thinghood/subjectivity, art/life, and the afterlife.
Recent work include: JADE BABY BAMBOO SPINE at the Bluecoat, Liverpool (2022); Sacrifice to the Seaworm at Leeds Art Gallery (2022); BXBY at Jerwood Space for the Jerwood/FVU Awards (2022); Dog Eggs at Asia Culture Centre, Gwangju (2022); Heavenly Shower of Banknotes at the ICA (London) for FUTURERITUAL (2022); A heifer would be needed for the sacrifice at Tramway for Take Me Somewhere (2021); Death Ritual at Sa Sa Art Projects, Phnom Penh (2019); and Hair Eggs at MoMA PS1 (2018).
Venue
Project Space
School of Fine Art, History of Art and Cultural Studies
University Road
University of Leeds
Leeds LS2 9JT
Opening times
The exhibition is open Wednesday to Sunday, 12 noon to 6pm.
More information
The Jerwood/FVU Awards is a prestigious commissioning scheme that has supported early-career moving-image artists since 2012. The awards have established an esteemed role in the contemporary visual arts, by awarding £25,000 for artists to develop new artworks at a pivotal moment in their practice. Selection of the awards this year was made by a panel of experts, including award-winning visual artists Hetain Patel and Rehana Zaman. The recipients of this year's awards are Soojin Chang and Michael.
The Leeds iteration of the Jerwood/FVU Awards 2022 marks the final edition of the Jerwood/FVU Awards in its present form after ten years of commissioning early-career artists. A new multi-part film installation by Jerwood/FVU Awards 2022 recipient Soojin Chang – Sacrifice to the Seaworm (2022) – will be exhibited at Leeds Art Gallery, from 18 November 2022 to 22 January 2023.
Find out more about the Jerwood/FVU Awards 2022: Soojin Chang & Michael. exhibition at Leeds Art Gallery.
Book your place at a Visiting Artist's Talk with Soojin Chang on 5 December at the University of Leeds.
Learn more about the Centre for Audio Visual Experimentation (CAVE).
Image
Soojin Chang, BXBY (2022), a film still from the film commissioned by the Jerwood/FVU Awards 2022 in partnership with Leeds Art Gallery. © the artist.