Visiting Artist's Talk – Fátima Rodrigo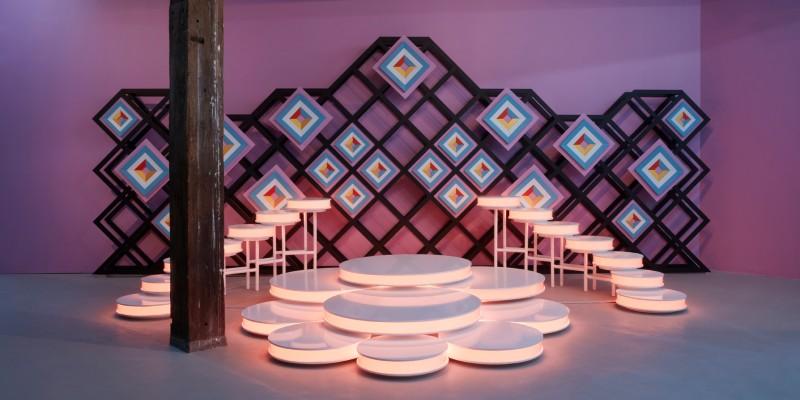 Date: Monday 10 October 2022, 14:00 – 16:00
Location: Conference Auditorium 2 (GM.01)
Cost: Free
For this week's Visiting Artist's Talk, we welcome Fátima Rodrigo.
Fátima Rodrigo (Lima, 1987) studied visual arts at the Pontificia Universidad Católica del Perú and in 2017 was awarded the Mundi grant at Flora Residency Program Bogotá, directed by José Roca.
In 2018, she took part of Gasworks Residency Program in London thanks to the Artus Grant. She has also been part of the Flux Faxtory, New York in 2015. In 2022, she was part of the Residency Program of Art Explora and Cite des Arts, in Paris.
Her recent solo shows include: Plató América, in collaboration with Jaime Oliver, MALI, Museo de Arte de Lima (MALI); Fiesta en America, ICPNA, Lima; Lo que un día fue No sera, Livia Benavides, 80M2, Lima, 2018; Mala Mujer, Valenzuela Klenner Gallery, Bogotá, 2018; Geometría Sentimental, Lucía de la Puente Gallery, Lima, 2016; UNAP, Many Studios, Glasgow International Festival, Glasgow, 2016.
She has taken part in numerous group shows, most notably: 22 Biennale of Sydney, Nirin, 2020; Ars Electronica 2020; Oasis Paraíso, Proyecto AMIL,Lima; Weavers of The Coluds, Fashion and Textile Museum, London; El Desastre es para siempre, Museum of The City of Queretaro, Mexico; Los nuevos sensibles, Matucana 100, Santiago de Chile, 2019;Lengua Barbara, Casado Santapau Gallery, Madrid,2019; Feminicidio: ¡Ni una menos!,Memory and Reconciliation Centre,Bogotá,2017; KM 55, Bienal Sur, Buenos Aires, 2017; Espejo negro, elefante blanco, El cuarto de máquinas, Mexico City, 2017; Bienal tropical,San Juan, 2016; ViVO 3.0 for Time Canvas, Museum of Contemporary Art, Antwerp, 2012.
Her work has been published in 77 Peruvian Contemporary Artists (2017) and Tomorrow: Themes in Contemporary Latin American Abstraction (upcoming).
About the Visiting Artists' Talks series
The Visiting Artist's Talk (VAT) series hosts talks by an exciting range of arts practitioners from around the world every Monday afternoon 2–4pm during teaching weeks.
All of our talks are compulsory for our Fine Art students but are also open to anyone else who would like to join us.
Fátima will be joining us live via Zoom.
For more information, please email Cesar Cornejo.
Directions to the Conference Auditorium building
Facing away from Parkinson steps: Turn right, go straight down the hill to the EC Stoner Building, turn left down a short hill and go under the building. Go straight ahead until you get to Willow Terrace Road, The Edge is in front of you. Turn left, then turn right into the car park, follow the path round to the back of The Edge. The Conference Auditorium Building will now be visible across the car park to the right.
Image
Fátima Rodrigo, Sábado Gigante (Gigantic Saturday) // 2020 // Courtesy of The Biennale of Sydney.