Visiting Artist's Talk — Holly Argent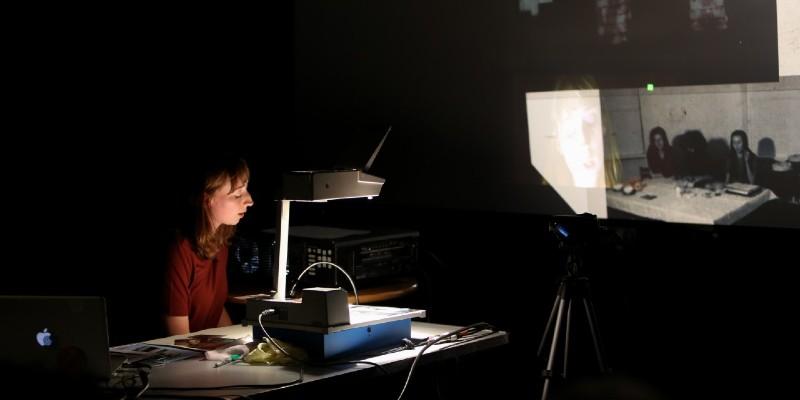 Date: Monday 7 March 2022, 14:00 – 16:00
Location: Online
Cost: Free
For our next Visiting Artist's Talk at the University of Leeds, we welcome Holly Argent.
Holly Argent is an artist and researcher working with archival material to explore a subjective position to historicised figures and the echoes of artistic legacies. Encompassing ideas of expanded collage, she works with text, drawing, moving image, sculpture and performance. She founded the Women Artists of the North East Library in 2017, a physical resource, body of research and a public programme of events and opportunities tracing the influence of artists who have spent time in, studied, taught or exhibited in the region.
Holly has shown at CGP (London), Tyneside Cinema (Newcastle upon Tyne), Berwick Film and Media Arts Festival, Grand Union, (Birmingham), and curated exhibitions and programmes at Workplace Foundation and Middlesbrough Institute of Modern Art.
She was awarded the BALTIC Bothy residency (2021) and Paul Mellon Research Support Grant (2020). She has been artist in-residence at Hospitalfields, Arbroath (2019) and The British School at Rome (2017). She is in residence at Northumbria University with the Women Artists of the North East Library until April 2022.
She is based in Newcastle upon Tyne.
About the Visiting Artists' Talks
The Visiting Artists' Talks (VAT) series for 2021/22 takes place live via Zoom every Monday afternoon during teaching weeks.
Each session brings an arts professional to talk with us about what they do and why, and to chat with the student body honestly about their career journey and interests.
All our talks are compulsory for our Fine Art students but are also open to anyone else who would like to join us.
Event link
For further information about the VAT series, please email Gill Park.
Image
Holly Argent, 2019. © Erika Stevenson.