Safe in Each Other's Shadow — exhibition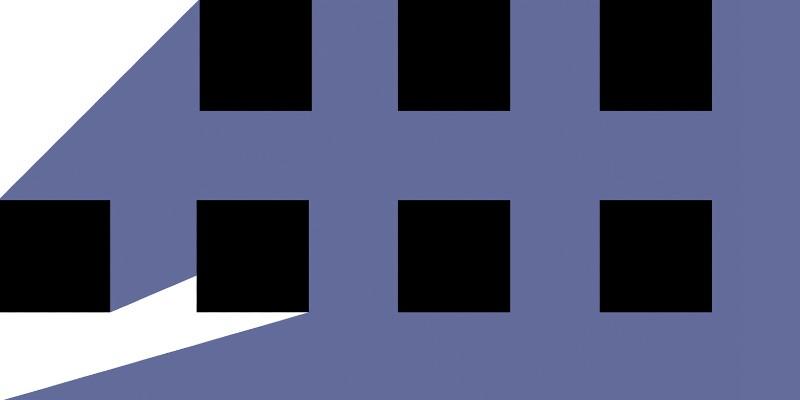 Date: Friday 4 March 2022
Location: Fine Art, History of Art and Cultural Studies
Interval: Every day
Until: Tuesday 8 March 2022
Cost: Free
Safe in Each Other's Shadow is the first gathering of work by ten MA Fine Art students at the University of Leeds.
The exhibition draws together, through a range of media, the familiar thread inherent to everyone's work — processes that trace the documentation and transformation of encountered environments, from the archive to the construction site and the unseen, corporeal places hosting embedded journeys and stories.
Opening times
Saturday to Tuesday, 10am to 5pm.
Private View: Friday 4 March, 6 to 8pm.
Venue
Project Space
School of Fine Art, History of Art and Cultural Studies
University Road
University of Leeds
Leeds LS2 9JT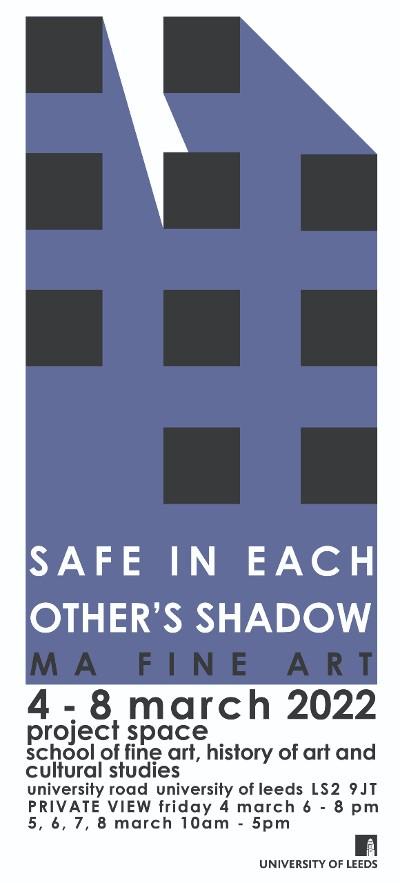 About the artists
Clare Carter (b.1980) is a visual artist and songwriter from West Yorkshire. Her work is autobiographical, documenting and investigating a sense of place through the position of motherhood in the Anthropocene. Using creative practice as a transformative process for engaging with materials, landscape and memory, her research includes geology, anthropology, ecology, heritage and museum studies.
Rocio Davila is a visual artist interested in topics related to language, body and identity. Currently, she is researching the connotation of the word "sudaca" (word to refer to the people of South America in a derogatory way). From this idea, it is explored a diversity of Latin American archives such as dancing Latin American music, song lyrics in Spanish, personal stories spoken in Spanish and how these are contrasted with European thought, thus starting the construction of alternative narratives.
Jack Greenwood is an artist and photographer interested in a diverse range of technological histories and how they affect perception, sight, and the material constructs around us. His recent practice has been centered around investigating sites and material structures that embody knowledge production and relations of power, using this as subject within the work to critique their epistemological origin.
Elisa Hoheisel is an Art Educator from Leipzig. Her work explores quotidian life in both public and private spaces. She turns situations and objects of everyday life into the focus of her work, documenting and taking a closer look at supposed trivialities and subsurface realities of life. In Leeds, she took a critical look at the urban city characterised by workers, students and drugs, documenting and telling a serious story with a sense of humour about laughing gas and Leeds.
Becky Huggett combines her own and appropriated imagery to transcend time and place. Working in series, she draws from material taken from outside of her own experiences using intuitive and chance mechanisms through process to forge changeable narratives and image structures.
Jo Nash's current art practice focusses on 18 Horse Chestnut trees which line the banks of the River Wharfe between the villages of Hebden and Grassington. The trees history is interconnected with human history; the lives of the people who passed by them and the lives of the trees belong to a shared memory of place.
Jure Paponja is an artist who explores the term of heroes and heroism through the latest series of paintings. His focus is on the thin line between hero and criminal and on heroes who lose their significance or become something different with the revision of history. Horror, ruins, abandoned spaces and landscapes run through his works.
Connor Shields (b. 1997) is an artist practicing in Leeds. His practice is an enquiry into nature of maleness through the use of dichotomous materials such as steel, knitted wool and fabrics. An investigation of these industrial materials and craft techniques realises a visually powerful dynamic in which ideas of 'working-class masculinity' are explored.Originating from Middlesbrough, Shields' work develops as a response to experiences of post-industrial upbringing. The process of making is explorative, combining often contrasting objects which develop a sense of tension within the work. With subtlety, the work takes issue with the adopted roles that we easily accept and assume, allowing the viewer to unpick these perceptions.
Hang Zhang is interested in researching anti-anthropocentric, nonhuman languages, and posthumanism. Her current research is about approaching the worldviews of her pet, Sam the red flour beetle. This exhibition will bring together her newly developed works, including birds' crime story, interactive dress-up games for sheep, and a large giant inflatable beetle.
Image
Courtesy of Becky Huggett.