Visiting Artist's Talk — Joey Holder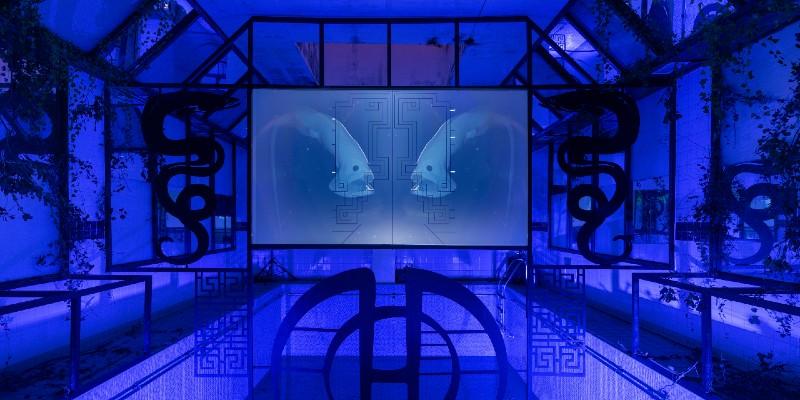 Date: Monday 21 February 2022, 14:00 – 16:00
Location: Online
Cost: Free
For our next Visiting Artist's Talk, we welcome Joey Holder.
Joey Holder is a visual artist, producer and mentor. She is represented by Seventeen, London. Joey is also the Director of SPUR, an online platform which supports digital practice and the Director of Chaos Magic, an arts project space in Nottingham.
She has exhibited widely in the UK and internationally including the Harvard Museum of Natural History, Athens Biennale, Design Museum, Moscow Biennale, Transmediale & Venice Biennale. Her artwork is fuelled by continued dialogue and collaborations with researchers and practitioners from varied fields. She creates fictional worlds and constructed environments that respond directly to contemporary, real world events. Each artwork is considered a 'set' with filmic, narrative, architectural, visuals and sound elements created uniquely for the conceptual underpinning of the project. She has worked with computational geneticists, marine biologists, behavioural psychologists and investigative journalists where my artwork has addressed themes including future farming, synthetic biology and deep sea ecosystems.
Joey Holder's work raises philosophical questions of our universe and things yet unknown, regarding the future of science, medicine, biology and human-machine interactions. Working with scientific and technical experts she makes immersive, multimedia installations that explore the limits of the human and how we experience non-human, natural and technological forms. Mixing elements of biology, nanotechnology and natural history against computer programme interfaces, screensavers and measuring devices, she suggests the impermanence and interchangeability of these apparently contrasting and oppositional worlds: 'everything is a mutant and a hybrid'. Connecting forms which have emerged through our human taste, culture and industrial processes she investigates complex systems that dissolve notions of the 'natural' and the 'artificial'. GM products, virtual biology and aquatic creatures are incorporated into an extended web; challenging our perception of evolution, adaptation and change.
Solo exhibitions include: 'Abyssal Seeker', Seventeen, London (2021) and FUTURA, Prague, 'Semelparous', Offspace, London (2020), 'Adcredo - The Deep Belief Network', QUAD, Derby, Matt's Gallery, London, and Bloc Projects, Sheffield (2018); 'Selachimorpha', The Photographers' Gallery, London (2017); 'Ophiux', Sonic Arts, Amsterdam, Wysing Arts Centre, Cambridge (2016), and 'BioSTAT', Project Native Informant, London (2015).
Group shows include: British Art Show 9, touring UK, 'Iskra Delta', 34th Ljubljana Biennale, Slovenia, 'ANTI', 6th Athens Biennale (2018), 'Joy Before the Object', Seventeen, London (2019); 'Cursed Images', Galerie Lisa Kandlhofer, Vienna (2019); Future Love, HeK, Basel (2018); Inside Intel, The Centre for Investigative Journalism, London; Transcendental Forest, 7th Moscow International Biennale for Contemporary Art, Moscow (2017); Beyond the Liquid Horizon, le lieu unique, Nantes; SITUATIONS/Post Fail, Fotomuseum Winterthur, Winterthur (2018); r u still there?, House of Egorn; Alien Matter, transmediale, Berlin; Materialising the Internet, MU, Eindhoven (2017).
Her work has been covered in ARTFORUM, A-N, AQNB, Art Monthly, BOMB magazine, DAZED DIGITAL, Elephant, Flash Art, Frieze, The Guardian, It's Nice That, OFLUXO, Rhizome, SPIKE and thisistomorrow.
About the Visiting Artists' Talks series
The Visiting Artists' Talks (VAT) series for 2021/22 takes place live via Zoom every Monday afternoon during teaching weeks.
Each session brings an arts professional to talk with us about what they do and why, and to chat with the student body honestly about their career journey and interests.
All our talks are compulsory for our Fine Art students but are also open to anyone else who would like to join us.
Event link
Joey Holder's talk will be hosted on Zoom.
For further information about the VAT series, please email Gill Park.
Image
Joey Holder, Semelparous, 2020.