Material Poetries: Simone Fattal & Maggie O'Sullivan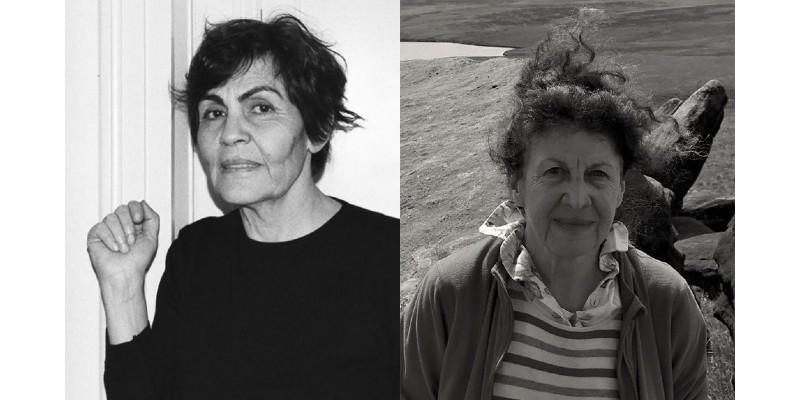 Date: Wednesday 19 January 2022, 18:00 –
Location: Online
Cost: Free
Simone Fattal and Maggie O'Sullivan discuss the stories and echoes we excavate when using materials or languages that have complex histories.
Simone Fattal is an artist and ceramicist. Her work ranges from painting to stoneware. Her work explores symbols of home and displacement that span the personal and mythic via archaeology and figuration.
Maggie O'Sullivan is a poet and artist. Her work ranges from experimental verse to textile sculptures. Her work explores connections between the visual and aural qualities of languages as they animate complex issues of voice, voicelessness and presence.
This event is the third in a four-part series that brings together two acclaimed practitioners from different backgrounds for artistic 'blind dates', where they discuss how their work combines a care for materiality with a desire to stretch language.
Chaired by Nick Thurston (Associate Professor in Fine Art, University of Leeds), the four events establish a series of new conversations.
Our guests come from across four generations and five continents. They work with many languages and almost as many disciplines, including installation art, dance, performance poetry, ceramics, textiles and digital literature. All events will feature solo presentations and live conversations held online.
Extra reference resources for each guest and an evolving package of engagement activities for schools and families will be available to access on the project microsite.
Booking information
This live disussion will take place on Zoom,.
Find out more and book your free place.
About Sculpture & Poetry
This event is part of the Sculpture & Poetry research season, six months of public and academic events featuring world-leading voices exploring the intersection of two of the world's oldest art forms.
It is hosted by the Henry Moore Institute, in partnership with the School of Fine Art, History of Art and Cultural Studies at the University of Leeds and Corridor8.
Find out more about Sculpture & Poetry.
Images
Left: Simone Fattal in Paris, 2003. Photo: Kathleen Weaver. Right: Maggie O'Sullivan in the Pennines, 2017. Photo: Scott Thurston. Images courtesy of the artists.