Visiting Artist's Talk — Martha Colburn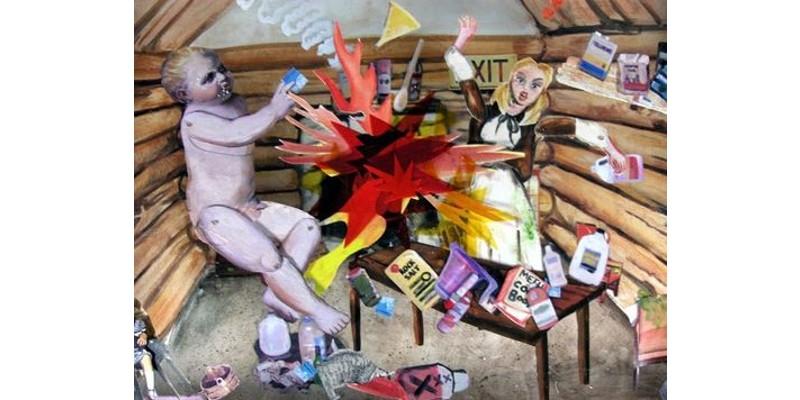 Date: Monday 4 October 2021, 14:00 – 16:00
Location: Off-campus
Type: Seminars and lectures
Cost: Free online event
For the second of this year's Visiting Artists' Talks (VAT), we welcome artist and filmmaker Martha Colburn.
Born in rural Pennsylvania, Martha Colburn is an artist and filmmaker based in Los Angeles, CA. She travels extensively exhibiting and lecturing on her work. She has a B.A. from Maryland Institute College of Art and was a resident at the Rijksakademie Van Beeldende Kunst in the Netherlands.
In the 2007 Sundance Film Festival she was invited to initiate the New Frontiers film and video installation program, with Meet Me In Wichita and in 2008 opened the Museum of Art and Design (NY) with a live performance of films and music. In 2010 two of her films joined the collection of the Museum of Modern Art in New York and the Philadelphia Museum of Art.
In 2013 her film Metamorfoza was invited to participate in the series Visual Arts by curator of the Collection de Bruin-Heijn and performed by the Rotterdam Philharmonic Orchestra. In 2018 she created films and animations for the production of The Garden, a contemporary opera by the composer Richard Ayres- a commission of the London Sinfonietta and The ASKO | Schonberg Ensemble.
Her film Western Wild...or how I found wanderlust and met 'Old Shatterhand' was completed in December 2017 and created with a grant from the Creative Capital Foundation Award and with additional support from the Mondriaan Foundation. The film had its USA premier at the Museum of Modern Art (NY) in their Doc Fortnight 2018: MoMA's International Festival of Non-Fiction Film and the European premier at the International Film Festival Rotterdam.
The Visiting Artists' Talks (VAT) series for 2021/22 takes place live via Zoom every Monday afternoon during teaching weeks.
Each session brings an arts professional to talk with us about what they do and why, and to chat with the student body honestly about their career journey and interests.
All of our talks are compulsory for our Fine Art students but open to anyone else who would like to join us.
Event link
The event will be hosted on Zoom via the link below.
For further information about the VAT series, please email Gill Park.
Image
© Martha Coulburn