Akeelah Bertram in conversation with Season Butler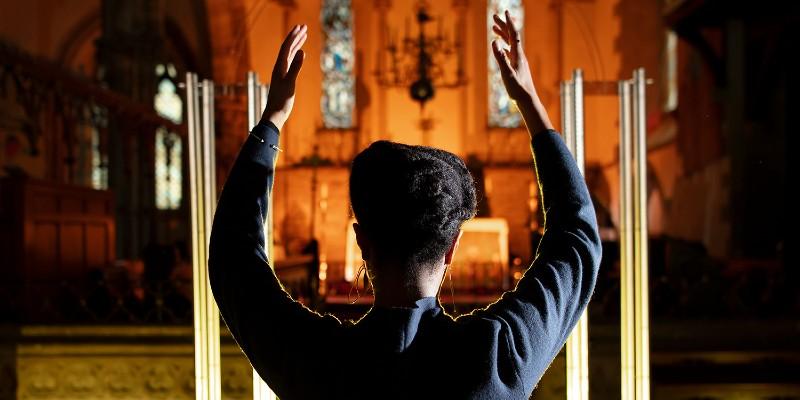 Date: Thursday 15 July 2021, 18:00 – 19:00
Location: Off-campus
Cost: Free online event
This live online event focuses on the work of Akeelah Bertram and particularly her recent commission Return, which will be presented at Yorkshire Sculpture Park as part of their Summer 2021 Programme.
Akeelah will be in conversation with Season Butler about the current exhibition and the themes of the project. They will be discussing the technical set up as well as interactivity and the Black Atlantic.
About Akeelah Bertram
Akeelah Bertram (b.1990 London) is a cross-disciplinary artist who lives and works in Leeds. She has exhibited nationally and internationally since studying at the University of Leeds, Hochschule für Bildende Künste, (Dresden) and the Royal College of Art (London).
Bertram is interested in collective narratives, challenging perspectives and innovating modes of communication. She produces work across new media art, interaction design, sculpture and performance exploring heritage and identity through creative technology, and is currently the Gatenby Fellow in Contemporary Art at the University of Leeds.
About Season Butler
Season Butler is a writer and artist, born in Washington DC and now based in London and Berlin.
Butler's writing, research and art practice centre around intersectionality and narratives of otherness, isolation and negotiations with hope. Her recent artwork has appeared in the Baltic Centre for Contemporary Art, Tate Exchange, the Latvian National Museum (Riga) and Hotel Maria Kapel (Netherlands), and she was shortlisted for the SI Leeds Prize for Fiction by Black and Asian women in 2014. Cygnet, Season's debut novel, was published in 2019, and is grounded in her research into identity politics in coming-of-age novels, and social constructs of youth and old age in climate change fiction. It received the 2020 Writer's Guild award for Best First Novel.
How to book
Image
003 Return, Akeelah Bertram at Frequency Festival 2019. Photo credit Electric Egg.